The Port of Buenos Aires has various docking areas. If you are coming on a ferry from Montevideo or Colonia, in Uruguay, you will arrive right into the heart of the city, a couple of blocks away from the central Corrientes Avenue and the busy pedestrian street of Florida. But the cruise ship terminal is a little further away, and you´ll have to take a shuttle first, in order to exit the port area and then a cab to get you to one of the city´s sightseeing spots.
Before I go on to describe the energy and excitement of one of my favorite cities in the whole world, I have to warn you that the taxis you take right at the port can charge you double or triple the actual cost of the ride, which can be avoided if you just walk outside and hail a cab on the street.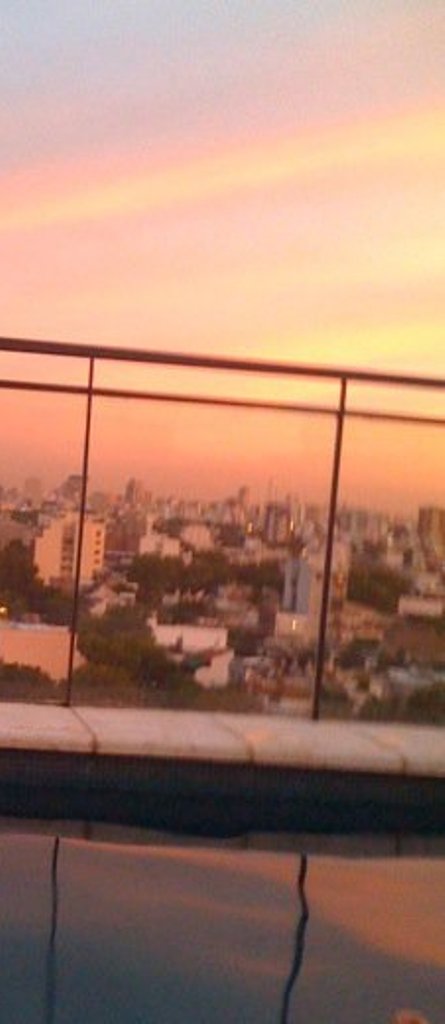 Once on a cab, you can head towards one of the city´s many attractions. This is a place for people who like the good life. Whether it´s art, culture, sports or business, everything is happening here. One of the city´s landmarks is the Obelisk, an imposing monument often used to identify it, which is located in the intersection of Nueve de Julio, the world´s widest avenue, and Corrientes. This is the heart of Buenos Aires, with a subway station connecting in every direction with all of the city´s underground lines.
After taking your picture with the Obelisk in the background, you can just stroll down Corrientes street. This is the Broadway of Buenos Aires, where most of its famous theaters are located. If you choose to see a musical, a play or a variety show in one of these, you will be amazed; Buenos Aires is the entertainment capital of South America, producing and exporting top quality shows from TV to theater, film, radio and the Internet. The most popular shows, locally, involve music, large numbers of chorus girls in skimpy clothes, humor usually provided by the presence of a male comic star and the famous "vedettes", a couple of voluptuous starlets with hardly any clothes on. The genre is called "revista", and it moves millions of dollars every year. If you are more into serious drama, both Corrientes and the off-Corrientes offer a great choice of excellent plays to see, usually running from Wednesday through Sunday. If you are looking for the best of the off-Corrientes scene, don´t miss out on the latest Muscari play. I certainly had a blast at one of them a couple of months ago.
But Corrientes is not all about the theater. Both Corrientes and Florida are full of exciting shops and excellent restaurants. Buenos Aires is the capital of glamour, and the good thing is that although designer items can be pricey, here fashion is king, and there is a possibility to be up-to-date with current trends for every budget. If you shop at the fashionable Palermo or Recoleta you can find everything exclusive there, but if you go up Corrientes street towards the neighbourhood of ONCE or further away into Cabildo street, you will find more than affordable fashion wear.
The neighbourhoods of Palermo and Palermo Hollywood are definitely worth a visit, not only for the shopping. The area boasts one of the best malls in town (Alto Palermo Shopping), a beautiful botanical garden, several trendy art galleries and the funkiest local stores and cafés. Taking its name from the profusion of studios, Film and TV companies in the area, Palermo Hollywood has become one of the most glamourous areas of the city over the last fifteen years. At the heart of Palermo you´ll find the Julio Cortazar* square, better known as Plaza Serrano, which is a very popular spot for artists and young people in general, specially in the evenings, when all of the beautiful terraced restaurants surrounding it are usually packed.
If you are looking for some local flavour, you should visit one of the Tanguerías (tango bars), where you can listen to great live tango performances, watch tango dancing and maybe even learn a few steps. The picturesque neighbourhood of La Boca, with its multicoloured facades and traditional tanguerías is a must with tourists from all over the world.
When it comes to food, there is almost nothing you can´t get in Buenos Aires, as it offers everything, from fantastic sushi restaurants to some of the best parrillas in the world. One of my personal favorites is the Armenian restaurant "Sarkis", home of the best Armenian, Greek and Arabic specialties; their humus, falafel and kebabs are the best in the city. For the best beef dishes I recommend the a-little-out-of-the-way "El Puentecito", a very friendly unassuming restaurant that serves not only asado and chorizo** but also a Mussels Provencal dish to die for. Finally, with all the Italian immigration, you couldn´t go wrong with pizza. If you want to have it like a true porteño***, you can go to La Mezzeta, on Alvarez Thomas street, in the neighbourhood of Villa Ortúzar, and have a slice standing up by the bar. The place is not much to look at, but once you try their pizza, you´ll understand why it´s always packed.
Finally, if you enjoy antiques, old books and the like, you can take a look at several picturesque open air markets. San Telmo is a traditional tango neighbourhood, with a very popular market on Sundays. There is another market in Recoleta, a very fashionable neighbourhood with lots of green areas, a Hard Rock Cafe and the best Interior Design stores, Art Exhibition Halls and Museums in Buenos Aires.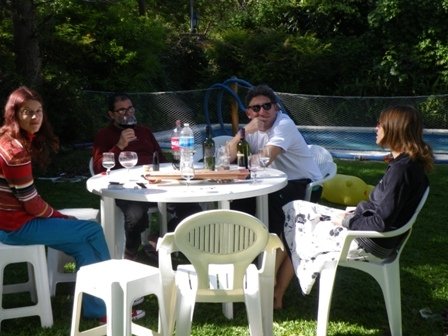 Buenos Aires garden, during recording of music for my film last year: from left Eli-u (singer), Tito Losavio (composer), and other friends.
Now, you may be wondering, how do I know all about places to eat in BA? Well, I have my friend Tito Losavio, a known musician and producer there who has shown me the way over the years. If he is performing somewhere with Fede Gil Solá and Gringui Herrera, you might get a kick of some real Argentine rock feeling.
Buenos Aires is as exciting a city as there ever was. It has crazy traffic and lots of things to do, everywhere, 24 hours a day. If it weren´t for the Seine and the Statue of Liberty, it could be Paris or New York, but it is only Buenos Aires, a true Metropolis with a vibrant heart, waiting to make all your dreams come true.
* Arguably the greatest Argentinean writer (The square is named after him)
** traditional sausage. I am now a vegetarian, but I´ve had it before and it´s gooood!
***people from Buenos Aires are called "porteños" (from the port)