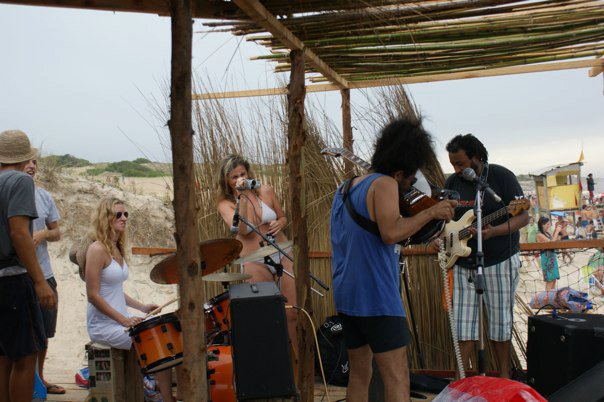 So, if you read my last post, you already know I had a fabulous time touring as DIZZY FAFA TRIO´s videographer (and more).
Beach resort concerts can be a lot of fun. In Uruguay, they are a very relaxed affair, many times without much planning, and sometimes without much sound equipment, etc, especially when they happen right at the beach.
As most of the local musicians spend their summers in Rocha (Punta del Diablo, Cabo Polonio, La Pedrera, etc), spontaneous concerts are extremely common.
The night that the trio played at Punta del Diablo beach, there was also a concert by CONTRA LAS CUERDAS going on. I was lucky enough to have my camera with me, so that I could put  all those memories on tape; retro as it may sound, my miniDV camera gets better sound for live music than any other camera I´ve ever worked with…
So, enough with the talk, here is a video of DIZZY NATY FAFA playing a song by Argentinean blues legend PAPPO. As it started to rain, the band decided to play two songs before all hell broke lose. Notice how drummer extraordinaire GASTON IBARBURU (who took a seat behind the drums for a couple of tunes on that night´s show- and killed it) is setting up the drum set as the band has already began to play.

Now, here are a couple of tunes by CONTRA LAS CUERDAS. This quintessential Uruguayan hip hop band is like my favorite local band these days. They are quite simply the real thing. I am very lucky that they contributed a rocking tune to my documentary film RAUL, the charrua, which is finally gonna see the light in no time.
Though, perfectionists as they are, they complained about the sound, I have to say that they sounded amazing, especially for playing at the beach. Judge for yourselves: