The oceanic coastline of Uruguay is long and largely unexplored. Every year, there is a new little out of the way place that starts booming with construction and tourism.
This year, everyone I spoke to was going to Punta Rubia. This included people who were usually fans of other places like Cabo Polonio or La Paloma, among many of the beaches in Rocha.
Punta Rubia is located only a few kilometers away from the fashionable LA PEDRERA, one of Rocha´s preferred destinations for fashionable Argentinean and Uruguayan crowds.
Last weekend, I finally spent a couple of days in Punta Rubia to discover what the fuss was all about. Demand for summer rentals in Rocha is very high, so, when rents go through the roof, people start looking at different spots that are relatively undiscovered. This is how Punta Rubia got so popular this summer.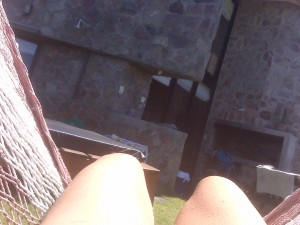 I was lucky to spend my days at a fabulous house built by a famous local architect (Marcelo Bednarik). It was located in the middle of nowhere, and the beach was of such difficult access from it, that we usually drove to La Pedrera or another beach in the area. In fact, along the path towards the shore, you would encounter an impressive rock formation known as Moon Valley, which is said to be the best place to enjoy a full moon night.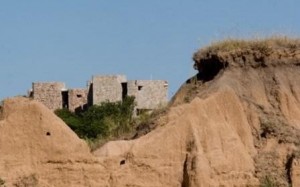 One thing you immediately notice when you get to one of these resort areas squeezed between more popular beaches is the silence. With few scattered houses, you can see the horizon almost everywhere you look, few cars pass by, and the air and the breeze are just a delight.
The house had a hammock, a parrilla (Uruguayan style barbecue), nice tanning chairs, and its large windows all around offer spectacular views. In short, it was everything you could ask a beach house to be.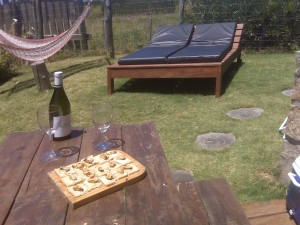 On my first day, we went to EL BARCO beach, where we had some food at a small unassuming beach bar, the kind that is usually made of straw and not much else. At sunset, there was a reggae band playing, which was not half bad. In fact, Rocha is very much associated with reggae, in the sense that it is a place to relax, and also because the spirit of reggae has a lot to do with what some of these beaches, which started out being the favorite retreat of hippies, musicians and intellectuals, are all about.
Hearing some reggae on the beach in Rocha is like hearing a song by Iz on the beach in Hawaii. Of course, for something more local and traditional, candombe drumming is also very popular in these parts, especially at sunset.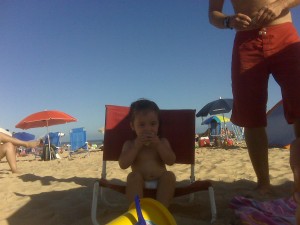 The next day we went to a less windy beach on the other side of La Pedrera. These beaches tend to be quite dangerous; undertow, huge waves, etc. I remember seeing quite a few surfers who wouldn´t have looked bad at all in Waikiki, as the sun was going down.
On our first night, I got a bottle of Semillon-Chardonnay from Mendoza, Argentina that was perfect to accompany some local seafood, which is very abundant and of excellent quality.
The next day, I needed some tomatoes to make a capresse salad, and I walked to the store with my 2-year old niece Sofia. Following my sister´s directions, I though I was going right into the heart of some store-free woods, but finally, there it was, a little wooden construction on pillars, crowned by some huge Coca cola ad flags.
It was so strange to find a grocery store there, right in the middle of nowhere, but I just loved the place. Sometimes, I prefer those little old-fashioned stores to large supermarkets with all their noise and the AC. Fortunately, Rocha has many of them, and don´t get me started on the delicious local tomatoes.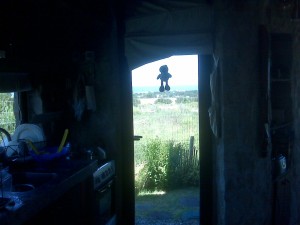 Sometimes, in the summer, everybody wants to be in the same place, the hot spot, the place to be seen at; I found that Punta Rubia was great in that it was close enough to La Pedrera, Punta del Diablo and Cabo Polonio, where there is much more action, but you also had the option to just stay there and truly relax, away from all the madding crowds on the face of the Earth.
I am already planning a longer trip for March, when even the fashionable spots will be more quiet.