Philipsburg, ST MAARTEN
The port of Philipsburg, St Maarten is on the Dutch side of this island, which was amicably divided between the French and the Dutch in 1648. One of the Antilles, St Maarten/St Martin lies somewhere along the elusive border between the Caribbean Sea and the Atlantic Ocean.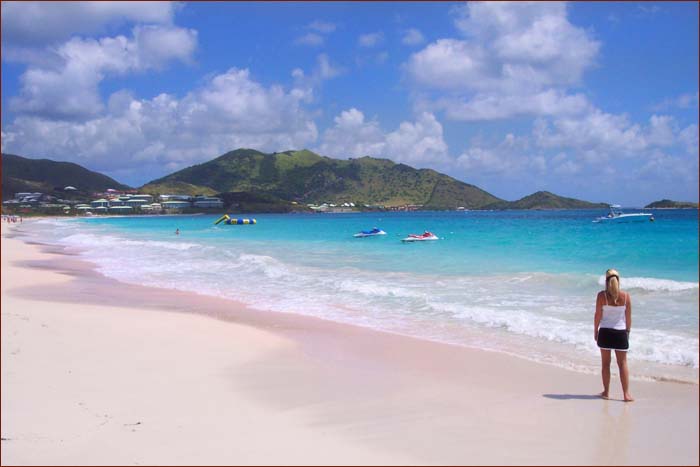 A paradise of French sophistication, Dutch-style night-life, cheap electronics and endless beautiful beaches, St Martin has it all. The port is surrounded by a large shopping area, where you can buy cameras or iPods at really good prices, taste local drinks at the numerous outdoor bars and buy affordable souvenirs. After that, if you are not adventurous enough to rent a car and see it all at on your own, you can take the 6-dollar (both ways) water-taxi which will take you downtown in ten minutes.
Philipsburg has a main street that runs along the beach, so that it is very easy to combine shopping with swimming, or lunch at one of the barefoot bars. I specially recommend both food and drink at the relaxed colorful GET WET BAR, a very unpretentious structure made out of painted wooden planks, right on the beach, with friendly bartenders and cool reggae music.
As far as shopping is concerned, Philipsburg is a bargaining heaven, as salespeople are used to it and price-tags are never carved in stone. Large electronics' shops will have any brand of digital cameras, iPods, accessories, stereos, DVD players, etc. A favorite for females is BEAUTY PALACE, any girl´s dream of a cosmetics´ store, with endless isles of anything you might desire at more than affordable prices. This is the place to get your Schwarzkopf hair products, your designer perfume and your Neutrogena moisturizers.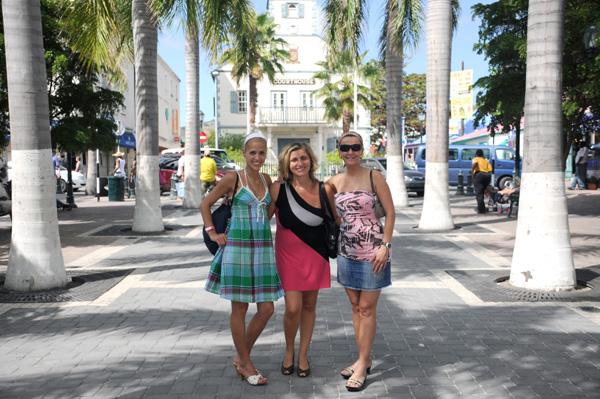 When you get a little hungry, and weary of shopping, you can choose to have lunch at Shivsagar , a traditional Indian restaurant on Front Street. I don´t know what any of the dishes are called there, but everything is delicious, and the atmosphere has a real Indian feel to it. I actually went there with Indian people who knew what to order, but if you just sample different items from their excellent menu, you shall not regret it. They also serve all manner of delicious drinks.
If tropical drinks are your thing, you will love St Maarten; they are cheap and delicious almost everywhere, specially at the beach bars. Their smoothies, daiquiris and margaritas will knock your socks off, in case you are wearing any, which, by the way, you shouldn´t, although an umbrella might come in handy, as light rain comes rather unexpectedly sometimes on this very tropical paradise.
But your day won´t be over yet; the very French St Martin will still be waiting for you just a few minutes away. Back at the port, you can join some fellow travelers for a taxi-tour that will take you to every single spot worth visiting on the island for prices ranging from 90 to 15 dollars, depending on the number of passengers.
If you are a seasoned Mediterranean traveler. you won´t shy away from St Martin´s famous nudist beach. Secluded and utterly gorgeous, this is a far cry from the bustling town of Philipsburg.

Plane landing at airport beach
A little noisier but nonetheless gorgeous, the so-called Airport Beach will provide a rather unique experience. Lying on the side of a large airport, this beach offers spectacular views of landing and taking off planes. My friend Nelli told me that one day she could actually see the pilot´s face, and he was waving at her, as she lay on the sand. If photography is your thing, this will definitely be the place for you.
Needless to say, water-sports are available all over the island, and, last but not least, if you decide to visit Marigot, the French-side´s capital, you can top off your fantastic day with a luxurious French-style dinner and some fabulous French wine, before you say goodbye to beautiful St Martin, and head back to the ship to set sail towards the next inviting shore.
RESOURCES:
St. Maarten Tours
St. Maarten Hotels
History of St. Maarten
Map of Philipsburg