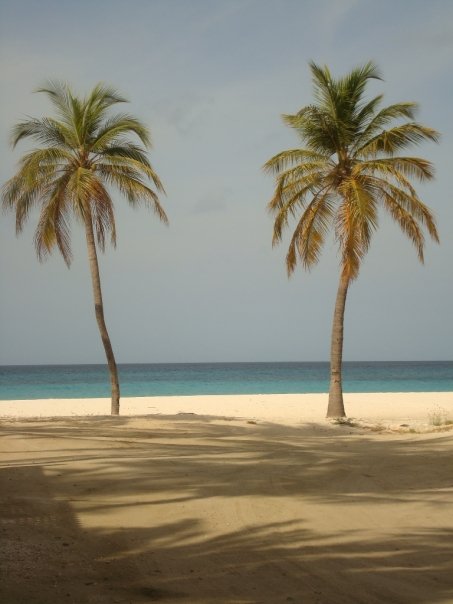 Of all the Caribbean and Atlantic islands of Central America, Aruba will always remain my favorite. There is a paradisiacal quality to it that is very hard to explain to someone who has never lain on those soft, white, welcoming sands, across the 15-mile strait from Venezuela. Incidentally, Aruba itself was once called Venezuela (little Venice) because its coastal villages reminded Amerigo Vespucci of Venice.
One of the ABC group of the Netherland Antilles, alongside Bonaire and Curacao, Aruba has a mere 150 square miles, but each one of them is a treasure.
The Oranjestad Port is right downtown, and there is a bus terminal only two blocks from the cruise ship dock. The local buses, called ARUBUS, will take you to Aruba´s most fabulous beaches in a few minutes; and for only a couple of bucks. In five minutes you will reach my new favorite place in Aruba: Manchebo Beach.  In five more minutes you could be at the large hotel beaches, the popular PALM BEACH, the Marriot and the Westin, but I advise you to get off the bus before that, and take a few minutes to explore Manchebo.  There is nothing special about it; it is just perfect. The sand is whiter and the water is bluer there than anywhere else; the waves are majestic, yet not as big as to make swimming dangerous, and it is, to my mind, the single most peaceful and relaxing place in the whole world. I once went there in the morning, and I can´t even begin to describe the quietness and beauty of the place. As there are no huge resorts in sight, the only people you can find sunbathing there are those who live in the neighborhood. So, you can prepare yourself to listen to nothing but the music of the ocean and enjoy nature at its best.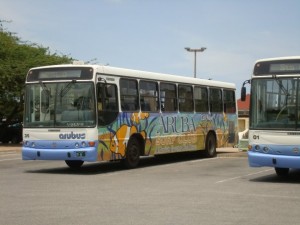 If you are looking for a little more action, you should definitely head towards Palm Beach. The beach-front Casino is a favorite with cruisers, and the restaurants are excellent. If you decide to have lunch at one of these, chances are you will be joined by some kind or other of colorful reptiles, such as gecko, and the like, and possibly some exotic birds. A frozen drink will be about 8 dollars, and worth every penny, in most cases.  Prices in Aruba are very reasonable, especially for souvenirs and beach-wear, as the island has its own currency, which is lower than the widely accepted US dollar.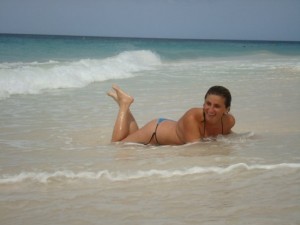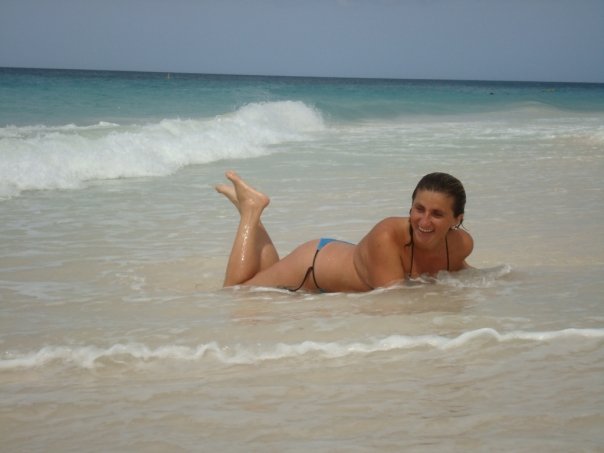 Another very special thing might have some bearing on my dream-like idea of Aruba: its people. Half of the population of present-day Aruba is of Arawak origin; these were Aruba´s peaceful original inhabitants, which explains the olive skin of native Arubans and, perhaps, also their friendliness and gentle manners. The graceful, slender Arawaks ruled in Aruba until its discovery by Spanish explorers lead by Alfonso de Ojeda, and there is archeological evidence that they were very advanced, tracing back to as far as 2000 years before our time.
With sunny shores, high mountains, desert-like landscapes, and coral reefs, as well as a near-perfect year-round climate, Aruba has everything to offer to tourists from around the globe. After all, eversince originally rich Aruba´s oil and gold ran out, tourism has become its main source of income.
Its unique mixture of cultures also renders Aruba very attractive. Even the local language of papiamento (a mixture of Portuguese, Dutch, Indian languages and Spanish) has a certain charm in itself; a charm that is enhanced when the musical words are being spoken by the friendly, relaxed dwellers of this Dutch-ruled paradise, where the horizon spreads as far as the eye can see, and picturesque windmills meet the highest of palm-trees in utter harmony.