When it comes to nightlife, I´m a sucker for a fabulous soundtrack, so, you will excuse me if I only include spots with cool DJ-ing practices on my list.
GREAT SUNSETS, BETTER MUSIC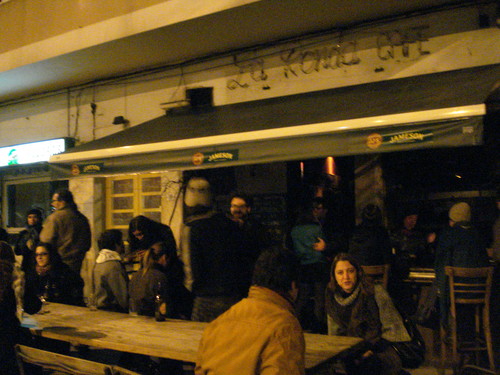 Since summer is approaching with its blue and orange skies, let me begin by a spot set on a privileged panoramic location. I am referring to LA RONDA, a small unassuming locale facing the Old City´s boardwalk by the sea.
A preferred hangout for established and wannabe artists alike, from film directors to fashion designers and musicians and back, this is a place where you can listen Bob Dylan or Tom Waits on vinyl, while you watch the sun go down over the sea.
Sunsets will be best enjoyed with a side of Campari-orange (with freshly squeezed orange juice!) and nachos dipped in delicious cream cheese.
I´m not such a big fan of the bad poetry readings you may sometimes hear on occasion from the nextdoor Cheesecake records, but hey, nobody´s perfect!
BILLIE HOLIDAY IN THE RAIN
Next, moving towards the East, also really close to the shoreline is EL MINGUS bar. This is currently my favorite place for ambience, concerts, gourmet food at affordable prices and for listening to Billie Holiday in the rain; well, I only did that once, but I would definitely do it again.
I recommend everything in the menu at EL MINGUS from the shrimp to the Spanish tapas, the gourmet "gramajo" and the daily specials. The only thing I don´t like about MINGUS is frankly that it´s not around the corner from my house.
The decor is really cool and slightly retro, the staff is fabulous, and they play Billie, bossanova and Spinetta on vinyl like every single night.
BEST BLENDED DRINKS
Let me now stop at a little place called CABO BAR on Bulevar España street. Nothing that special about this place, but I have to say
they currently serve the BEST DAIQUIRIS in all of Montevideo, so they deserve a spot on the top ten. As a known daiquiri-mixer, I´m always on the lookout for a good strawberry daiquiri, and CABO BAR has been consistently the best place to get one for a couple of years now. The atmosphere is also very chill and the place mostly attracts a 20-something crowd.
Speaking of great drinks, I have to recommend the Margarita at CAFE TRIBUNALES on Plaza Cagancha square, right on the main street 18 de Julio. I have acquired a taste for Margaritas between Mexico and the US, and it is really hard to get a decent one in Montevideo, but these barmen know their stuff. If you happen to stop by on a blues concert night, you will thank me forever.
HIPSTER CROWD HAVENS
Finally, if you want to hit Montevideo´s hip scene and drink and dance with a fashion-conscious crowd, you should head down to Asia de Cuba at the heart of Montevideo´s World Trade Center by Montevideo Shopping Center. I like the decor there, which is pretty chic and modern, the large dancefloor is very inviting and the bar service is pretty good.
Very close by, in the same block, you will find LOTUS, a dance club that also offers some live concerts and performances by famous DJs.
There are a million cool bars and discos in Montevideo, the ones featuring dance floors usually close after dawn on weekends. The main areas to explore if you´re looking for some night-time fun and live music are the Old city and the neighborhoods of Pocitos, Punta Carretas and Parque Rodo.