The Med is one of my favorite places on the planet.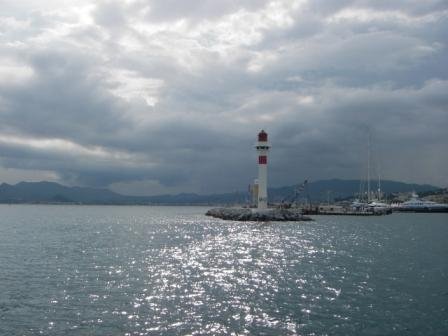 Since Europeans decided to switch to Euro and the dollar went downhill, European travel has become very expensive. Coming from Uruguay, some of the local prices seem outrageous, considering the exchange rate with the Uruguayan peso.
In any case, I have been around the Med many times, and I have always managed to have a great time without spending a fortune.
Here are some simple tips to avoid coming back home to a depleted bank account after enjoying those delightful Mediterranean pleasures.
1. DO IT ON A CRUISE!
Much as I love spending many nights in one place and really getting the local flavor of it, I have to say that a Mediterranean cruise with a great itinerary that includes several ports in France, Greece, Italy, Turkey and Spain will give you the opportunity to see much more of the Med. than if you spent the cost of the cruise on independent travel. If you take some of my cruising tips, you will be fine!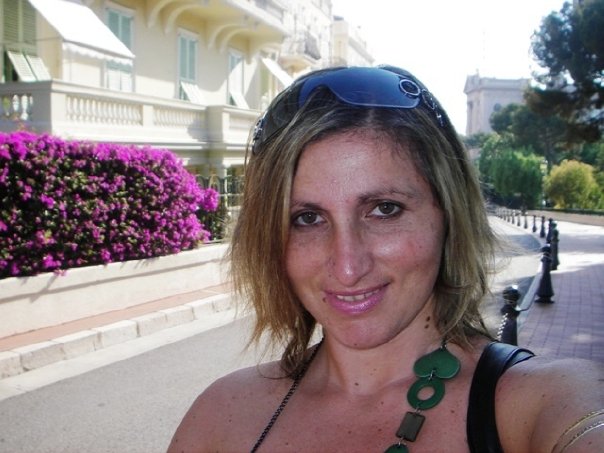 2. PRE-BOOK MUSEUM TICKETS FROM HOME
These days, everything costs much less online than if you buy it on the spot, including museum and tourist attraction tickets. Some online tour operators will charge you in dollars instead of Euro and with a discount, plus you will save yourself the nuisance of lining up for hours in front of the Ufizi Gallery in Florence, while it´s 35 degrees out.
For some ideas on where to start, check out Rides Guide
3. EAT LIKE A LOCAL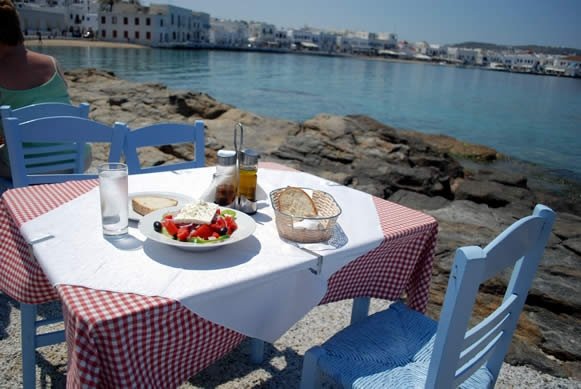 Mediterranean food is WONDERFUL. Sometimes, the fancier the restaurant, the more international it will be, and you will miss out on the true heart of Mediterranean food: a perfect kebab, an inexpensive gyro, a moussaka made from grandmother´s recipe, a traditional style gallete (a salty crepe´s true French name) or a traditional paella.
Research, talk to people, find out where local people like to eat and go there! In Spain for example, you can get a three course meal, desert and wine for as little as 10 or 15 Euro, and you can find something similar in most Mediterranean ports.
4. FIND YOUR OWN SANTORINI CAMPING
This has a story behind it. The idea is to find cool places to hang out, where you don´t have to spend much. When I was in Santorini and didn´t have time to go from FIRA town to the beach, I used to hang out by the pool at Santorini camping. This was a place where you could just chill, swim and eat and drink at a bar with very affordable prices, and best of all, it was FREE to go in.
Even when you feel you are in the most expensive city in the world, there is always some hidden retreat where you can have a good time and spend next to nothing.
5. TAKE THE TRAIN
Trains tend to be inexpensive around the Med, and they have lots of routes. Sometimes, you can buy tickets or passes online that will save you a lot of money.
I used to take the train from Civitavecchia to Rome, which cost 9 Euro; but we sort of paid it half of the times, as, the way I remember it, when an inspector came and you didn´t have a ticket, all they did was ask you to buy one. (but you didn´t hear that from me)
In Messina, I used to take a trolley to the beach, which was quite picturesque. Some of the trains from Villefranche to Monaco and Monte Carlo and all over the South of France are not very reliable for schedules, or so I´ve hear, but the rides are quite panoramic.
6. TAKE ADVANTAGE OF COUCHSURFING.COM
I met one of my new best friends in the world when we stayed at a couchsurfing home in Lahti, Finland during the shooting of my film.
Seriously, I think the people who join couchsurfing are some of the coolest people in the world. Everyone I met who was on it (I did host a couple of people in Montevideo and went to a couchsurfing meeting once) was friendly and interesting to hang out with.
When you join and look for a host, you can always check out their profile and their feedbacks from previous guests, so there won´t be any surprises.
7. GET THE BEST RATES FOR YOUR HOTELS
Not everybody is cut out for the couchsurfing experience. Sites like Hotels Combined can give you an edge on both securing reservations beforehand and getting competitive rates.
8. CHOOSE THE CHARMING INEXPENSIVE CITIES INSTEAD OF THE EXPENSIVE CROWDED ONES
Yeah, everybody wants to see Paris, and it IS lovely, but frankly, when I was there, I didn´t love it right away, because it was just too touristy. It was just so hard to find a Parisian there, and it was so expensive that that was also a deterrent.
Valencia for example is such a beautiful place, and it is much cheaper than Barcelona. If you must see the big cities, just stay longer at some of the smaller ones, where your money will last longer, and you will have a chance to actually meet some local people…
9. NETWORK BEFOREHAND
One day I was going to Cartagena, and I got a Facebook friend request from a local person, just by chance. This originated my best day ever in Colombia, as the boy picked me and a friend up in a car and showed us around all over the city, and even gave us a souvenir gift when we parted.
If you are going to a certain city, talk to all your friends, or email them asking for local connections there. Chances are some of your friends will have a friend or relative in the town you are visiting, who could make your travel so much more interesting and enjoyable with their local knowledge!
Look through your Facebook friends and Linkedin connections. Maybe you do have an online connection in the place and you are not even aware of it.
The Internet give you plenty of possibilities, and you must take advantage of them.
10. STUDY THE MAP
Taxis can be pricey. Bus services tend to be pretty good around the Med. Learn about the routes and how to get from Point A to Point B, before you travel. Take the subway for one Euro instead of paying 20 Euro for a cab. Having a little sense of orientation and some information about public transport can save you a lot of money around the Med.
11. RENT A CAR FROM HOME
Car rental in Europe can be expensive. If you book your car from home, you can be sure about fees and insurance, etc. Plus, it can be a challenge to find available cars during the high seasons, and prices tend to skyrocket then as well.
We paid a fortune to rent a car on the spot in Finland, but if you looked online prices were much better.
12. SHOP RIGHT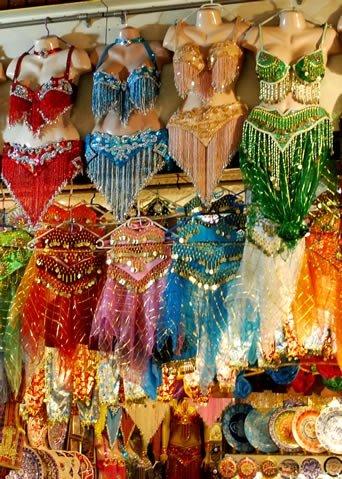 Unless you just HAVE TO HAVE that Gucci handbag, the summer sales, especially in Rome and Naples, will give you plenty of chances to but trendy, good quality garments for prices as low as 10 Euro. In Italy, I always buy lovely underwwear at Intimissimi and the shoes in Florence are amazing.
Venice is super-expensive, so, all I got there was a Venetian Mask, which I am still in love with. If you do wanna splurge on something fabulous, visit that Dali store, where you can get incredible objects based on Dali´s most famous paintings, such as melting clocks and the like. Murano crystal IS beautiful, but it is also pricey beyond belief.
Istanbul, minus the Grand Bazaar which is always too crowded, is awesome for shopping. Truly original and traditional gifts, such as narguile pipes and bellydancer costumes, can be found at very affordable prices.
The PLAKA market in Athens is the best for your Greek style jewelry and those summery white dresses. Bargaining allowed. The islands have great shops, but they tend to be more expensive. I love the shops in Santorini, for example, but I always buy my Greek gear in PLAKA instead.
When in the South of France, do visit Galimard or one of the other perfume factories, which offer fabulous perfumes for less than half the price (and double the quality) of what you pay for designer fragances. Plus, you will have a perfume that NOBODY ELSE will have around you, because they don´t sell it at your local mall. I bought 1 liter of my favorite peach fragance from Galimard two years ago and it cost like 30 dollars or something.
Take home some Mediterranean wines! Wine is of great quality in the Med, and because it is an important part of the typical local meals, it tends to be inexpensive. I totally recommend visiting wineries, not also in Tuscanny where my personal favorite LA TORRE is located, but also in Santorini, around Rome, etc. I remember I bought gold medal winning red with a body like I had never tasted before at LA TORRE for something like 15 Euro a bottle a couple of years back.
The beauty of Europe is that even those cheap bottles I bought at the entrance of St Paul de Vence for a couple of Euro were actually pretty good. A 5 Euro bottle of French wine taken home as a gift will mean (and taste like) so much more than what it cost.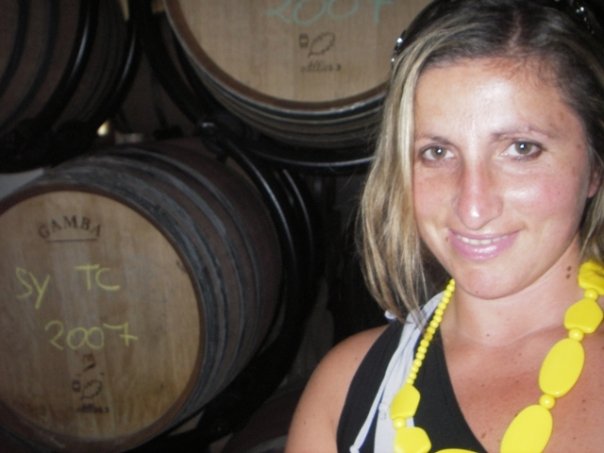 13. ENJOY!
I have so much more to say. I am just in love with the Med forever. Sometimes I feel like it was always in my blood. Perhaps my Turkish territory-Armenian origins have something to do with it, though those little villages in Marash do not exactly have a Mediterranean coast.
The Mediterranean is a land of earthly pleasures, pleasures meant to be enjoyed, which I sincerely hope you will do, and I plan to do again, every chance I get.