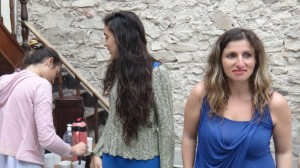 There are some things in life that offer no certainties. An early dream of making unforgettable films is one of them.
In that chaos of uncertainty, shifting markets and unreliable financiers, I found one thing that gives me the most important certainty of all; that of knowing all the films I produce will be something to make me and my teams proud.
My secret is very simple. It is actually twofold:
ONE: I understood what a project has to be like, in order to be the seed of an unforgettable film (This involved taking a Screenwriting Master's and quitting film writing altogether, but that's another story…)
TWO: I found me someone who can write films that I can turn into kickass film projects.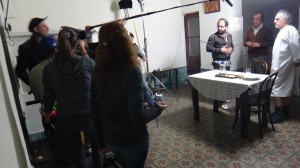 Just out of the exhausting shoot of our first film together "MONSTRUO" (still thinking of a good title in English…), even with all the stress and pressure and going over budget, etc, etc, I feel like I know now that this is really going to work out.
It makes me and my team very happy to have been involved in this film because it has everything to be a turning point in the career of a director who was already established as a strong film auteur.
This director is called CARLOS MORELLI. Of all possible ways to find a suitable producer, he found me on Facebook. He had no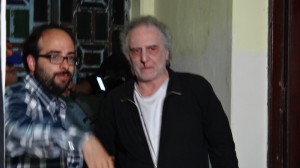 idea who I was, and I thought he was someone else. We did share a passion for literature, and had often commented on Murakami and the like, but that was it.
It has been less than a year. We have established one of the most important creative relationships of my life, and we have many projects ahead of us. So, stay tuned. In fact, I named our company NEKTAR FILMS after he suggested I called it MIEL (Honey).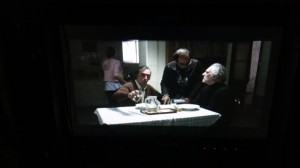 Silly as it may sound, the way I marketed this project to investors was "it's the best short film in the world," and believe it or not, it worked, because short film scripts are rarely this perfect.
Here is my non-spoiler pitch for MONSTRUO:
Lucas has nothing to lose and Elias knows it, but neither of them is prepared for what is about to happen.
Pretty vague, but this is breathtaking psychological thriller with a powerful drama behind it, and I'm sure you wouldn't want to miss any of the excitement.
MONSTRUO is a coproduction between NEKTAR FILMS MONTEVIDEO and La ofi-cine BERLIN.
With FUNDING from the URUGUAYAN FILM INSTITUTE "ICAU"
Starring ROBERTO JONES, ROBERTO SUAREZ, NOELIA CAMPO, AGUSTIN URRUTIA and BRUNO ALDECOSEA.
The production of MONSTRUO was supported by:
MUSITELLI FILM & DIGITAL – BARBE SOLUTIONS – CARS FILMS – GOETHE INSTITUT – EMBAJADA DE URUGUAY EN ALEMANIA – STAGECAST – ACUARIA CATERING – IDEJO – CAFE TRIBUNALES – LA FAMA – JAC MOTORS – CAFE SANTE – EMPANADAS MAFALDA – BIONUTRI – LA SPEZIA – FONDO DE FOMENTO ICAU – LOCACIONES MONTEVIDEANAS – BEREQUETUM PRODUCTORA
Check us out on Facebook: MONSTRUO, a short film by Carlos Morelli, add MONSTRUO NEKTARFILMS to your contacts.