Undoubtedly, the most magical place I stayed in Finland during the shooting of my film was Lehmonkärki.
My dear friend and co-producer John had decided on renting a lakeside cabin at the resort, after some bad experiences at a Russian hotel. Because we were there for the Senior athletics championship, where our film´s hero Raúl was competing, all of the Lahti city hotels were fully booked, and John and his family had to find something out of town.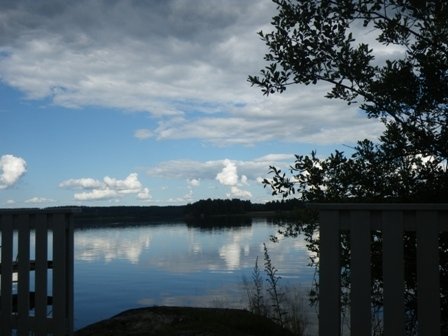 They found Lehmonkärki by chance, when they stopped at a beautiful library on the side of the roud, while driving around the country, and a man directed them to Lehmonkärki.
When they arrived by the side of the beautiful lake, they instantly fell in love with the place. I was staying at lovely my lovely host Tanja´s house in Ahtiala, near Lahti, at the time, but when the shoot was done, John and his wife Georgia invited me to stay over at Lehmonkärki.
The house, because it could hardly be called a cabin, was sheer luxury. From the furniture to the wine glasses and the home appliances, everything exuded taste and functionality. We had a boat and a tiny little dock, a beautiful sauna with a view to the lake and a large outdoor jacuzzi on a wooden deck by the side of the water as well.
This was the end of July, which is the middle of the summer in Finland, but the water in the lake was really cold. One of the pleasures I learnt to enjoy while in Finland was to take a freezing swim followed by a hot sauna. It is a sensation that can´t be explained, unless you have experienced it yourself.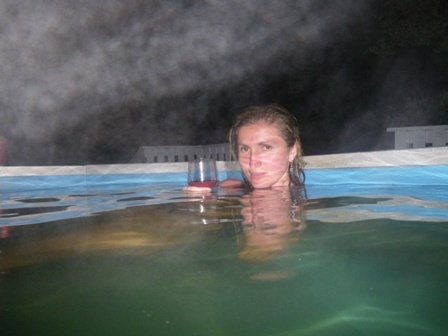 In fact, any average Finnish house features a sauna. The habit is that people go in the sauna stark naked, so, men and women use it separately. I remember we messed with all of these common practices at Tanja´s, when me and my male exec producer said we wanted to go in together, so poor Tanja had to wear a towel, I was wearing a swimsuit, and all of those traditions went overboard, as we drank the beers they kept offering us, which seemed odd to us as Uruguayans: always looking to drink beer only when it´s real cold, a sauna seemed like the strangest place to have such drinks.
In Lehmonkärki, I missed the traditional Finnish lifestyle, as there were no Finns around in the house, but I got a lot in exchange for losing that. First of all, the lovely company of John, Georgia, their son, and a friend of their son´s from the States, and then, the beauty of the surroundings and all of the exhilarating experiences the resort was fit to provide.
My two favorite moments of the stay were playing tennis with Georgia, and getting some cool lessons from her to improve my game, and a traditional Finnish lunch we had at the resort´s main house, which was an ancient Finnish farm.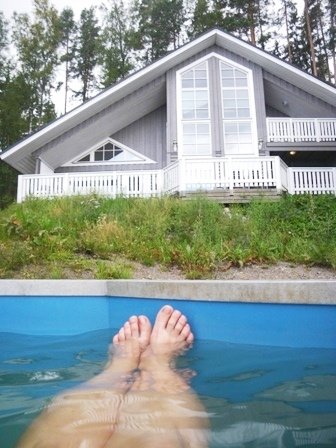 While we were having lunch, we were being entertained by an old man who was playing the accordion. The Finnish have a melancholy disposition that is very akin to tango, and their traditional music is very reminiscent of it. As I ate that delicious fresh Finnish salmon and drank the wine and heard that music, I had a distinct glimpse of just how much Finland and Uruguay may strangely have in common. Right at that moment, the old man started playing one of the most familiar tunes I´ve ever heard. It was the introduction of LA CUMPARSITA, a tango composed by the proudly Uruguayan Gerardo Matos Rodríguez.
Out there, at the end of the world, surrounded by a landscape that was unthinkable for little snowless, half-lakeless Uruguay, and listening to that music that always moves me, whoever may be playing it, I felt oddly and beautifully at home in Lehmonkärki.