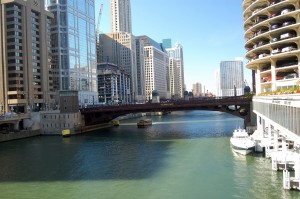 Who doesn't know about the rich history of music from Chicago? Dixieland and Jazz ruled at the turn of thecentury, while the folk jams of the '60s and the rugged rock of the '80s and '90s defined the nation's, nay, the world's tastes in their time. No matter who you are, and what you like, you can't deny the incredible contribution of Chicago to American music.
Unfortunately, it's been a long time since I've seen a Chicago group. I thought about seeing the prodigal son, Kanye West, for the Watch the Throne tour, and then I watched a live performance video and decided the money might be better spent on a student loan payment or really big cookie.
Despite living in the neighboring state of Indiana, I would always find time to return home and check out shows with my friends. The last three bands I saw in Chicago – Odd Future, Gauntlet Hair, and Asobi Seksu – hail from different parts of the nation, but none from the Chi City, so I thought I'd take some time out to lay some shine on the groups and bands from the Capital of the Midwest.
If you're looking for a "taste of Chicago" while globetrotting, or living in the city and looking for what to do in Chicago, check for these five bands to deliver a deep-dish slice of the Windy City through your headphones or live.
JC Brooks and the Uptown Sound
JC Brooks operates in the same vein of industrial soul as Sharon Jones, the Dap Kings and the Diplomats of Solid Sound. I love this music so much but there are very few bands out there still making it in earnest. Dusty Groove and Numero Group are two Chicago labels keeping the dream alive and JC Brooks sings through the solid drums and groovy horns section. Live, Brooks channels James Brown in his showmanship and fancy footwork, making this a group you can't miss.
Smith Westerns
These guys are probably the biggest indie act to come out of Chicago since Smashing Pumpkins, though it may be too early to make so bold a claim. Their song "Weekend" has burned up the radio all year and the band have seen some action in Europe touring with Wesleyan's own MGMT and UK darlings Artic Monkeys. Their sound is at once universal and local. They don't sound inherently Chicagoan, but they color the landscape of the city – so much so that their music has become a part of the scene; blue liners may recognize their tunes floating out of the Logan Theater from the days when they were cutting their teeth on the world of live music.
Mic Terror
Chicago's hip hop progeny is nothing short of phenomenal. Kid Sister has moved mad units this year, Rhymefest decided to run for alderman and Twista is doing the same things he was doing 10 years ago. Mic Terror looks to restore promise to the scene with his rugged battle raps, so rugged in fact that he's hit every regional rapper in the area with them and earned himself a spot opening up for Big Boi. He may not be the next Kanye West, but let's face it, do we really need two?
Vance Kelly
Chicago born native Vance Kelly has been swagging out the historic blues scene in Chicago for decades. His unique brand of guitar and vocals produce music that is deeply rooted in Chicago blues without being beholden to it. Kelly is a staple at Chicago's #1 blues spot, Kingston Mines. He isn't at the same superstar status as Muddy Waters or Howlin' Wolf, but his Chicago fan base is solid and he's gaining influence in the region. Check him out for a Chicago sound through and through.
Gauntlet Hair
Although the band has since relocated to Colorado, they formed in Chicago and perform there often enough to still be considered Midwestern. As far as the new wave of Chicago bands, Gauntlet Hair really carves a space out for themselves with their brand of foggy, progressive punk. Over the last 1.5 years, they have put out two now-collectible 7" records on tastemaker labels Forest Family and Mexican Summer.
Chicago is one of the top US destinations for travelers coming from Europe. Tourists with a refined European taste will find nothing at fault with the vibrant Chicago music scene. If you happen to be based in Europe and would like to visit Chicago or any other US city for a prolonged stay, you may want to apply for a visum usa-ESTA online.
Guest author Thomas Stone is a freelance writer and frequent contributor at The Marketing Robot.