This is a strange post for this site, but since films are a great way of "traveling" sometimes, I thought I´d share a list of some of the fabulous French films I have watched over the last months. After making a conscious decision to avoid anything produced in Hollywood, I was able to discover many fabulous French actors I didn´t know very well before, such as Catherine Frot, Pierre Niney, Gad Elmaleh, Patrick Bruel, and revisit some old favorites like Daniel Auteil, Vincent Cassel, and Romain Duris.
Hollywood films are full of fights, guns, explosions. Even dramatic films that are supposed to be less commercial tend to be full of gratuitous violence. I realized a while ago that, as much as the screenwriting and filmmaking may be good, there is no need to let so much ugliness into our lives. In fact, there is much more violence on than off-screen for most people who are not living in a war zone, so, why should we let it in that way? Switching to French films for all my entertainment for a while was one of the best decisions I ever made. But I must warn you, they are tremendoulsy addictive. If you speak French, like I do, you will start thinking in French all the time rather than in your native language or you'll plan a trip to the Cote d' Azur. I've see worse side effects…
I have included info about where the films can be found online. Basically, I watched them all on either Amazon.com, Amazon.co.uk, Netflix, and when none of those were available, through links found on Primewire.ag.
I am fascinated by films about writers, especially when they have great screenplays, so, let´s start by those.
FILMS ABOUT WRITERS

Un homme idéal
Starring: Pierre Niney, Ana Girardot
Directed by: Yann Gozlan
Starring the superb Pierre Niney, the film tells the ever-recurring story of a mediocre writer who finds a fabulous manuscript and publishes it as his own. If you loved The talented Mr. Ripley, you will enjoy this, as it shares many elements of its plot. It´s not tremendously original, but it won´t fail to provide the kind of pleasure you seek in a writerly film with a dash of romance and intrigue.
Source: Amazon.co.uk Prime

Roman de gare
Starring:Dominique Pinon, Fanny Ardant
Directed by:Claude Lelouch
As a frequent ghostwriter myself, I really appreciated this story of an elegant and classy author whose fame depends upon the talent of her ghostwriter. Pinon is wonderful as the ghostwriter, Ardant is, well, 100% Ardant, and the plot has some interesting twists.
Source: Amazon Prime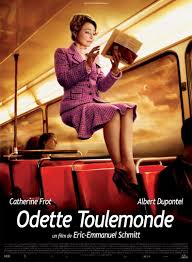 Odette Toulemonde
Director Eric-Emmanuel Schmitt
Starring Catherine Frot, Albert Dupontel
Catherine Frot is at her most delicious in this heartwarming comedy about a writer who loses the desire to live and the passionate fan who saves him. Her character and her little dances to Josephine Baker tunes alone are worth the watch. The writerly theme is just an excuse, really, but this is a movie that can breed optimism in a delightful way.
SOURCE: Amazon Video, not included with Prime, worth every penny of the odd 4 dollars I paid to rent it.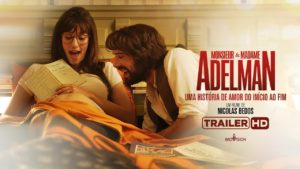 Monsieur et Madame Adelman
Nicolas Bedos, Doria Tillier
Written by a real-life couple who also play the leading roles, Monsieur et Madame Adelman is a fantastic love story spanning over 40 years. An intellectual girl falls in love with an aspiring writer, the film explores their love, literature, sex, and parenthood through the years. A treat for lovers of films about writers. Bedos and Tillier are fantastic in their roles.
FILMS ABOUT CHEFS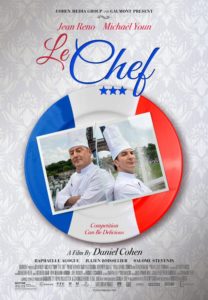 Le Chef
Director: Daniel Cohen
Stars: Jean Reno, Michaël Youn, Raphaëlle Agogué
If you love cooking and the world of professional chefs, this is a perfect comedy with all the perfect ingredients. A talented cook who is in need of a steady job to support his pregnant wife starts working under his idol, the most celebrated chef in France, played by Reno. One of the problems is that he is not getting paid just yet. Meanwhile Reno is about to lose one of his Michelin stars. A lovely an entertaining French comedy ensues.
SOURCE; Netflix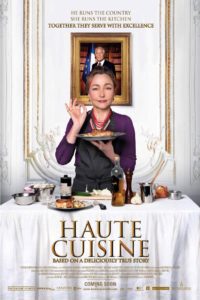 Les Saveurs du Palais/Haute Cuisine
Director: Christian Vincent
Stars: Catherine Frot, Arthur Dupont, Jean d'Ormesson
It is virtually impossible for Catherine Frot not be charming, and the role of François Miterrand´s private chef fits her like a glove. Based on a true story, the film will delight French cuisine lovers.
SOURCE: Netflix
ODD COUPLES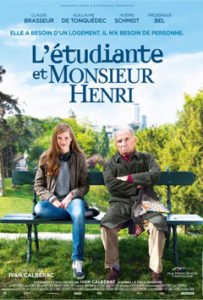 The Student and Mr. Henri (L'étudiante et Monsieur Henri)
Director: Ivan Calberac
Starring: Claude Brasseur, Guillaume de Tonquedec, Noémie Schmidt
"An elderly curmudgeon lets out a room in his large apartment rent-free to a young student, under one condition: she must do everything she can to ruin his son's marriage." One of those films that make you feel better about life after they finish. Truly endearing characters.  The film was originally a theater play.
SOURCE: Amazon.co.uk Prime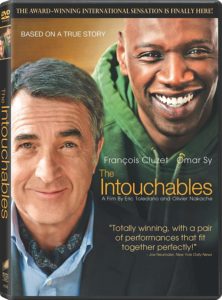 The Intouchables
Starring: François Cluzet, Omar Sy
I was reluctanct to watch this film although it had stellar reviews. Somehow, it sounded to cliché. But the story of a tetraplegic millionaire who hires an uneducated immigrant as his personal assistant was truly delicious. It is actually based on a true story. Sy is not only stunningly gorgeous, he is also a great actor. So is Cluzet. Pure heart.
GAD ELMALEH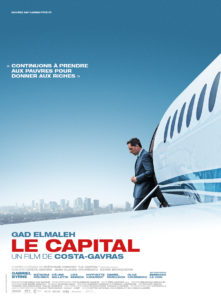 Capital
Director Costa-Gavras
Starring Gad Elmaleh, Gabriel Byrne
A rare opportunity to see the impossibly charismatic Elmaleh in a dramatic role. Costa Gavras turns Thomas Piketty´s philosophy of world economy and turns it into a powerful and entertaining drama about an employee who is made CEO of a bank to be used as a puppet, his Macbethian ambition, and the drama that unfolds. If you love Gad and despise evil banks, you will savor this story till the last drop.
SOURCE: Amazon video, available for rent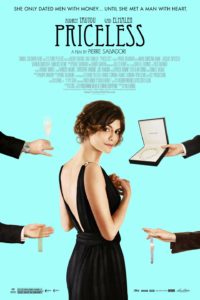 Priceless
Starring:Audrey Tautou, Gad Elmaleh, et al.
Directed by:Pierre Salvadori
Irene parades from fancy hotel to posh socialite event to score rich old men who can satisfy her expensive taste. When she mistakes a hotel employee for a millionaire, her greed is challenged by what might be true love. A few interesting plot twists, great acting by Gad and Tatou, beautiful shoes, dresses, and the French Riviera as a sumptuous backdrop.
SOURCE: Amazon Prime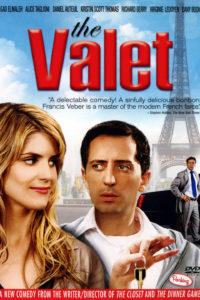 The Valet
Starring Gad Elmaleh, Daniel Auteuil, Kristin Scott Thomas
Director Francis Veber
"When paparazzi catch him with his supermodel mistress, billionaire CEO Pierre (Daniel Auteuil) devises a plan to convince his wife that the beautiful mystery woman is actually dating lovelorn valet François (Elmaleh). Now François is the envy of every regular guy – he's got a supermodel on his arm and in his bed." Heartwarming comedy with Elmaleh at his best. Auteil also creates memorable comedic moments as the jealous lover who is obsessed with what truly goes on between his mistress and the nondescript valet he himself has brought into her life. Francis Veber still does not disappoint.
SOURCES: Primewire.ag (free links), Amazon Video (rental or purchase)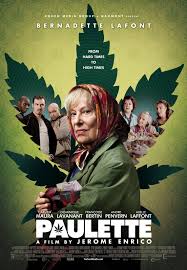 Paulette
Starring: Bernardette Lafont, Carmen Maura
Racist and obnoxious granny to a black grandkid grows a heart after becoming a drug dealer. Lafont is magnificent in the role. Funny, moving, just lovely. Almodóvar girl Carmen Maura in a secondary role.
SOURCES:  Amazon Prime Video
Check back from time to time, as I will keep adding films to the list, including a section for Isabelle Huppert, one for French Canadian films, and more.