Sunny beaches and snowy peaks
Anyone with a passion for the great outdoors will enjoy New Zealand´s South Island. Whether skiing at the top of the Southern Alps or exploring the fiords, relaxing on golden sand beaches or hiking through the forests, any visitor can get a feel of this quintessential Maori territory by experiencing some of the country´s most unforgettable spots.
Getting there
International travelers arriving via Auckland airport can either fly to South Island´s Christchurch Airport. Alternatively, and I thoroughly recommend doing this, they make take a more adventurous path. Namely, after selecting a nice ride from Auckland´s rental car dealers, they can hit the road for a fabulous panoramic ride, inclusive of a 3-hour ferry ride from Wellington to Cook´s Bay, which is truly a dream on a sunny day.
Top 5 Attractions – South Island, New Zealand
The best time to visit is no doubt the summer, though winter sports enthusiasts from the US and Europe also appreciate the chance to enjoy snowfall during the Northern hemisphere´s summer. There are many national parks along the South Island´s mountainous backbone,  There are opportunities to go whale-watching, surfing, skydiving among spectacular canyons, and swimming with dolphins, and really, it is not an easy task to select only a few attractions, I have tried to select them mainly based on visitor impressions and reviews and the magnificence of the scenery. These breathtaking places will surely dazzle photography enthusiasts and nature lovers alike.
Mount Cook National Park
Although reaching the summit is a challenge for expert mountain climbers, Mount Cook is nested in majestic natural surroundings. Located three hours from Queenstown and four from Christchurch, the Mount Cook National Park is home to largest glacially-tinted, turquoise lake in the region, namely, Lake Pukaki. The drive along the lake to reach the park is quite scenic in itself. Several trails begin at a small central village, leading towards some of the park´s wonders, which include unique flora and fauna, such as the kea, an indigenous alpine parrot.
In the summer, visitors can enjoy bike riding, stargazing or a relaxing swim in one of the lakes. Winter is the time of skiing and glacier tours. Helicopter tours can reveal many imposing peaks and spectacular glaciers.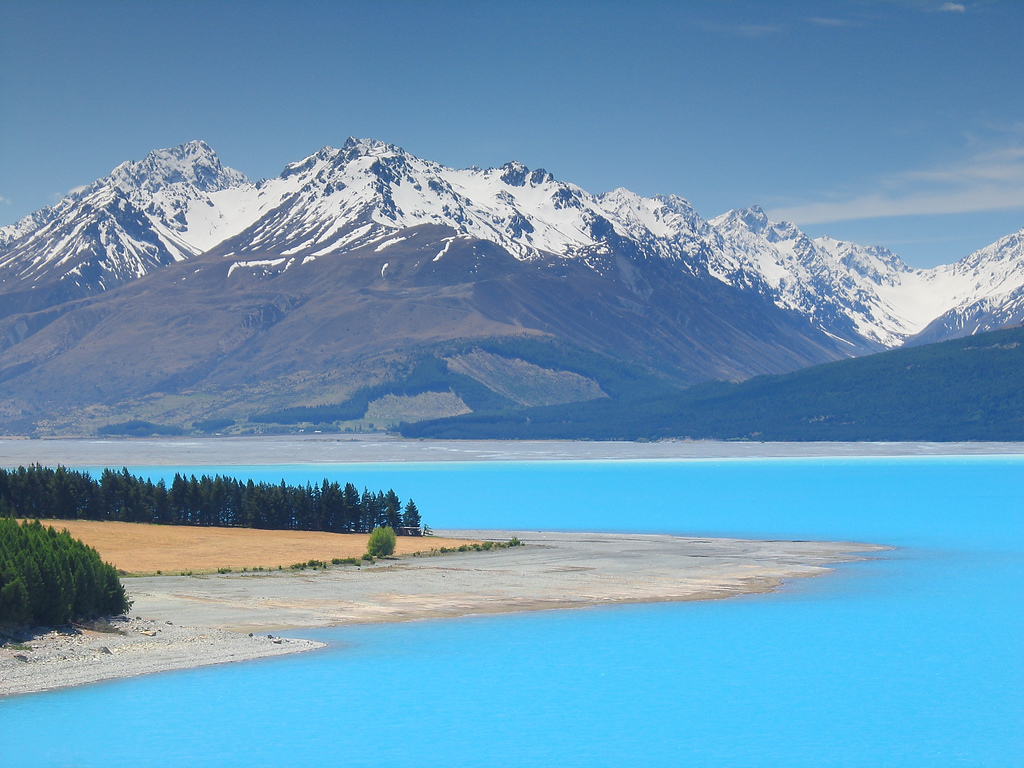 Moeraki Boulders at Sunset
The Moeraki Boulders  are a set of spherical rocks that can be found on Koekohe Beach. Created by a complex process of shoreline erosion, they were formed about 60 million years ago. According to Maori legend, the Moeraki boulders are the remains of a mythical wrecked canoe known as the Araiteuru. For a better experience of the boulders, be sure to check tide times before visiting.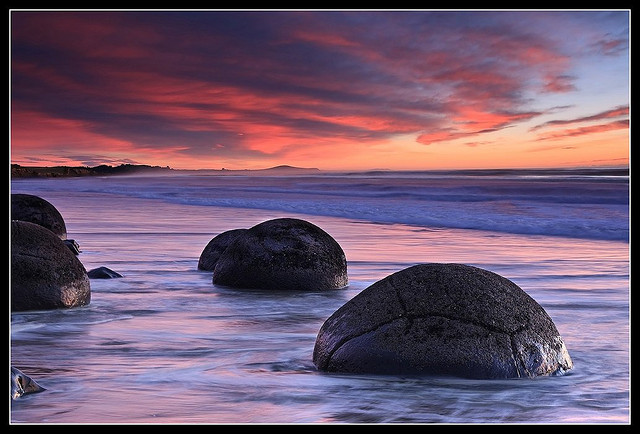 Lake Wanaka from the Air
Helicopter tours over lake Wanaka are the most popular on the island. Flying over the National Parks, these scenic tours often include remote alpine landing, snowmobile rides, and hiking. Remote fishing and mountain climbing can also be arranged. Views of Mount Aspiring are among the most spectacular. Lake Wanaka also gives name to a picturesque town which sits atop a glacier basin by its shores.
Peninsula Walkway 
Set against steep mountains, Kaikoura is one of the most popular spots in all New Zealand. The best way to explore the are is taking a stroll along Kaikoura Peninsula Walkway. The trails are easy and suitable for inexperienced hikers. Along the way, visitors may encounter specimens of New Zealand´s rich and varied wildlife, from whales to dolphins and seals and from rare birds to crayfish.  The vistas are breathtaking, and the region is also a haven for Maori heritage.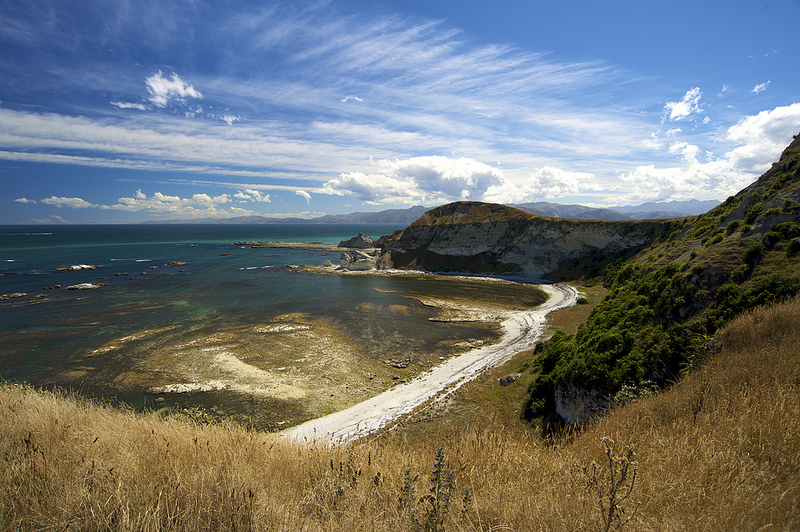 Fox Glacier
This 8-mile long glacier is located within the confines of the beautiful Westland Tai Poutini National Park on the island´s West Coast. Some of its spectacularity resides in the fact that it is one of very few glaciers which end in a vibrant forest only 300 metres above sea level. Fed by four different alpine glaciers, Fox Glacier is easily accessible from the town of the same name, which makes it very popular with visitors, who are known to stop by at an impressive rate of 1000 per day. From relaxing glacier walks to advanced alpine trekking and unique photo opportunities, the glacier has something for everyone.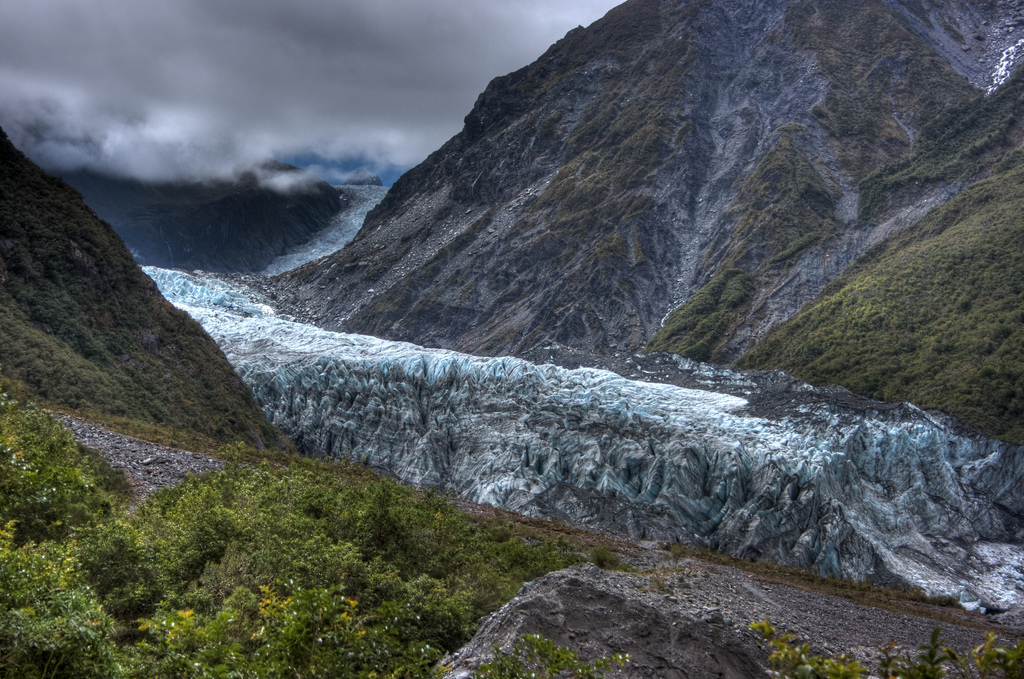 New Zealand nature is quite simply breathtaking everywhere one may look. Personally, I am also enamoured with the country´s culture and Maori heritage, and whatever you do in this marvelous place, you should always make a point of visiting some heritage sites and learning about this fabulous culture and its past.
USEFUL LINKS:
Official New Zealand Tourism Information
Rental Cars Auckland Airport New Zealand
New Zealand Encyclopedia: the Ara
Basic New Zealand travel info & Money saving Tips
Featured image Frankton Dawn by David Hardy