Nothing has been the same since I met Raúl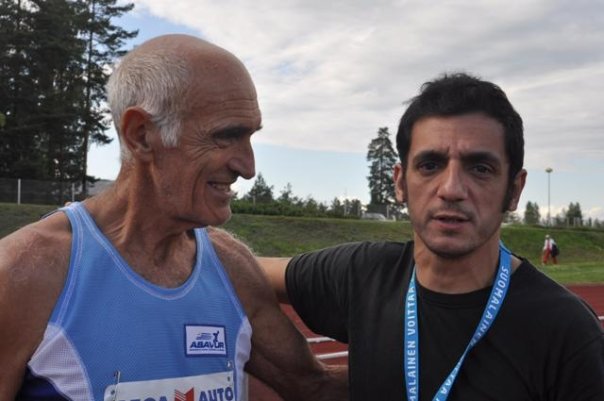 As you may be aware, if you have been reading my blogs from LA, I am here to finish off the editing of a movie project called RAÚL. My daily routine includes many hours in front of the computer, some relaxation time with friends and, the only thing that never fails: an hour and a half at the gym. Exactly one year ago, I was lying down in an operating room. Raúl was training to compete in the Decathlon in Finland. We had already started shooting Raúl, and I had pretty much figured that the days of working out at the gym to achieve the perfect ten body I desired would be over after my back surgery. But I was wrong, I just had to spend some time with Raúl to figure it out.
Raúl does the decathlon at 75, and he has a deep understanding of what it means to be healthy, body and soul. The first time I went to Raúl´s house, I could barely stand on my two feet. I had just been diagnosed with the most advanced stage of a herniated disk, one that requires immediate surgery. After a lifetime dealing in the problems of the body, Raúl took one look at me and he knew exactly what was going on. Since then, it was very much like a love story between me, Raúl, his wife, and his daughter.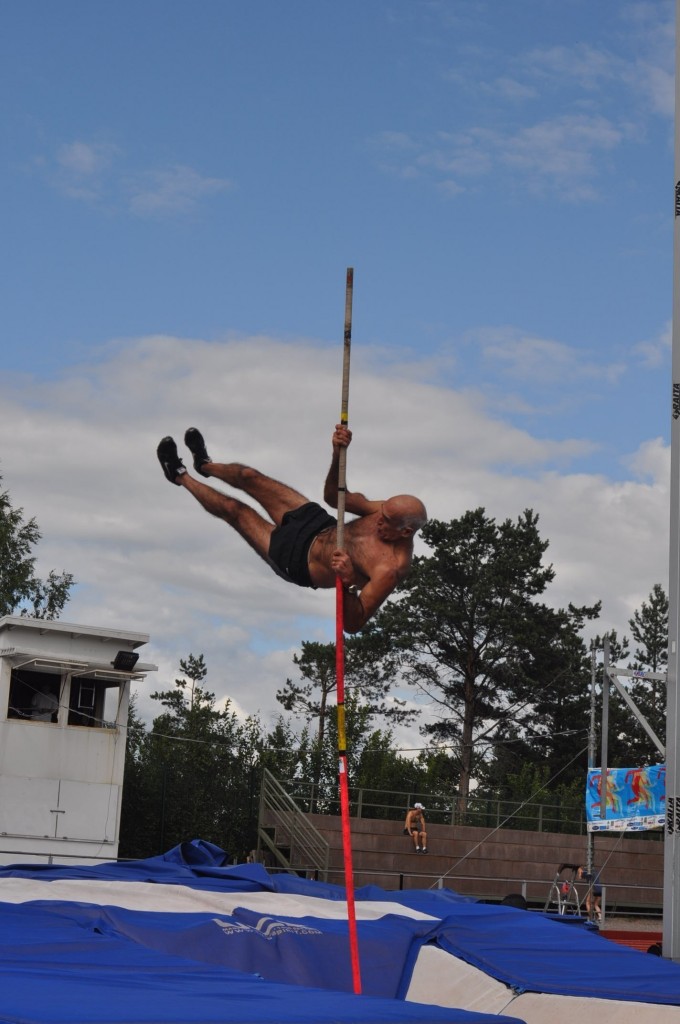 The Secret
I am generally not an avid reader of self-help books and the like, and I tend to ignore all kinds of magical advice for life, but through meeting Raúl I found my true religion: physical exercise. Simple though it may sound; meeting Raúl and learning about his beliefs about body and soul totally changed my outlook on life, as a 30-plus year old woman with an endangered spine inside my back. The lesson was simple: why was Raúl younger-looking and more energetic than most 40 or 50, and even some 20-year olds I knew? Well, he WORKED OUT consistently. What I figured is that the body must be like any machine; if you don´t use it, it gets rusty, it stops performing as well as it used to. This, I though, was the secret of staying young forever. But there was much, much more.
The Soul
Taking good care of your body alone can´t really make you happy. Raúl was all about understanding the body and the mind as a whole. He had good relationships with his ex-wife Rosa and all of his family. He only kept the friendships that were positive for him and his loved ones, and he didn't take on personal training clients, when he believed that contact with them would bring in bad energy. He stayed clear of selfish and unethical individuals, and he liked to enjoy the simplest pleasures of life. In his work, as a personal trainer, Raúl had virtually "cured" a schizophrenic, a couple of cancer patients, and a man whose body had once been half-paralyzed. Since Raúl is not one to brag about his accomplishments, I learnt all of this very slowly in the course of our acquaintance,
How do I do it?
Wisdom doesn´t come easy. It is something that needs to be nurtured and learnt slowly. During the year it took to shoot and edit Raúl, the movie; I swam almost everyday (with a bit of a falling out during the summer months, when I could´t really afford the spa…) and worked out mildly, as I believed that my condition would never allow any serious work-out again, especially after I learnt that the surgery had hurt the root of my nerve very badly. But I was in the process of gaining wisdom. Something, an idea, a thought was taking shape in my head, although I was completely unaware of it.
When the summer was over, and I decided to go back to the spa (saved the membership money for that day), I went and told Horacio, a former student of Raúl´s who manages the Sheraton spa, that I wanted a routine to strengthen my lower back and abs. He gave me a mild, mostly stretching and light abs routine, which I did everyday, religiously, for a couple of days. Then, Horacio told another spa trainer to work with me. What this younger guy did was develop for me a full exercise program, which focused on my back, but also my arms (which I always wanted to trim), my abs, my legs, etc. The whole thing took about one hour and a half. I just loved it. Combined with Horacio´s stretching, this was totally mild on the spine, and yet, it made me work on fat-burning and figure sculpting, as well as, of course, strengthening my lower back, so I could be basically kept away from the operating room.
Results
The joy that the commitment itself brings, after working out for about two hours everyday for over two months, is a reward in itself. The other thing I have experienced is that I have ceased to fear that my spine is gonna leave me stranded once more, I won´t be able to stand up on my two feet (like it happened for almost ten days before my surgery), etc. Exercise is my antidote. It makes me feel powerful, because I am in control, and my health depends on no one but me. If I stop, and my muscles soften, I will probably continue to have back problems, maybe the same, maybe new ones, who knows? But I won´t. You see, Raúl has done much more for me than inspiring me to work out.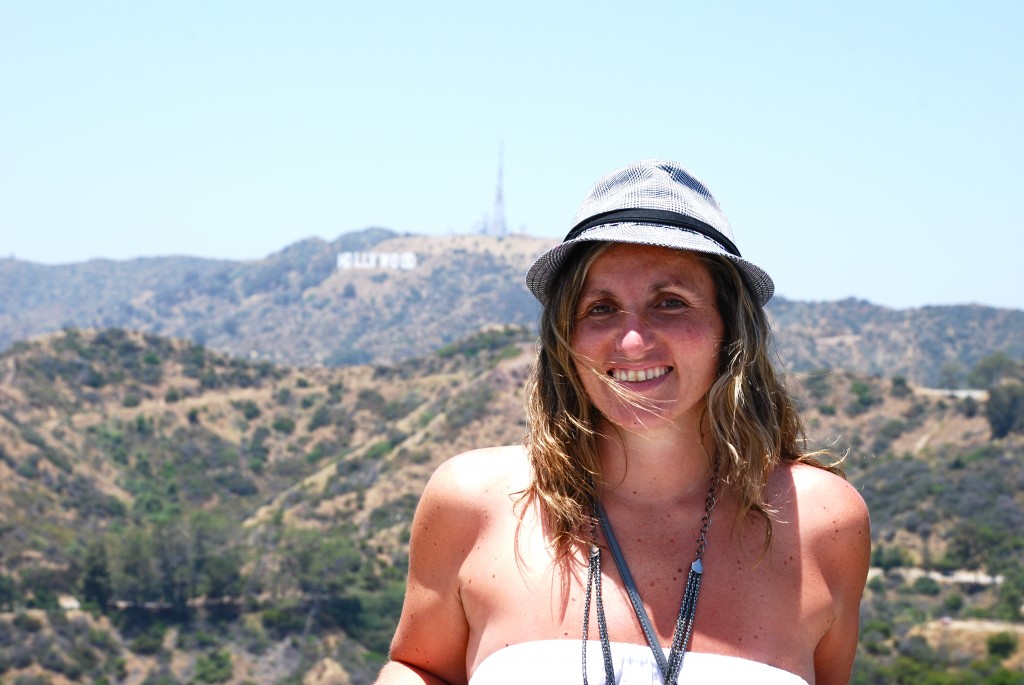 Eversince I am working out, I see things much more clearly. It is as if my mind is getting oxygenated, just like my body. I don´t feel like wasting time on useless arguments anymore. I just wanna do my thing, and stay close to the people who really enrich my life, and do everything I can to make their lives better as well. Big goals; but Raúl does it, so, why can´t we?
Raúl, the movie
The editing of Raúl was long in the making. In my heart, I always knew it would finish in Calfornia. I knew that the clear blue skies of LA, and the company of some of my childhood friends who happen to live here now, would also clear my mind to perform this difficult task. I am writing this in the guest house of a Hollywood hills American-style palace, on the very same Mac pro where I am cutting my film. I don't know if what I am doing will succeed in showing the true Raúl and the way he transformed all the lives of the people who came in contact with him. But I am just doing my best with an open heart. Speaking of transformations, Raúl has worked his way into the lives of people he has never even met; my favorite example is my own mum, who is delighted with her newly acquired personal trainer. Yeah, my mum getting fit after 60, that probably has to be my favorite Raúl-side-effect ever…