I was sitting in the jacuzzi at the Sheraton Montevideo, Uruguay and looking at the best view of the city, the sea and the hill we call CERRO, just enjoying the bliss of the relaxing spa and somehow, looking at this city which is the beating heart of my country, I got to thinking about Uruguayan Music.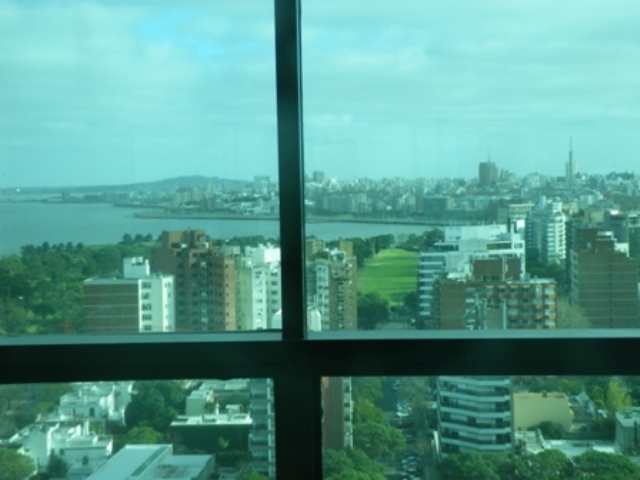 Of all the best kept secrets that Uruguay saves in its heart of hearts, its music is the one I cherish the most. Uruguay is quiet, it has beautiful beaches, friendly people, an intense cultural scene, amazing food, great architecture, a flavor of the old-fashioned and the exotic mixed with the modern and the futuristic. Namely, it has it all; and, last but not least, it has FANTASTIC MUSIC and MUSICIANS.
Why is it then that the world knows so little about traditional Uruguayan music. We have tango, but people think tango is exclusively Argentinean, though the most famous tango there is (LA CUMPARSITA) was composed by my best friend Rosario´s great uncle GERARDO MATOS RODRÍGUEZ.
Listen to: a beautiful version of LA CUMPARSITA.
We have a style of music called MURGA, which involves choir singing and percussion instruments; but few people know about URUGUAYAN MURGA, as Argentineans have also adopted it. We have other folk music styles, including fantastic folk songwriters like the late ALFREDO ZITARROSA, and we also have AMAZING musicians in all modern styles from electronic music (the Latin Grammy award-winning project BAJOFONDO TANGO CLUB is a Uruguay-Argentina operation (in a previous life I worked with some of them on a record- yeah, I´ve had a couple of those -I mean lives…), hip hop, alternative, jazz, you name it.
SO; WHY DOESN´T ANYBODY KNOW ABOUT ALL OF THESE? (exaggerating here, but, ask your friends around the world and you will see my point; Uruguayan music is still an obscure, connoisseur delight…)
My answer for today is: much as Uruguayans love and cherish this treasure they have in their hands, most of us are not ready to put our money where our mouth is. Basically, we will pay 50 dollars to see decrepit Axl Rose parody a band that once was in 2010, but one of my favorite Uruguayan musicians of the moment, namely, Eli-u, charges only about 3-4 dollars for a ticket. Axl Rose is dead, Eli-u is VERY MUCH alive, so, what´s going on?
I also have an answer to that… Take Eli-u, her father EL PRINCIPE (THE PRINCE) was like a MOZART of popular Uruguayan music. He wrote hundreds of, unquestionably, some of the most beautiful songs we have and then died in utter poverty, with only a couple of CDs released. So, what happened to those hundreds of songs? Well, Eli-u, his daughter, is managing an archive and she released one record where she selected about a dozen songs to sing herself (beautifully, may I add). But she doesn´t have any support whatsoever to manage this archive, which is an important part of Uruguay´s cultural heritage.
Then, why am I writing this post about Uruguayan music in my travel blog? Well, basically, because I don´t want any of that music to be lost, and I don´t want Eli-u to follow on her father´s footsteps. I don´t want any talented Uruguayan musicians to follow those unfortunate footsteps. Music and musicians are to me the heart of a nation, and if we don´t cherish them and embrace them, our heart will quite simply stop beating. That is how important music is.
Wherever you live, even if you never heard of Uruguay; I hope you are all taking care of your country´s heart.
As for recommendations, if you are interested in Uruguayan music:
Here is a playlist curated by me with some of the greatest Uruguayan songs:

The man who started it all:
EDUARDO MATEO
CANDOMBE, our original African rhythm played with three different drums that build a unique pattern.
For an easy way in, check out this CANDOMBE version of YOU WON´T SEE ME by the Beatles.
My beloved friend Nico Ibarburu
fave hip hop-candombe band CONTRA LAS CUERDAS
and, last but nowhere near least:
Eli-u and
her father EL PRINCIPE
As I emerge from the jacuzzi, I once more take in the beauty of the city below me, and it is now clear to me; the heart beats on.