I had many unforgettable experiences in Seattle this Spring. Now that winter is approaching in Montevideo, with its gloomsam skies and fading greenness, I can´t but long for those perfect blue Pacific skies, the mirror lakes and snowy mountain peaks that crowned the landscape. Above all, I miss being outdoors, in the land, with the trees and the beautiful gardens, mysterious woods with paths that lead nowhere, I think mostly, I miss the city´s fabulous parks.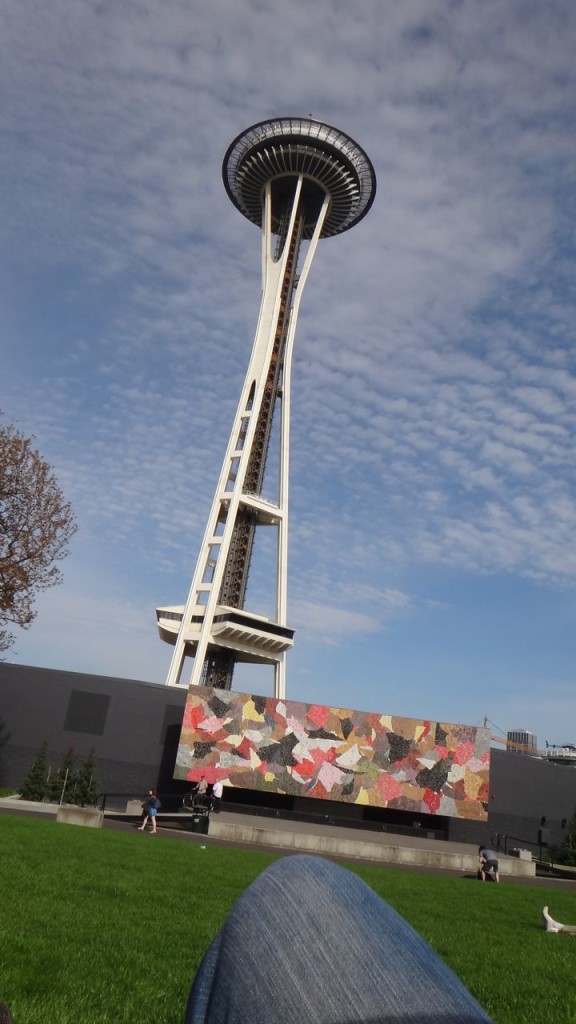 Though I didn´t stay for very long in Seattle, I was able to save on traveling and hotels by using a handy online voucher. I usually find this type of coupons very useful, as opposed to walking into a hotel and paying full price. Luckily, my trip to Seattle was not the exception, as I was able to enjoy a fabulous suite for the price a regular room.
As I chose some very scenic locations in West Seattle for part of my stay, my first Seattle picnic experience was in fact the lovely stretch of grass by the Space Needle. Surrounded by lovely water fountains, facing the funky Museum building, which apparently looks like a melting guitar from the air, I enjoyed some lovely sushi and green tea with my friend Nancy and one of her daughters. I hadn´t seen Nancy in about 5 years, so, all the time I spent with her was precious, and our picnic was not the exception.
Lying on the grass with the sun on my face can never go wrong with me, especially in such good company. This was my most urbane Seattle park experience, but Nancy´s daughter kept talking about how strange it was to be there when it wasn´t crazy crowded like during the music festivals. It seems that this is the place to hang around during the summer.
After I moved to West Seattle, my first stop was Lincoln Park, which we baptized as Licking Park, just for fun; as we walked around there, my friend told me this was the place that gave name to popular rock band Linkin Park, which neither of us was really a big fan of, but I do like a place with a history. It reminded me of when I was at Meditation Gardens with my friend Carla, and she told me she used to see Flea from Red Hot Chili Peppers hanging out and meditating there.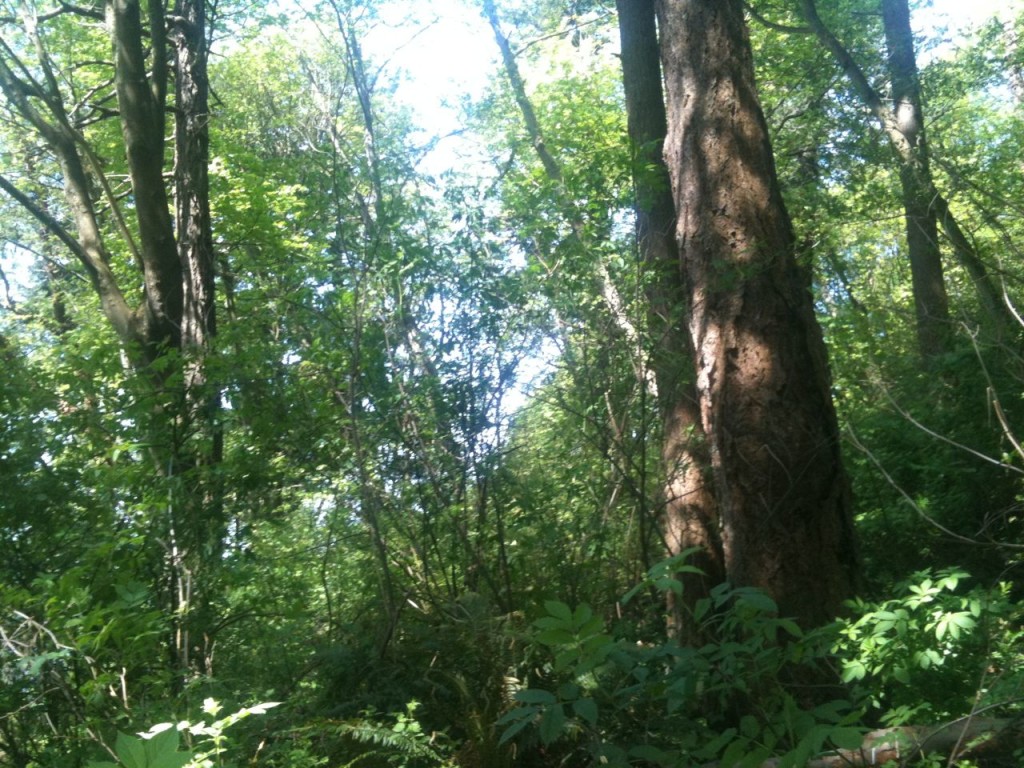 I loved the meandering trails through old trees, the walk along beautiful Puget Sound, the mountainous horizon line with its peaks of white that seemed so close, like you could touch them if you stretched out your hand. In fact, looking at mountains was one of my favorite things to do in Seattle, especially the majestic Mount Rainier, which you can see from virtually everywhere on a clear skies day.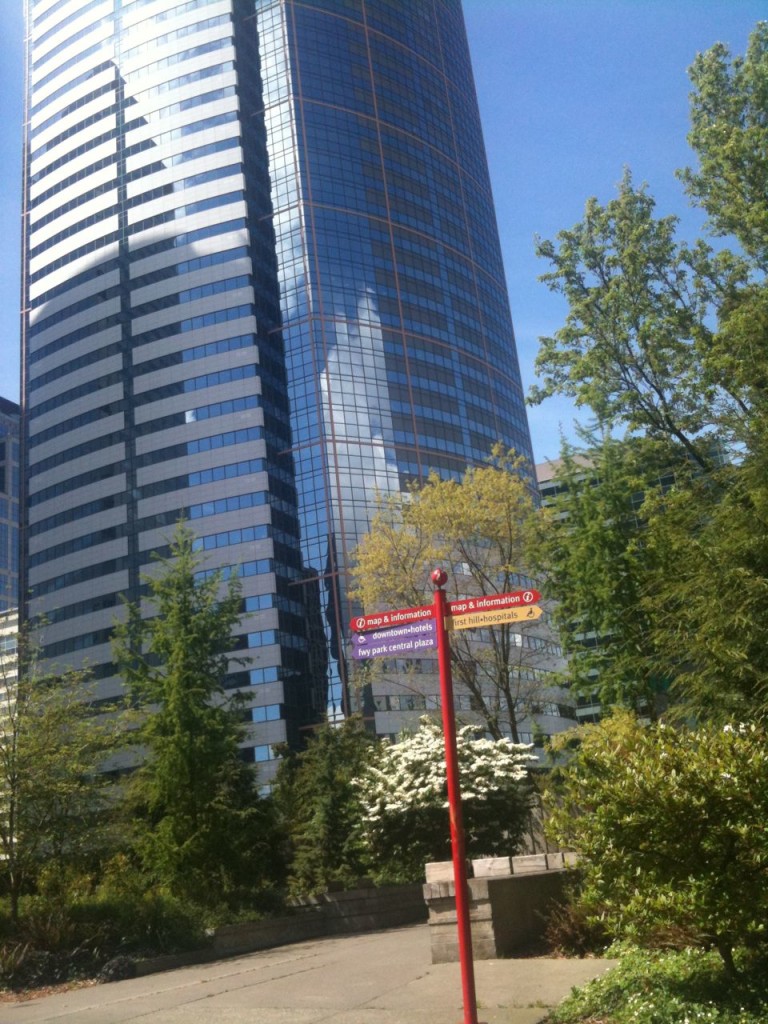 My next park was Freeway Park, a little patch of greenness hidden away in the middle of the city, adjacent to the Washington State Convention Center. It is noisy because you can still hear the madness of traffic down below, but the sun shines on the greenside benches as well as in any other park, and it was really lovely soaking some sunshine there with my lovely friends Nancy and Dina.
No.3 was my absolute favorite. It is kind of a contradiction, because my one phobia in all the universe has to do with snakes, and this place was called Rattlesnake park. The greenness of the slopes around, the crystalline, almost turquoise waters of the lake, the perfect little paradises by the shore among the trees. We found our own paradise there, which was rather quiet, all water flow and singing birds, until the area was invaded by some loud teen girls without one brain cell in their pretty heads.Rattlesnake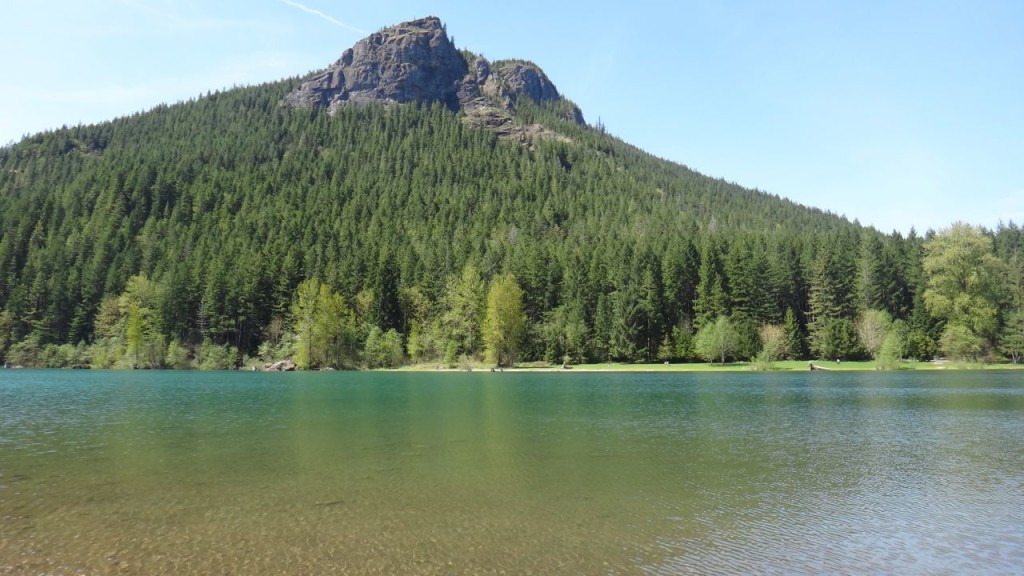 When I remember Seattle and long for Seattle, I think of Rattlesnake Lake. The water was freezing and the realization of my dream of skinny dipping in paradise was rendered very short by thisunexpected circumstance (after swimming in Alaska and Finland, I never thought a Seattle lake would defeat me, but this was probably the coldest water I´ve ever tried to swim in). It´s kind of a contradiction to see such perfection and be unable to enjoy it, remaining on the shore, just looking at the beauty, but the moments we spent there were so perfect, eating berries and olives and Alaskan smoked salmon, breathing mountain air, wetting our feet in mountain water, and feeling utterly alive.

My last park experience was a tad less memorable, simply because we drove around for longer than I care to remember, trying to pick a lake shore to have a picnic. We chose to head East, and it seems that was the mistake: every time we saw a lake and tried to reach the shore, we found that the whole area was private property, all the roads that lead to the water had non trespassing signs, and it made me think that I would never like to live in a country that puts a fence on nature´s beauty, so only those who can afford it can enjoy it. Anyways, we ended up by a small stream, by the side of a bridge with a lot of traffic. This didn´t look like paradise at all, but I suppose we carried paradise in our hearts then, and it really didn´t seem to matter. It was also a lovely day, with many discoveries.
Although it did cross my mind to move to Seattle not so long ago, right now I do not think I will ever return there, but I made memories there to last me a century, and, ultimately, that is what life is all about, creating as many unforgettable moments as we can, for as long as we can, every single day of our lives and cherishing them, for as long as we are in this world.