The story is simple.
An overnight in Maui on a cruise. My friend Bea, a film producer from Rio, who lived in NY at the moment, had just been to Maui and fallen in love with it.
I just didn´t want to go back to sleep on the ship. Simply, I NEEDED a connection. It was not about booking a hotel and staying there by myself…
This was MAUI!!! I had to see those Maui stars, whatever the cost.
So, I went to Ka´anapali beach with some friends, shared some delicious Hawaiian food there, and I kept trying to phone these friends of Bea who were staying at the Banana Bungalow. First I got the girl at the desk, the guy I was calling, M. from Switzerland, was not around. I called again and I finally got M. He said he would meet me at the beach, though the Banana Bungalow was on the other side of the island; actually not on the coast, but somewhere in the middle; that is why understood at least.
The Banana Bungalow is the place of choice for anybody doing Maui on a budget. It is a hostel with a very familiar atmosphere, where solo travelers are sure to meet some new companions for their Maui adventures.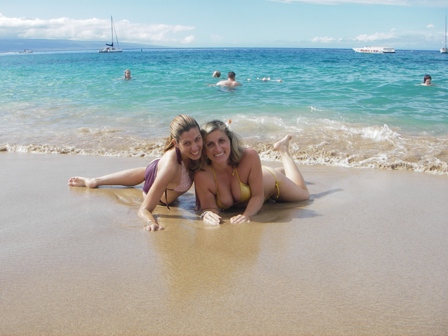 The sun was going down on MAUI. My friend Ines from Peru and her boyfriend had just left to go to a LUAU. A Luau is a traditional Hawaiian feast, complete with Hawaiian music, traditional dancing, and I know it also involves the roasting of a pork somewhere. I am a vegetarian, so, I didn´t care much for that part… Anyways, I would have LOVED to go to the LUAU, but it was apparently sold out. My lovely friend Regina, who is actually from Honolulu, was also going. Regina is of mixed descent, a tall slender beauty with Asian features; as you will see in the pictures, one of the most beautiful women I have ever seen.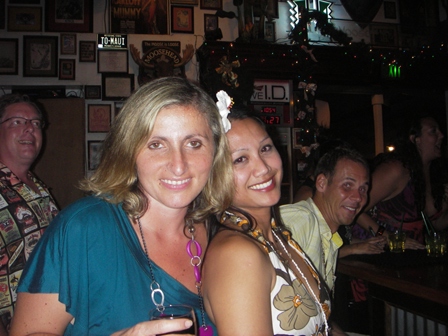 As I couldn´t do the LUAU, I wandered around the hotel beaches of Ka´anapali, I sat on a swing between two palm trees. I was all sandy, so I went into a ladies room at a restaurant, and came out all nice and clean and changed for the night, like Superman emerging from one of those phone booths…
One problem though; no sign of M. I took photos, enjoyed the sunset, and finally decided to walk back along the coast to Lahaina town. M. wasn´t picking up his cell. I texted Regina, but she wasn´t replying either.
I ended up getting to town and shopping for Hawaiian gear for my nieces and nephew. It was tough. I had to look for the perfect, best value and quality outfits for two infants and a 4-year old. I got dizzy from looking at so many different  Hawaiian flower prints, with cars, with surfboards, with flowers. Finally, I made it. I imagined how pretty the girls would look in their grass skirts and flower tops.
Night had fallen by now. I couldn´t get anyone, and the lights of the cruise ship looked at me menacingly from the ocean. The tender boats were running until 2 AM, so I would have to make a decision. I was so sad, I could have cried.
All my plans of spending the night in MAUI were evaporating before my eyes. Then, my phone rang. It was Regina! She said our roaming systems didn´t allow for texting, but we could call each other, that´s why she hadn´t reply earlier. She told me to meet her at this American pub by the pier.
I was RADIANT when she showed up. She told me she was meeting more friends at a pub called the Moose.
We did go there. It was a lively place on a second floor, with a bar in the middle of a big room, and even a dance-floor!
The food there was AMAZING, I think I had some of the most delicious fried shrimp ever, and the Hawaiian drinks were as good as they get, not too alcoholic, but delicious with the taste of fresh Hawaiian fruit.
At midnight, I was having a good time, having great conversations with Regina and a French girl I really liked, so I just grabbed the phone and called M. This time, he did pick up!!
Half an hour later M. and his crazy (also Swiss) friend were at the Moose with us.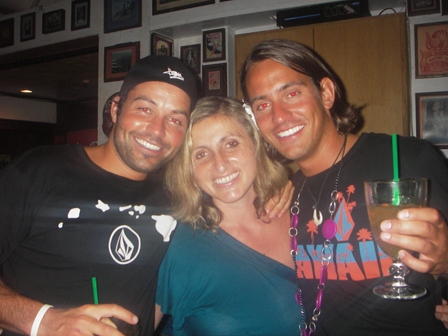 Long story short, we  slept on the beach under the Maui stars. M. was the coolest guy, his boss in Switzerland had just given him three months off to go to Hawaii!!!
Yada, yada, yada, I had Ginger rush for breakfast at my favorite cafe the next morning.
As I slept in a sleeping bag I borrowed from M. on the beach, the eyes of the cruise ship, like Big Brother, were watching me; but I was not afraid anymore. The Maui stars were protecting me, and that was all I needed.