I just did a guest post for thevacationgals.com. To write the piece, I had to summon all the wisdom acquired after several years of cruising.
As it turned out, I had way too much wisdom to share, and my post became too long. Here is a companion piece to that post, which completes it and adds valuable information for would-be cruisers.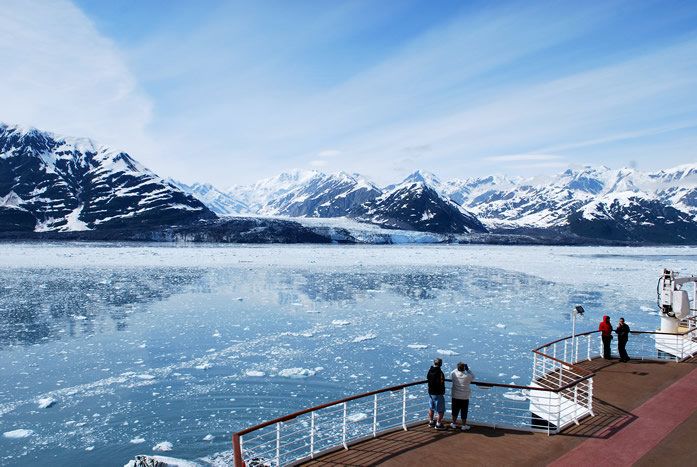 Picking a cruise
The overnight
There is one drawback to cruising: namely, that it deprives travelers of half the life of any destination which is the night.
If you have a chance, always go for cruises offering an overnight in fabulous places like Honolulu, Istanbul or Barcelona. And if you do, go the whole way, book a hotel with a view of the Bosphorus or have dinner at the magnificent Galata tower (Istanbul), enjoy a traditional luau and the excitement of the hawaiian nightlife. Make your overnight the most memorable night in your cruise.
The best ports
Choose the cruises stopping at the best ports and providing the longest port times. Pick the ports where there are interesting things to do close by. Choose places that provide a mixture of good dining, cultural points, beautiful scenery, and great shopping, and where the people are said to be friendly and welcoming.
In the caribbean, I recommend Aruba, St. Maarten, Bahamas,
St. Thomas, Bonaire, Key West, and Bermuda (though that's in the Atlantic).
In Europe: Oslo, Barcelona, Valencia, Lisbon, Istanbul, Naples (gateway to Capri, Pompeii, and the Amalfi coast), Venice, Villefranche, Mykonos, Santorini, Copenhagen.
But it is mostly a matter of what you enjoy and how easy it will be to get to it from a certain port.
Choosing a cruise line
Though I have only been on one company ships I have heard a lot.To the best of my knowledge, Celebrity is more catered to older couples and families and less recommended for young people looking for a party scene. Royal caribbean is more fun for younger people. Crystal is everything they say it is in terms of high-end luxury.
Azamara is part of the RC-Celebrity family, but the decor on their ships is in much better taste, and since it doesn't have a proper kids program, it not recommended for families with young kids.
Carnival is much more fun than RC and Celebrity for employees, but these two offer much better service to passengers.
Finally, many european companies are no longer what they used to be, as they have undergone massive economic disasters.
There is one fundamental rule about cruising: you have to enjoy being at sea and being on a ship. There are many different ways of traveling and seeing the world, but cruising is one that involves many hours inside a ship rather than on shore.
Shore excursions
When you have never been to a place, as is the case with most cruisers when they arrive in port, you tend to play it safe by booking a shore excursion. Though this is not in itself a bad idea, there are a couple of things you need to bear in mind.
If you wanna have time for shopping, for example, regular tours where they are herding you in from the Coloseum to the Sixtine chapel won't do. Especially in Europe cruise tours paid for on board in American dollars tend to be a good deal compared to prices you can find off the ships in Euro.
Generally, it is always a good idea to do a bit of internet research before booking a tour.
Sometimes the most famous place is not the best choice. For example, I'd give you the Acropolis in exchange for the Poseidon temple at Cape Sounio any day. The no-hassle visit to Sounio will take your breath away on account of its beauty and not of the heat and the crowds like the Acropolis will.
When you are looking at ship tour catalogues look beyond the obvious; look for what will be charming and enriching and hassle-free. Remember that crowded tours around crowded places don´t usually provide the most unforgettable experiences.
Onboard Entertainment
You are not bound to see the creme of entertainment on ships. If those people were so hot, they sort of wouldn't need to do ships. All that said, Sting worked on a cruise band once, and I have met several gifted artists on ships. Generally, though, the thing about cruise shows, musicals, and concerts is all about the dressing up and having a drink looking glamorous in a theater balcony, so don"t expect to be blown away.
As for dance parties and games hosted by the entertainment staff, in my experience, these Caribbean line dances, macarenas and sock hop extravaganzas will be far more popular with Americans than with Latin Americans or Europeans, who might find them rather boring.
Ship Doctors
Doctors on ships tend to be pretty bad. If they were any good, they wouldn't be there. For some reason, the best ones I encountered on ships tended to be Latin American.
Fees on ships' medical facilities can be steep on top of that, and so can the ones you might have to pay on shore. Therefore, it may be a good idea to travel with prepaid insurance both on account of quality and of price.
IS THERE ANYTHING IN PARTICULAR YOU WOULD LIKE TO KNOW BEFORE PLANNING A CRUISE? Leave a comment and I will do my best to assist you. Happy travels!