I have heard many visitors to Montevideo complain about the scarcity of ethnic food in our lovely city.
Once in a while, however, we are pleasantly surprised by exotic food of the highest level. More often than not, Tropic Thunder´s popup restaurant experience is involved.
I first met chef Pablo Cordoba as an exquisite cinematographer. In the sacred haven of his kitchen, he is every bit as much an artist as behind the camera lens.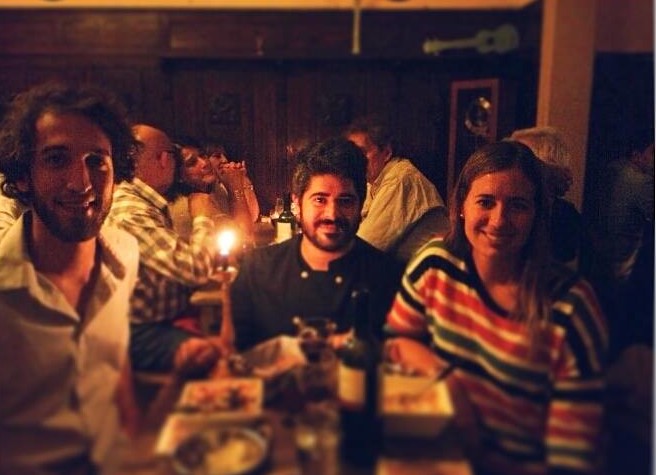 When I headed to Ukulele hostel; one of the few hostels anywhere with a chic design and an open air pool, for my first ever Tropic Thunder dinner, I was prepared to be amazed. I was not disappointed.
From the retro decor of the restored mansion to the impeccable service, nothing betrayed the dinner´s more than convenient price. In Seattle or New York, a meal like the one I was dilligently served by the friendly servers, one dish after another, in an elegant ritual, would cost an arm and a leg.
Some people are not keen on fixed menu dinners, but I think they are great to let chefs show their art.
The dinner began with appetizers, the most salient of which was a pumpkin-garbanzo beans dip. A sort of softer hummus, with a supple texture. Delicate and delicious. There were also marinated olives, beans, and tomato. All accompanied by homemade bread.
As I sipped my wine, I looked at the vinyl records on the walls, the antique furniture, the happy faces of the customers. Soft 40´s jazz was playing in the background. Maybe some Billie Holiday. Perfect music for the occassion. I wondered that I had never seen Ukulele, which is only a few blocks from my house. From the moment I touched the impressive wooden door of the entrance, reminiscent of a more glamorous age, I knew I was entering a special place.
When most of us were done with the appetizers, the skilfull waitresses paraded in carrying trays crowned by one of my favorite courses of the evening: Thai Red Velvet Ceviche.
I enjoy ceviche a lot, but I am reluctant to order it where it´s not guaranteed to be great, after some bad experiences. This, I can certainly say, was the best ceviche I have tried in my life. I love originality in food, and after his travels through Asia and Europe, originality is all Pablo Cordova cares about, it´s what he lives for.
The orange and coconut flavors gave the ceviche an exotic flair. I had never thought of a blend between Thai and Peruvian food, but this was just perfect. The perfume and the texture of the fish. It was probably the most original dish of the evening. It was fresh, aromatic, and it also looked fabulous.
Next came the pineapple lassi. I had never heard of this, but it was perfect at the moment. It was a shot of pineapple and yoghurt, just bitter enough to cleanse your palate for what was next. I probably wouldn´t order it on its own, but it was perfect in between the ceviche and Tropic Thunder´s specialty: the curry.
The Penang Kaeng chicken curry was a piece of heaven. I am no expert in Thai food, so, when I saw the chicken in a creamy sauce, I instantly thought of Indian Korma, which I had cooked on occassion. But this was different. The curry was spicy, deliciously spicy. The kind of delicious spicy you can hardly get anywhere in Uruguay. The chicken was cooked to perfection, it was crunchy and delicious, it had been cooked perfectly to preserve all its flavor. The dish was naturally accompanied with rice.
Another thing I loved about the whole meal was the size of the portions. They were perfect. I had feared five courses might be a bit too much, in volume, to really be able to enjoy them all. But this meal was perfect. No one would go hungry, yet no one would be too full either.
I never do dessert. Not after a big meal. But I was so excited about trying more delights that I did take the apple cherry concoction Pablo had designed for us. As I was eating it, I realized how much I had missed the cardamom in the lattes I had at my favorite neighborhood coffee shop when I was living in Seattle. Cardamom was not alone in this dessert, which had a base of vanilla ice cream, banana chips, and dates. The fruit made it fresh, the cardamom made it exotic and aromatic. It was a perfect dessert even for people who are not into dessert, like me.
I am already looking forward to the next popup dinner. If I managed to make your mouth water, you can follow them on Facebook to find out.
Both food & photos are creations of Pablo Cordoba Lorieto, chef and photographer extraordinaire, world-traveler, and a really cool guy.