With over fifty universities and colleges, it is fair to say that London is a city full of students. Although the capital is known for being an expensive place to live, there is always a variety of activities going on so you will never get bored, even if you are on a student´s budget. From club nights to free events and the usual tourist attractions, there is something for everyone to enjoy. Here's our run down of the top ten activities for students in London, for more you can check out the official London tourism website.
1. Cruise the Thames River
Whether you are eager to get to know the city of London, or simply fancy a day of sightseeing, a boat trip on the Thames is one of the best ways to do it. Cruises depart every thirty minutes, every day of the week. There are many different routes for you to explore, and each one will give you the opportunity to see a variety of famous buildings and sights. Tickets usually cost around eight pounds for students.
Have something to celebrate? Book yourself a student boat party. There are vessels that are available to hire all year round. The companies running the events usually have a variety of packages available; some of them include boat hire, in-house DJs, drinks packages and canapés. Single rides without all those fancy additions can be obtained online for about 10 pounds.
2. Catch a film at The Electric cinema
The Electric in Notting Hill is the oldest working cinema in the country. It first opened its doors to the public back in December 1909. It usually screens a wide range of films, from indie to mainstream hits and recent releases. It is the perfect place to visit if you are a film lover. Luxury seating is available, including posh front row beds and back row sofas for two. In short, the Electric Cinema offers modern comfort with a taste of the old world, accompanied by prime cinematic experiences.
3. Ride the London Eye
There is no better way to observe picturesque views of the city than from one of the London Eye's glass pods. The London eye is a massive ferris wheel located on the South bank, and it is one of the city's most popular attractions. Towering a whopping one hundred and thirty five meters over the cityscape, it is one of the world's largest observation wheels. Tickets cost around 20 pounds, but you can get a substantial discount by booking online.
4. Visit The National Gallery – free events every week
If you are interested in art, then it is definitely worth paying a visit to The National Gallery. Admission is free, and besides its permanent and temporary exhibitions, the Gallery hosts different events each week. Home to Van Gogh´s ubiquitous Sunflowers, the National Gallery´s permanent exhibition also includes some of the most popular works by Vermeer, Rembrandt, and Rubens, as well as Cézanne´s beautiful Les Grandes Bagneuses, famous Monets, and several works by Italian Masters like Da Vinci and Michelangelo.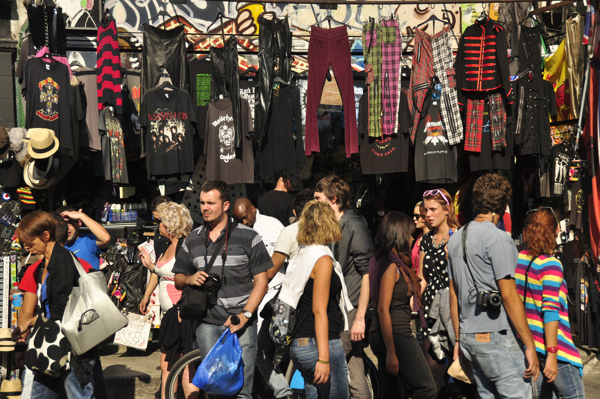 5. Get a taste of London´s fabulous street markets
If you are looking for the quaint and quirky, and shopping on the upscale stores on Oxford Street, why not head to one of London's famous street markets? There are many wonderful markets to choose from, including Portabello, Camden, Greenwich, and Brick Lane market, to name only a few. Each one of them offers something different, from fashion to accessories, vintage homeware, and food from around the world. They are definitely worth exploring on your days off from university. Not only will you be able to grab a bargain, but you will also be supporting London's independent traders.
Insider´s tip: Choose Borough Market to grab a quick lunch or shop for fresh and delicious groceries.  If you are looking for bric-a-brac, and second-hand wonders, head down to Brick Lane Market.
6. Take a tour of London by Helicopter
If you are looking for something a little different, take a tour of London by Helicopter. With departures from both Redhill and Battersea, you and up to 9 friends can climb to more than 1,000 feet and see all of London's attractions in either a 20 or a 30 minute trip. This is an ideal activity for photo and video enthusiasts. Although this may seem like a splurge for students, there are many great offers available online, and it will not brake the bank, as long as you can find enough people to share the ride with.
7. Spot your favourite celebrities at Madame Tussauds
Fancy spotting a few famous faces? Head to Madam Tussauds! Inside this famous museum, there are over fourteen zones inhabited by three hundred wax figures, from the Royals to Marvel Super Heroes and Hollywood's finest A-listers. Tickets are fairly pricey at 30 pounds, but online booking can save you a few pounds.
8. Have a drink and dance at Tiger Tiger
London certainly isn't short of bars to visit, and Tiger Tiger is one of the absolute favorites with students. If you fancy a drink and a dance with your housemates, then this is definitely one of the best student bars to head to for drinks offers, a cool atmosphere, and cheap entry. If you are interested in live music, check out these top live music venues in London.
9. Go for a swim in the Serpentine Lido
If you are in the mood for a relaxing outdoor swim, you can head to the Serpentine Lido in Hyde Park. It is open during the weekends through May and seven days a week from June to September. After you have dried off, pop to the Lido Café bar to grab a quick snack and enjoy the view from the waterside tables.
10. Cycle round Battersea Park
Battersea Park is one of London's most interesting parks. It features a boating lake and a beautiful old English garden. Bring your own bicycle or hire a cycling recumbent, so you can sit back and relax while you explore the area. If cycling isn't your thing, head to the free Pump House Gallery or enjoy a picnic in the sun.
City Image credits: Docklandsboy & HerryLawford
Camden Park photo by Wanderlasss
Featured image by @Doug88888
This article is a guest post by students of the TTI English Language School in Camden, who have collaboratively compiled a list of their favorite leisure activities around the city.