If you enjoy traveling by car and discovering things on your own, without guided tours or carefully planned schedules, the Argentinean South is one of the coolest places I know to have a fabulous road trip adventure.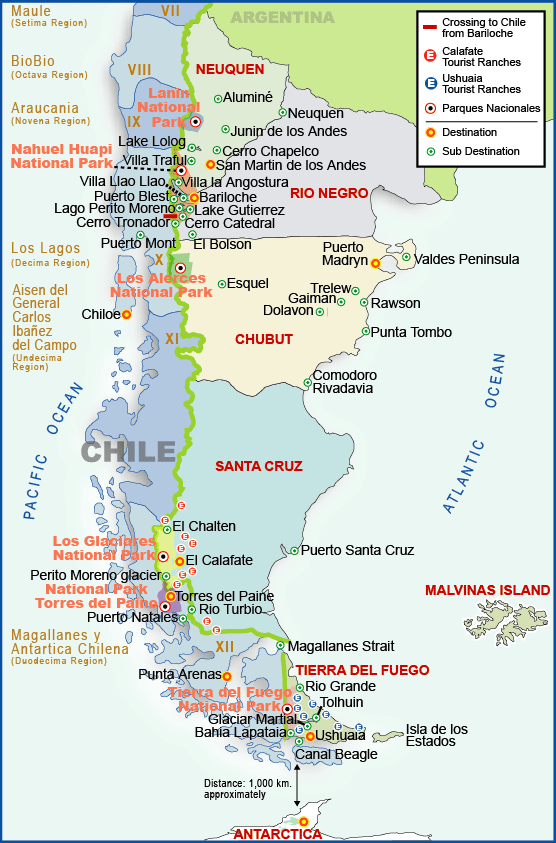 Though I have never traveled there by land, the places I saw while cruising were quite unforgettable, especially my favorite, Ushuaia. This is a land of vast plains and imposing mountains, of crashing glaciers and quiet gauchos, that say more with a look than with a thousand words.
While some of the towns are quite touristy and expensive, taking a road trip in your own small car will allow you to discover the cutest unassuming towns ever, where the people are friendly and the views are breathtaking, without exception.
Before I ever set foot on this land of fire, all I knew about it was that there were such little isolated towns there, where your profession didn´t much count, if a job needed to be done. I knew this because my friend Noelia who is not an astrologist or a journalist or a writer, was in charge of writing the daily horoscopes for the local paper in one of those little out of the way towns. I always loved the story about how she had to make everything up from scratch, because she had no idea about planetary influences on zodiac signs, and there simply had to be a prediction for every sign, every day.
GETTING THERE
To reach Tierra del Fuego by land, you can come from either Punta Arenas in Chile or Río Gallegos in Argentina. I crossed Magellan´s strait from the Atlantic to the Pacific on a ship several times, but in your case, you will be crossing the strait from North to South on a ferry that can carry your car, as well as buses and trucks. I have to say that, if you are expecting something wonderful from the crossing itself, it´s not gonna happen; after Alaska´s beautiful Inside Passage, Magellan´s strait and even the Panama canal have seemed pretty unremarkable to me.
If you are renting a car in Buenos Aires and driving the whole way, you have to go all the way to Ezeiza to catch Route No 3 down North. If you are arriving on an international flight, lucky you! You can rent a car at Ezeiza Int. Airport and just hit Route 3 straight from there.
Alternatively, you may fly directly to Ushuaia, like I did, and start at the heart, by getting some of the great rental car deals at the airport.
Due to snows and freezing, the best time to take on this trip is the Argentinean Spring and Summer (late Semptember to early March).
WHAT TO SEE ALONG THE WAY
El Calafate
If you are coming to Tierra del Fuego from the North, you might want to take a small detour to Calafate in the province of Santa Cruz. This is the most touristy place around, but if you are really into exploding glaciers, then you should go for it. Perito Moreno glacier is quite active, and the views of the falling ice from the observation platforms are quite spectacular. Personally, I have had my share of glaciers in Alaska, but if you still must see humungus chunks of ice behaving in the strangest ways, this is the place you want to be.
Camarones
If you take the 30 down to the Coast while crossing the province of Chubut towards Tierra del Fuego via Route 3, you will discover the coastal town of Camarones.
Picturesque both for the charm of its cottages and the panoramic views of the mountains, the little hamlet´s area offers penguin and dolphin watching as well as scuba-ready coral reefs which yield some of the marine delights you can enjoy at the local restaurants, including octopus, clams, mussels and vieyras.
There is a Salmon fest every February, and the Arce Island viewpoint offers some of the region´s best panoramic views.
Selk´nam heritage
The Selk´nam or Ona people are the aboriginal inhabitants of Tierra del fuego. There is a Museum in the town of Puerto Williams, where you can learn a lot about their history, their language and their culture, which has been preserved due to early contact with missionaries, although there were only a few hundred Selk´nam still living in the area, according to a census from some years back.

Selk´nam music with images from the region
 Everything Ushuaia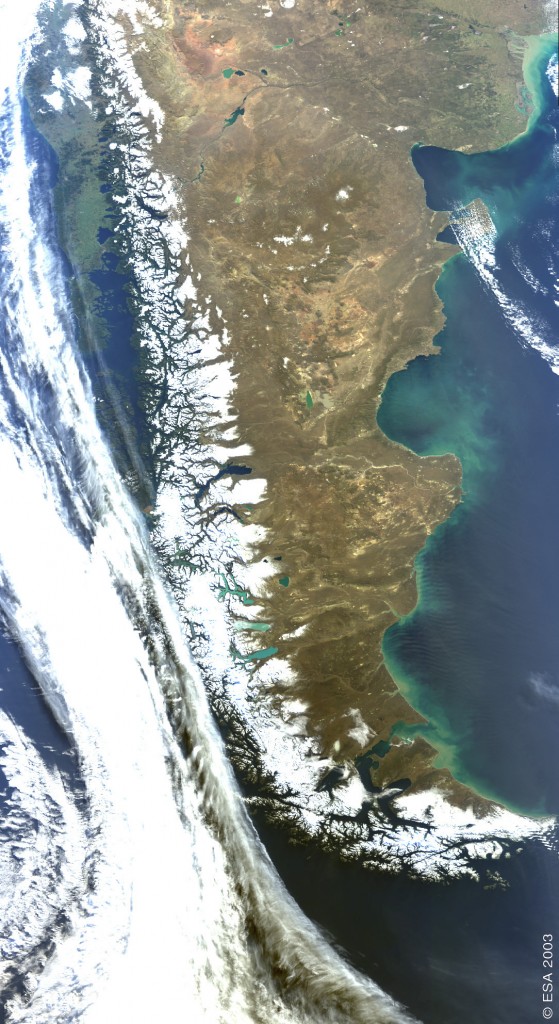 I wasn´t in Ushuaia very long, but the walk up from the port to my hotel alone and the view from my window, along with my trip to a chocolate shop and a quaint little cafe with my Portuguese friend Maria were enough to make this one of my top spots in South America. I´m easy like that: fresh air (like you have never experienced before) a horizon lined with the white peaks of majestic mountains and the bluest skies on Earth, and I´m on board.
However, if you need more action than I generally do, Ushuaia offers horseback riding tours by the side of majestic lakes, great ski slopes, beautiful hotels, fabulous penguin watching, interesting museums and its beautiful Lighthouse at the end of the world, among a long list of memorable attractions.
The Tierra del Fuego National Park is a natural reserve boasts cormorants, penguins and various marine birds. Its two nature trails will provide spectacular views of the Beagle Channel and the bay of Lapataia
Rio Grande
Located 365 km from Rio Gallegos, the town of Rio Grande offers a Selk´nam heritage museum, bird-watching and fishing for trout, land-locked salmon and other species; even featuring a yearly Sea-bass festival. Tax benefits in Tierra del Fuego have attracted industries like laptop manufacturing to set up their factories in Rio Grande, however, the surrounding areas of the town are a prime location to observe the region´s natural wonders.
Tolhuin
Tolhuin is the third biggest town in the Argentinean side of Tierra del Fuego. Its name means "like a heart" in Selk´nam language. You can do the Paso Bridges trail across the Andes on horseback, go fly fishing on Lake Fagnano, the third largest lake in the country, hike across beautiful landscapes or enjoy some condor watching for an encounter with these majestic birds. Horseback riding alongside Laguna Negra is also quite a treat.
The local bakery has become quite famous, and it is the town´s center for social activity, I hear the coffee and sweets are not half bad either.
Finally, here is a song I listened to a lot while I was in Ushuaia. I had just come from a concert in BA, and this had totally captured my fancy. Nothing to do with the Selk´nam, but a great song nonetheless. Enjoy the land of fire.

Maps from Quest Connect and Zonu Cover photo of Ushuaia by Miradas.com.br