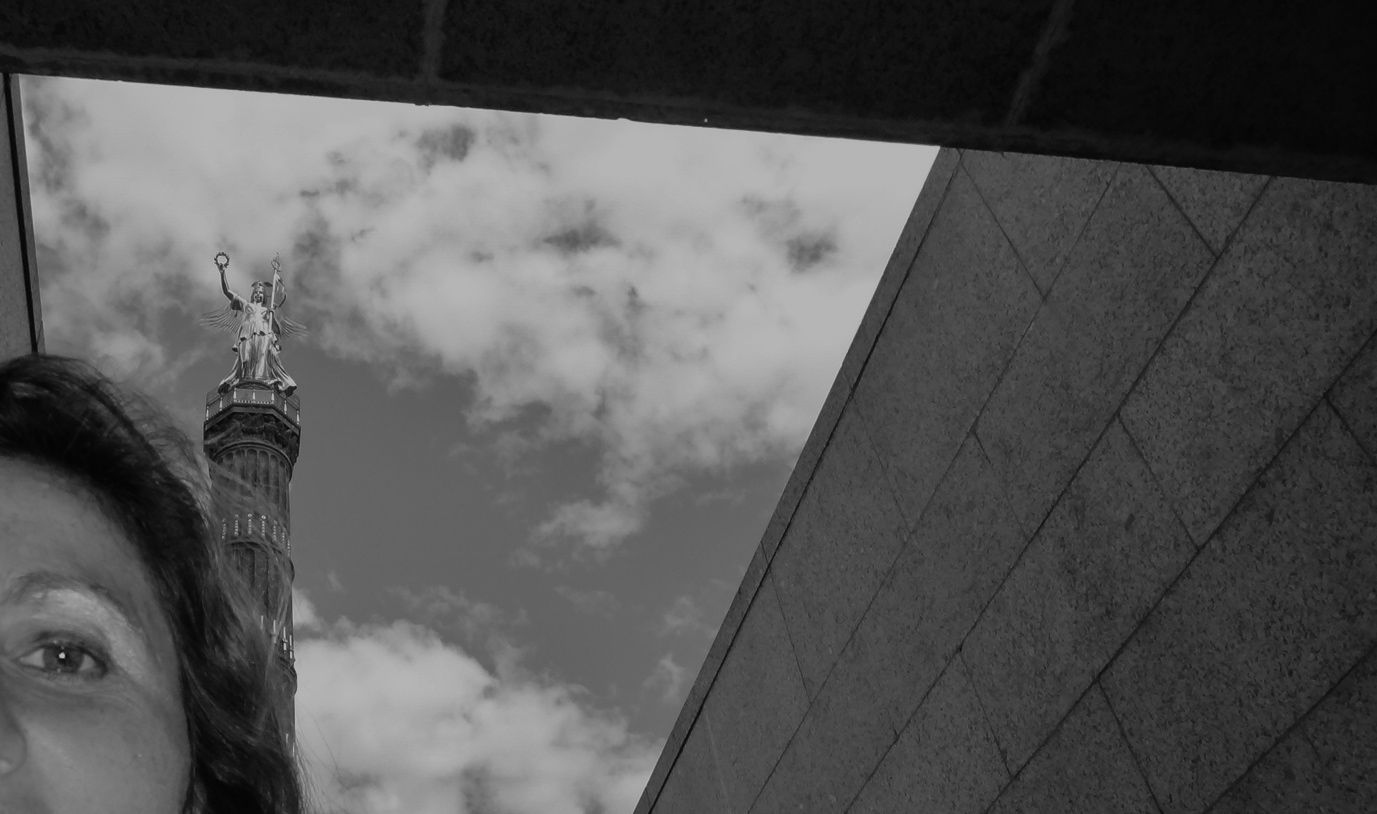 Two nights ago, I had a dream about Siegessäule, the magnificent monument made famous by Wim Wenders` Himmel über Berlin (Wings of desire) and Bono´s music clip for one of the song´s in the sequel´s soundtrack. The only difference between this and the previous times this icon has captured my imagination is that this time my dream was about to come true.
The Siegessäule in my dream had a sister monument next to it, which was bigger and lower, so that one could actually get close to this magnificent winged creature´s golden glimmer. Though at the moment, I though the real thing was high up in the air, and you could only get up close and personal with it using either a helicopter or a telephoto lens.
As it turns out, you can actually go up and stand really close to Siegessäule. I haven´t done that yet. Seeing the monument and the magnificent gardens that surround it was so spectacular and breathtaking that I decided to leave that as a treat for next time.
The outdoor cafe by the water at Neuer See, the golden glimmer against the blue skies and passing clouds. It is one of those things you cannot explain. You just have to be there.
After only a week, Berlin has become my favorite city in the world; at least for now. My first glimpse of Siegessäule brought tears to my eyes. This later made me reflect on the significance of a monument. I guess it´s all about beauty. You can´t beat shiny wings against the skies. More than victory, to me Siegessäule is about freedom, it´s about using our imagination to fly. It´s about possibilities, conquering self-"inflicted" barriers and boundaries that have nothing to do with our own capabilities.
Trying to understand why I love Berlin, I have also come to the conclusion that this place has seen so much horror, wars, Hitler, that now, the people here just want peace, they just want to enjoy the biergartens and the art, and the world music and world cuisine. It is a city for pleasure. No less.
And don´t get me started on the summer concerts schedule, the affordability of, well, everything, and the deliciousness of, hmm, also everything. The architecture is also fantastic. Here in Mitte, where I am currently living, both the ancient and the modern buildings maintain a beautiful harmony, no skyscrapers, no modern ugliness. Even the 70s buildings near Siegessäule have a certain charm, the inner patios of the old buildings from East Berlin. Everywhere I look, I only see beauty; beautiful gardens, inviting bakeries and biergartens. As a special bonus, I get to speak German all day! All I can say is, Berlin, Ich liebe Dich. You are everything I ever imagined. It´s been over 20 years since I first dreamt of this place. It was worth the wait.