Affordable 5-start treatment
Summer in Spain is always a delight. The beautiful weather with hours of endless sunshine and temperate nights combines to the culture of tapas, the exciting nightlife, and the sound of spontaneous flamenco musicians to make an ideal holiday setting. Fortunately, the current economic crisis hasn´t taken any of that way. In fact, it seems that culture, art, and entertainment in Spain are more alive than ever. People have lost jobs, they have less money to spend on going out and shopping, but what they lack in cash, they make up for in creativity.
For travelers coming from abroad all the Spanish crisis means is that prices are more convenient for them. The fun, the sun, and the culture of pleasure have all remained intact. Known as one of the places that started the package holidays revolution, making travel affordable for people from every strata of society, Benidorm is projected to be as crowded and lively as ever this summer season.
The bulk of the people who come to Benidorm are looking to have an all-inclusive experience, with no hidden charges, where they can enjoy lovely accommodations by the beach, with easy access to nightlife and shopping areas, like what the Agua Azul Hotel has to offer in the popular Levante beach area. For people to work hard all year long, enduring less-than-splendid weather in many parts of England, for example, summer in Benidorm is a blessing they look forward to throughout the year.
Top 5 Benidorm Attractions and Tours
(This list is based on online ratings and reviews by people who visited Benidorm in 2013 and late 2012)
Levante Beach
With its agreeable temperature water, clean though often crowded stretches of white sand and beautiful scenery, Levante beach is the most popular spot to enjoy Benidorm´s 325 days of sunshine a year. Home to many great restaurants and shops, Levante is also a great area to walk around during the night, full of pumping bars and night clubs.
Terra Mítica
This fun theme park is based on ancient Mediterranean civilizations, with areas dedicated to Egypt, Greece, Rome, Iberia, and the Islands. Besides majestic attractions like the Trojan Horse, it offers lots of shaded areas, restaurants, and shops. A central lake offers the opportunity for enjoyable rides in replica ancient boats, there are many attractions for kids, including exciting water rides and great shows. An ideal stop for the whole family with some interesting educational content. It is recommended to book ahead, as the park can get crowded during the summer.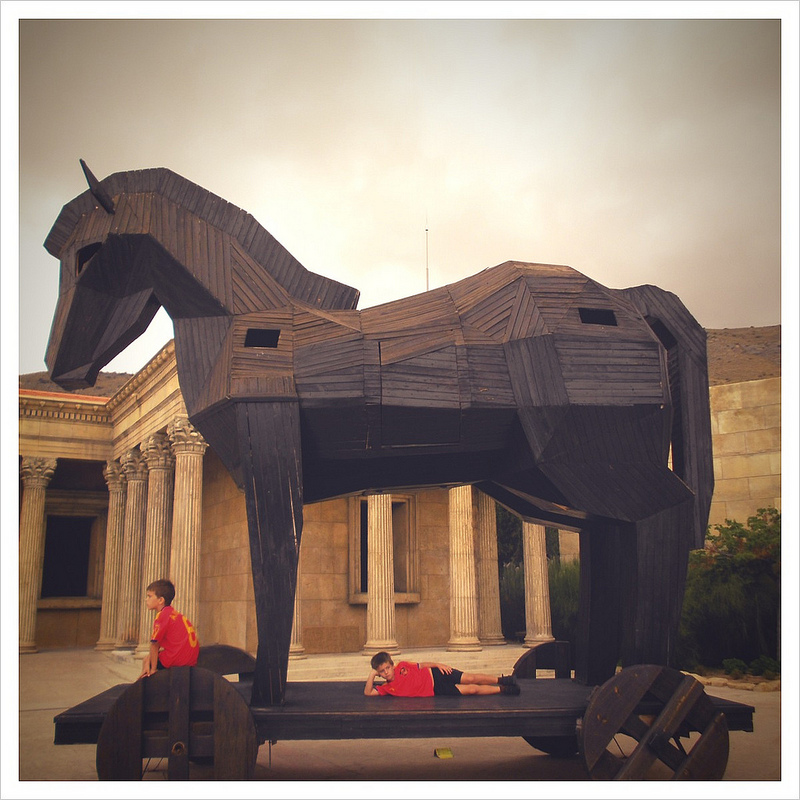 El Arca de Noé
A zoo/shelter for abandoned animals, this is an ideal option for animal lovers and families with young children. The money from tickets is used to maintain the shelter, and some of the animals are up for adoption. Turtles, tigers, dogs, all animals are taken excellent care of in the facilities, offering a humanitarian alternative to regular zoos. A great day trips for kids.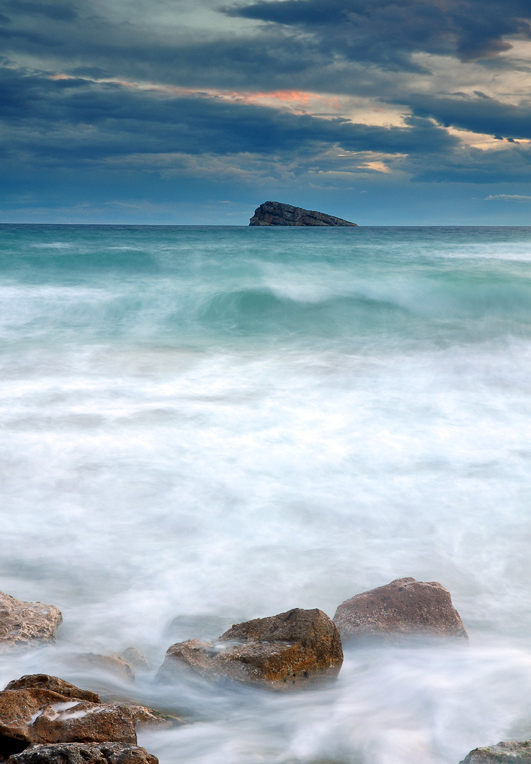 Benidorm Island
Also known as the island of journalists, this small island offers one attraction worth noting, which the unique view of the bay of Benidorm. Mostly populated by seagulls and cacti, the island offers some trails and a reportedly overpriced restaurant. The boat ride to the island, which costs about 15 Euro, is also very enjoyable, especially when taken on a glass bottom boat. It is sometimes possible to spot dolphins along the way.
The most interesting part of the island, aside from the views, is the mythology about its origin. Roldan was a giant who was in love with a damsel who fell ill. She only seemed to get better when the sun shone on her, and when the giant knocked on the Puig Campana mountain out of despair, the slice of the mountain that fell off went to sea, forming the island, thus also slowing down the sunset, so the sun would shine longer on his beloved. The inevitable end saw the giant taking her to the island, so it would be her final resting place, where he never stopped holding her hand, while he let the water cover him.
Marco Polo Expedition Jeep Safari
This exciting jeep tours boast some great drivers/tour guides and a fabulous itinerary. Stops may include the beautiful town of Guadalest, scenic waterfalls, great panoramic viewpoints for photography enthusiasts, fruit plantations, natural reservoir areas and lunch at inexpensive, local eateries to enjoy traditional dishes made with fresh produce from the land.
A great option for young people looking for social activities and nightlife, families with children looking for fun and safe environments, and older people looking for sheer relaxation, excellent dining and beautiful scenery, Benidorm has something for everyone, and it has managed to maintain its quintessential spirit as an affordable paradise.
Photo Credits: