Lake Como
"This shore of the lake is one continued village, and the
Milanese nobility have their villas here. The union of culture and the untameable profusion
and loveliness of nature   is here so close that the line where they are divided can hardly be discovered."
Percy B. Shelley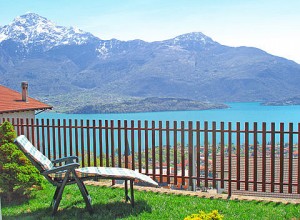 A favorite spot for the most celebrated Romantic poets and Hollywood stars alike, Lake Como is endowed with an aura of mystery and romance ever since it was portrayed in novels like Frankenstein by Mary B. Shelley or described by her husband, the famous poet Percy B. Shelley as exceeding "anything I ever beheld in beauty."
In the past, it was mentions in Hemingway's or Mark Twain's novels that made people wonder about Lake Como, but today, most tourists flock in, in hopes of catching a glimpse of George Clooney or Madonna, who own villas around the lake.
Transportation around the area is mostly done by romantic boat and train rides, and lovers can always be found around the passerella (lakeside walk) by night.
Sedona, Arizona
 " [Paris and Sedona] the only two places  in the world that I would want to live."
Max Ernst
I suppose I think places where great love stories took place always seem to make a good case as romantic spots in my eyes. Sedona is a magic place, its desertscapes are dreamlike and almost unreal.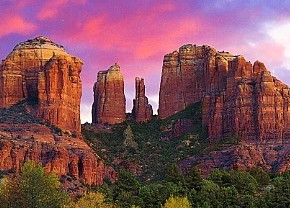 Surrealist painter Max Ernst lived there with his wife Dorothea Tanning, settling down after he thought he had found a place he had dreamed about, before ever having laid eyes on it, in one of his paintings.
Max Ernst's love stories always seemed very romantic to me. Perhaps it is the fantastic women he married or the powerful couple portraits that have survived, but I always thought this would be an extremely romantic place for a sejour a deux.
Sedona has evolved enormously since Ernst's time, and you can now enjoy the raw nature of the desert staying at fabulous 5-star hotels with a view of the impressive red-rock monoliths around Sedona town.
With great hiking trails and natural parks, fishing and horseback riding adventures available, Sedona makes a perfect romantic escapade for couples with a passion for the outdoors.
Romantic highlight: Looking at the Sedona stars by night.
Oia, Santorini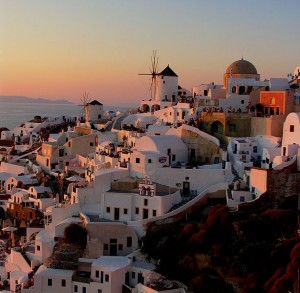 If you visit Santorini, you will be taken straight to the busy town of Fira, if you're only there for a day, perhaps you will entirely miss out on the blissful little town of Oia.
For me, the quiet Oia (quiet even in the middle of the summer), was sheer bliss after walking around the charming, but crowded, Fira.Just like Fira, Oia is perched up on the high cliffs of this volcanic island. Beautiful restaurants and relaxed art galleries line the main street, while a walk down the steps of the adjacent slopes will reveal the beautiful horizon-edge pools of the charming local hotels and B&Bs.
The classic white and blue of the constructions, the magnificent views of the sea, the friendly people and the delicious food will make Oia a perfect paradise for almost any couple looking for a perfect romantic haven.
Sintra
Just like Lake Como, Sintra has been a place that fascinatedwriters, like Lord Byron and the Portuguese Fernando Pessoa, probably the most renowned poet in his language.
What I remember of Sintra is driving around a lush mountain covered in greenness, walking up the steps and around the meandering streets to find those little cafes and restaurants where you can have the best bunuelos de bacalao (fried dumplings with cod).
There is a dreamlike castle at the top of the hill and many more things to discover.Sintra is just a relaxed spot of breathtaking beauty, and it is full of charming, romantic little corners where lovers will be happy to get lost.
Paphos, Cyprus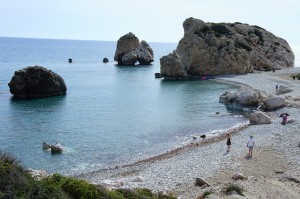 Cyprus is probably not the first thing that comes to your mind when you think of romancing around the Mediterranean.However, the island has everything you might desire in a romantic destination. Paphos flights are probably the best way to get there and start exploring this relatively undiscovered Mediterranean haven. Cyprus is an affluent land with a history that starts in the Neolithic and includes everything from Roman to Byzantine, Arabic and Ottoman times.
Among the local natural beauties, Aphrodite's rock is a favorite with lovers. Set on a magnificent beach in the Paphos area, in Greek mythology, the rock marks the place where the goddess of love arose from the waters, after being formed from the god Uranus severed genitalia. Ancient Cypriots used to be very devoted to the goddess, and there is even a Temple of Aphrodite in Old Paphos.
Cyprus has great hotels, restaurants and infrastructure, beautiful scenery, relaxing beaches, great spas and natural parks; if you top that with a chance to go pay your respects to the goddess of love and pleasure, I just don't know what could be more romantic than that.
Your own romantic escapade
A little time in a romantic destination with your significant other is as close as mortals can get to paradise. Whether traveling to Cyprus or Greece, Hawaii or Tahiti, romantic escapades don´t need to cost a fortune. There are many sites offering great package deals with everything you may possibly need to have a fabulous romantic getaway. Experienced travel planning websites like Travel Associates or Honeymoonsinc offer very convenient options for a wide array of marvelous destinations. For more ideas to plan your romantic trip, you can check out this USA Today article or this romantic spot selection from Tripadvisor.