I arrived in Paris on a charter plane from Ibiza after sunset one summer some thirteen years ago.
After a month in Ibiza, I had had enough of the island´s isolation and lack of cultural life. I was young and I wanted to experience it all, and so I did.

I found this cheap plane ticket to Paris and that´s how I made my decision. I wanted films, interesting conversations about cinema and books, museums with fabulous art and everything the city had to offer.
I don´t know when or how I found out that an old film by Lars von Trier (
The element of crime
) was showing at the open air theater in
La Villete
. At that time in my life, there was no question of possibility: I HAD TO SEE EVERYTHING, so, I got on the metro and I emerged at this fantastic city of culture and entertainment in the outskirts of Paris. I paid for a ticket, which was not a good idea, since what the ticket gave you was a chair and a blanket (most people were just sitting on the grass for free) and this was 11 PM and, having had had a very long day, I slept through half the movie under cover of that cozy blanket…
One of the things that fascinated me the most about Paris was a very simple thing: EVERYBODY SPOKE FRENCH! I hadn´t realized how much I enjoyed hearing French and living in French all day. I was delighted. Then, the men seemed awfully gentlemanly. For example one 40-something guy with a big mustache carried my huge bag all over the 8eme arrondisement and up until my three-star hotel room, before telling me that I was "trés belle" and bidding adieu for good.
Later, I would move into a hostel where I met the most delightful Irish girl, by the name of Bree or Brid, I am no longer sure, though we really hit it off, and we actually exchanged some letters over the next couple of years (The Internet was still in diapers at the time). My field trip to the Louvre was something I did with Bree. It was really fun being with her, but honestly, the grandeur of the Louvre and all those Japanese tourists crowding around the tiny Mona Lisa in its glass cage were a thing of disappointment, especially after I saw the Musée d´Orsay.
The way Orsay is built, you are just flooded with sunlight the minute you get in. The Impressionist works there are some of the most beautiful paintings I have ever seen in my life. I remember one self-portrait by Van Gogh that just keeps staring at you with those eyes, his bandaged ear after the self-mutilation, it was probably the most ALIVE painting I have ever seen, and it brought tears to my eyes. This was one of my most emotional moments in Paris.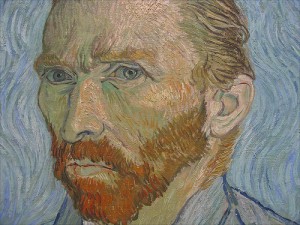 Carrying my Time Out Paris and all the Paris guides that I could find, I knew about everything that was going on. I bought a week pass to the museums, and I was all set. One thing I missed was the reportedly fabulous Centre Pompidou, but I did go out to an out of the place theater to see Wim Wenders` Alice in the cities. I had just seen Lisbon Story in Ibiza (at the only theater there at the moment), and I was delighted to be able to keep catching up with one of my favorite directors. I loved the film, and this time I didn´t fall asleep.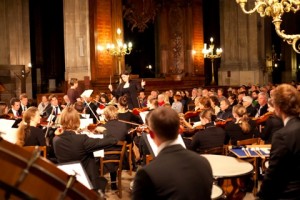 Another of my obsessions around the time was listening to and reading about Mozart. I had particularly enjoyed reading compilations of some of his letters, and his 25th symphony never failed to break my heart. So, I found out an orchestra from Saint Petersburg would be performing his REQUIEM (another all-time favorite) at a Paris church. The ticket was obscenely expensive, and i was on a budget, because I wanted to see as many European cities as possible. So, I decided to just hang around the church to listen in on the performance. The funny thing was that I showed up there during the intermission, and I was just herded into the church and also given a chair by an usher, so that I was able to enjoy this moving concert from a very comfortable position, and with that added taste of the things that are free.
Whatever people may tell you, Paris people seemed awful nice to me, though many will say that it is because I speak their language. In any case, I encountered nothing but politeness. While cruising the Champs Elysées I met a French boy. That night, he came to pick me up in his moped to show me the Paris nightlife. Unfortunately, I didn´t know some hotels in Paris "closed" after 1 AM or so. This meant that our ride was very short, and I never got to see the places where the locals go. Looking back, I guess I was just young and inexperienced: Who cares if you have to sleep on the street? This was Paris by night!
My experiences with Paris nightlife were rather frustrating, other than that of wondering around the Quartier Latin, which was lovely. I onced tried to get into this club which was supposed to be the hippest place to go on Champs Elysées. Turns out it was a gay club, and  females who were unaccompanied by males were NOT WELCOME. That was a sad night, all dressed up. I remember I was wearing this bright green buttoned dress I loved; come to think of it, maybe they would have let in a girl in clothes that didn´t SHINE as much.
Graveyards are not really my thing, but as a lover of Oscar Wilde and especially Argentinean writer Julio Cortazar, I appreciated the chance to see their tombs, in the case of Wilde because the tomb in itself was a beautiful work of art, and in the case of Julio because the homage to love of seeing his name engraved next to the woman he loved was a moving homage to eternal love.
I remembering staring dreamily at the passing Bateau Mouche, crossing those beautiful bridges over the Seine, passing by Les Deux Magots or recognizing one of those other cafes where once Joyce and Cortazar, Paul Eluard and Max Ernst might have shared a cup of coffee; in retrospect, I have to say, I did love Paris. That is not the story I always tell. In fact, I was appalled by the number fo tourists and the heat. I missed having a ocean to plunge into, and my first impression being on the subway and hearing all these different languages was that this was quite simply not simply French enough for me.
However, if I go through all of my experiences in Paris, I have to say that it seems to have grown in me over the years, and I look forward to our next encounter which shall be, no doubt, unforgettable.