Years ago, when I was planning my first visit to Istanbul, I tried to get hired to interview Pamuk, just because I wanted to meet him. I hadn't tried hard enough, and I thought my chances of seeing Pamuk had vanished forever.
A dream come true
Only five minutes ago, a few blocks from my house, Orhan Pamuk was, once more, transforming my life with his
words and politely saying to me in his adorable Turkish accent that he was very pleased to meet me.
The room was full. Some people had come because they had lived inside Pamuk's novels, like myself, some because they thought a Nobel prize winner must have something interesting to say, and even many Armenians were there, who saw him as an important figure in the fight for the recognition of the Armenian genocide.
Lately, I have found that most people reveal themselves mostly from the look in their eyes,the way they stand or move. Besides the fact that Pamuk had been my companion before and after I visited Istanbul, as I saw the New York after the towers fell, in my bed and on the beach, in so many places I cannot remember anymore, when I saw Pamuk standing next to me before his conference, I could already see I was in front of a great man.
I could see wisdom, humility, physical and intellectual elegance. All of these things were apparent in the way he looked, stood, talked.
After the speeches were through, and when he started talking about novels, Istanbul, his father, politics and what not, I learnt that this man was, in his daily life, as "illuminated" as the manuscripts in his best novel MY NAME IS RED. Illuminated in a different sense, though.
Politics and the Turkish language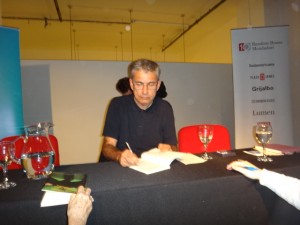 People who haven't REALLY read Pamuk, and who have read about his political problems with the Turkish government, imagine that his novel SNOW, for example, openly discusses the Armenian massacre. There is no such thing, I am afraid. Pamuk is a writer, and he creates worlds, he is not in the business of advocating any politics or morality. While he expressed these views, I was reminded of George Orwell's essay WHY I WRITE, which more or less explains that he lived in an age in which it was impossible not to write or "to be political."
Pamuk lives in a marvelous country full of contradictions, where it is impossible for anyone with an independent mind not to be considered political
The lesson that PAMUK taught today, with less didacticism than anyone in the world, was this:
"You don't have to be slaves of your identities. You are free."
He was talking about Turks but also about Latin Americans, he was talking about humans. If we simply do everything that seems to be ingrained in our cultural genetic code, there is no possibility for freedom.
I thought about all the Armenians like myself who were in the room at that time. Speaking now of my people I say, it can be very harmful to let the dark past of the genocide define us as a nation. We are free, and we can be so much more than that.
Thank you Orhan Pamuk for your illumination, for your humanity, for your books, and for gracing Montevideo with your presence.
It was a very special day.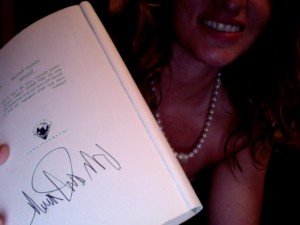 Related articles on this blog:
Armenian genocide
PAMUKKALE from the map of the imagination
References to Pamuk's portrayal of women