Fall is the perfect time to head down to New York in order to enjoy its kaleidoscopic beauty and ever vibrant lifestyle. The million-colored leaves around Central Park create a unique spectacle, and there are dozens of fun outdoors activities and festivals all over the city and the whole of New York state.
Photography enthusiasts will appreciate the regular foliage reports, which keep track of the season´s changing colors and falling leaves. One of the star events of the season, Halloween is celebrated with great pomp all over the NY region, with ghostly settings and extravagant costumes and, of course, New York-style parties galore.
Farm-style New York Fall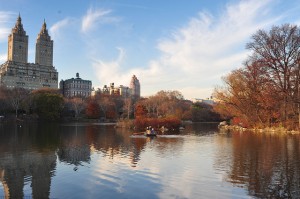 Local food tastings, harvest activities, festivals, hayrides and Halloween celebrations await across the farmlands and orchards of New York, which turn gold, red, and orange for the occasion.
Adirondacks and Babbie Rural & Farm Learning Museum offers opportunities to learn about rural lifestyles and agriculture, while sampling delicious pies and jellies, as well as freshly-picked apples and other seasonal fruits and vegetables.
Recommended family trips include a visit to the Pick'n Patch in the Finger Lakes, which features a massive corn maze and fun train rides for children, as well as opportunities to interact with farm animals.
Cool NY state orchards and farms that you can visit include Murphy Orchards and Fruit Valley Orchard. At Indian Ladder Farms, in Altamont, you may watch beekeeping and sheep shearing demonstrations and learn to make traditional cider. The Farmers' Museum in Cooperstown celebrates the state´s farming heritage, and Lake Ontario´s Seaway Trail offers opportunities to take pony rides and pick up some delicious fresh apples and berries at Brown's Berry Patch.
Only 60 miles away from Manhattan, Blooming Hill Farm offers some renowned organic tomatoes. If you don´t want to move away from the city, Queens County Farm features a corn maze, a haunted house and numerous and fun Fall events.
 Fun Hayrides
Golubs Farm offers lots of treats for the little ones, such as pony and hay rides, a cool corn maze and a fun petting zoo. Harbes Family Farms offers sing-along hayrides for the whole family in Long Island on October weekends. Adults will be pampered at Harbes as well, as hayride vineyard tours include Chardonnay and Merlot tastings.
If you´re looking to get in the mood for Halloween, Headless Horseman Hayrides in Hudson Valley will surely do the trick. A long hayride through dark, mysterious woods will take you to a labyrinthine corn maze and three scary haunted houses.
Halloween Events
In Buffalo, the Gateway's Haunted Playhouse of Horrors and the 6 Gates of Hell will take you through six haunted houses, while Ellicottville's Nightmare Hayrides, will test your nerves with an intense haunted maze.
Some of the coolest scary tours in the city include The Mind of Madness and Serial Killers and the Bronx Haunted House.  Blood Manor features demons, Hannibal's kitchen a stunning laser show and a 3D Labyrinth.
 Finally, the Annual Halloween Parade, which usually attracts over 50,000 costumed enthusiasts will move through 6th Avenue starting on Spring Street and ending on 16th Street, beginning around 7 PM on Halloween night.
Images by asterix611