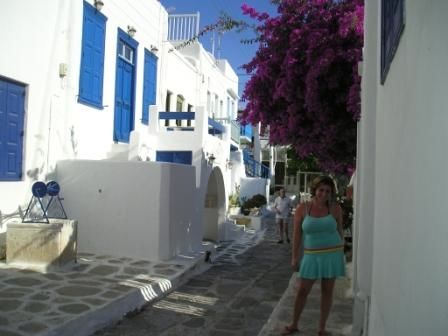 Many years ago, the first time I went to Europe, I was lured into Greece by Henry Miller´s book The Colossus of Maroussi. One day, I was at a hotel lobby in Paris, which I didn´t much care for, as it was unbearably hot, and packed with tourists everywhere, trying to decide where to go next, when I met an adorable Greek boy who invited me to Amsterdam. But, how could I go to Amsterdam after Miller had created this idea in my mind of olive trees and friendly peasants, of virgin shores and gorgeous music.
The Greece I found; after a train to Bari and a ferry to Korfu, was different from Miller´s untrodden paradise. Still, I fell in love with it forever; I fell in love with its musical language, its delicious food, its people, its traditions, and the sheer beauty of its perfect little white towns overlooking the blue Aegean sea.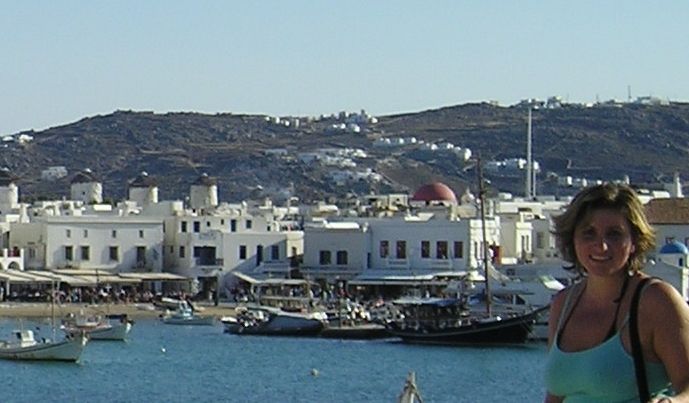 Not long ago, almost ten years after my sojourn in Athens and Korfu, I saw Mykonos for the first time. I was travelling on a ship that docked a five-minute ride away from the typical blue and white downtown area. But I didn´t take the shuttle-bus; instead, I chose the more adventurous path, and walked along the coast. The hills were green and yellow, and the wind was raising fantastic waves. In less than fifteen minutes, I reached the one place on the island that would remain in my heart forever. From the elevation of the road, I saw something that caught my attention: ten or fifteen wooden tables covered with red and white checkered tablecloths were set right on the rocks. From above, I could make out the vanishing whiteness of the dying waves, just steps away from the perfectly set tables. This was, I would later find out, Baboulas Tavern. Large dried octopi were hanging from the masts of an old fairy-tale like sail-boat by the side of the open-air restaurant. I didn´t dine there on that first day in Mykonos, and I didn´t meet Tasos, its delightful owner, until weeks later. The plan that day was to head towards one of Europe´s hippest spots: Paradise Beach.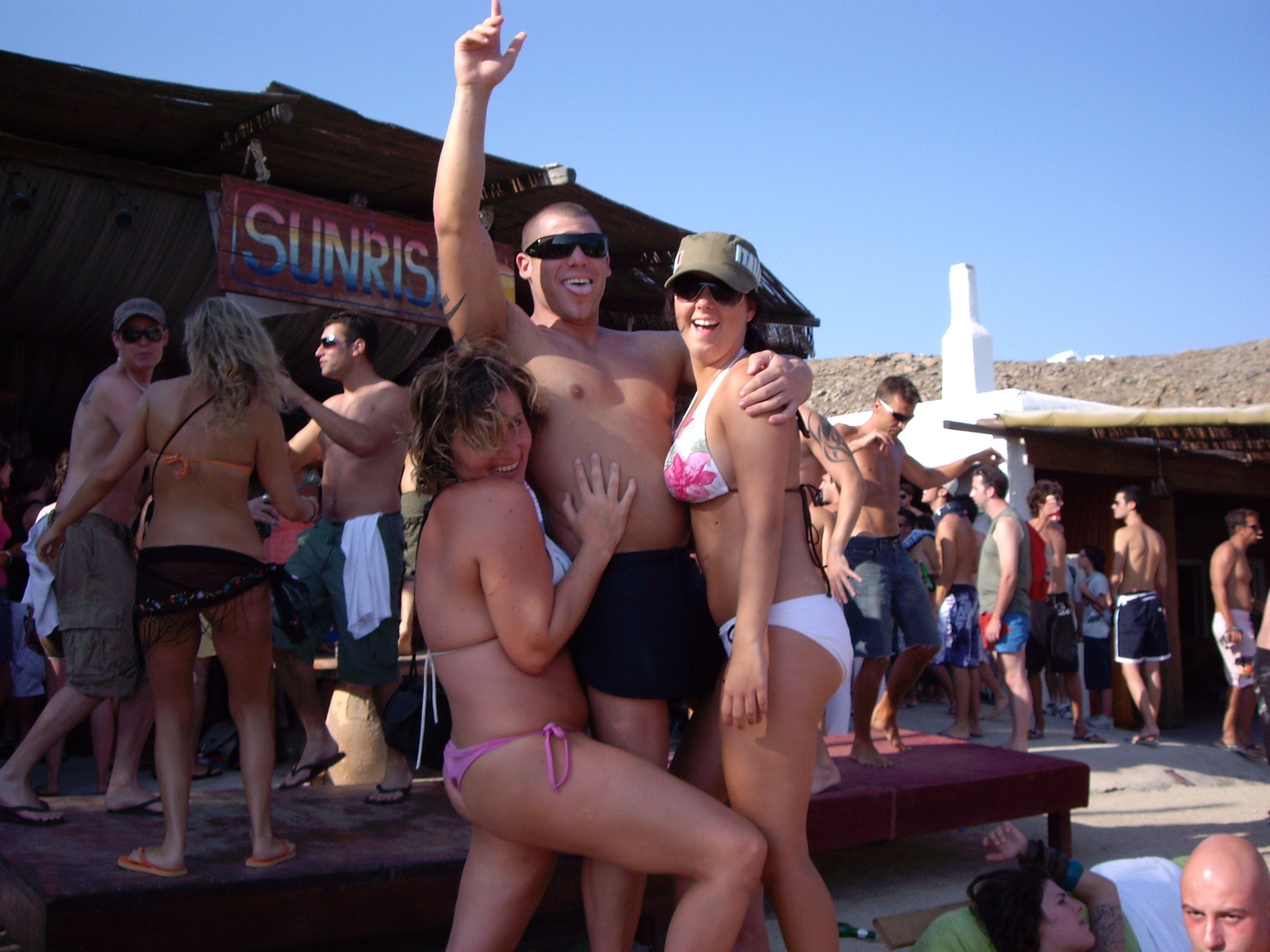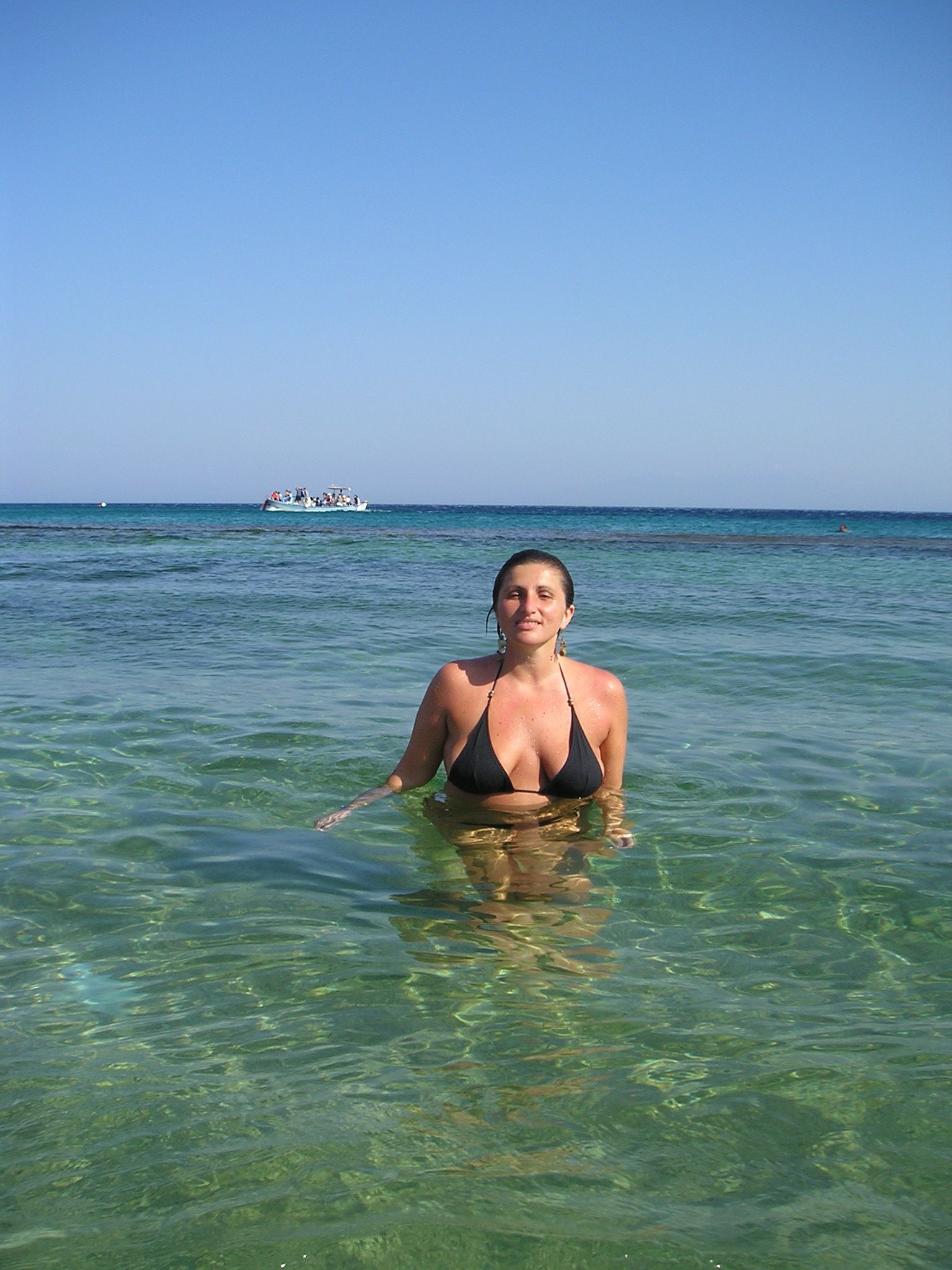 And so we did, on a bus driven way too fast over Mykonos' steep, meandering hill-side roads by a painfully audacious Formula One champion wannabe. The hills with scattered little huts reminded me of my favorite Uruguayan getaway: Cabo Polonio. The driness of the vegetation reminded me of Ibiza in the summer; all in all, it was a familiar feeling, as if I had been there before.
The pumping atmosphere of Paradise when we arrived was a frank contrast from the pastoral scene of the hills. My friend Kiki once told me that people work out all-year-long to go to Paradise in top-shape during the summer. One look at the hunks by the crowded bars and the hip bikini-clad girls dancing on the bars, and I could see Kiki was right. Dance music, pole-beds with vaporous white curtains, and the unreally blue Aegean waters completed the scene; much closer to a disco (at 11 AM in the morning) than to your regular beach resort.
I returned to Paradise several times. Sometimes I would drink and dance like the rest of them, and sometimes I would just enjoy the gorgeous nature, paying little heed to what was going on around me. Kiki says there is another place called Super Paradise, which is even cooler, but I never tried that; I leave it for you to explore, and in case you fall in love with the place, there is a pretty cool hotel right on the beach, so you won´t have to take that risky drive to get to paradise…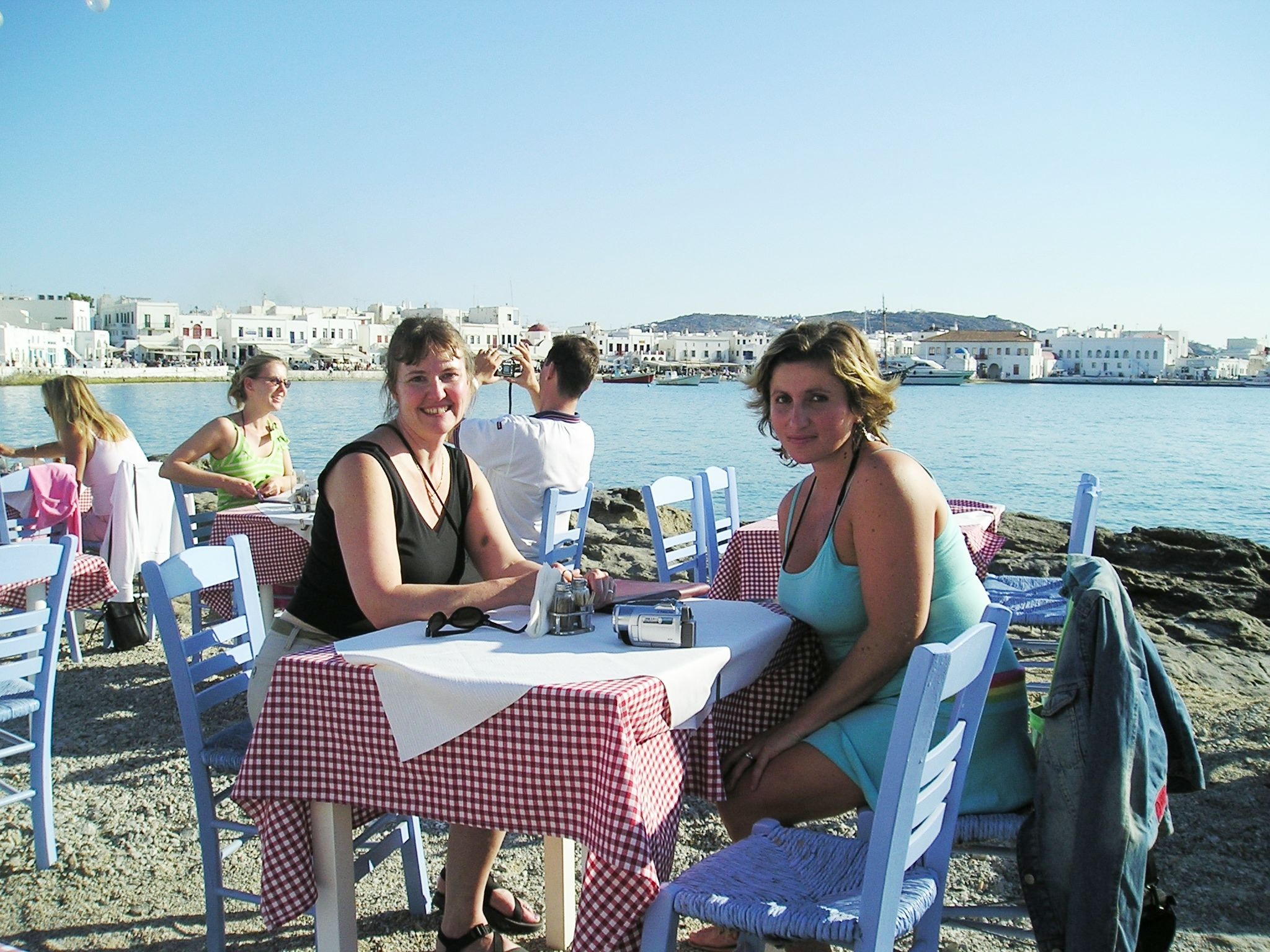 One day, at sunset, on the way back from Paradise, we decided to stop at the place with the neat tables set on the rocks, which always looked like they had been set there just for us, like they were perpetually waiting for us sit down there to drink the delicious Resina wine and watch the sunset, and eat Tasos' delicious Greek salad, and toast to the setting sun, the music of the waves, and the joy of sharing a perfect meal with friends.
All of those things we did, in time, after I became acquainted with Tasos. His life-story was as fascinating as his personality; he had been a seaman in the seventies, this was how he had come to know Uruguay, my home. The remarkable thing was not that he had been there, but that he had stayed in South America for two years, after having won a small fortune at a Uruguayan casino; all of this Tasos explained to me in flawless Spanish. To pay his eternal debt to my country, he was always generously offering me and my friends wine, and bringing delicious dishes to our table for us to try.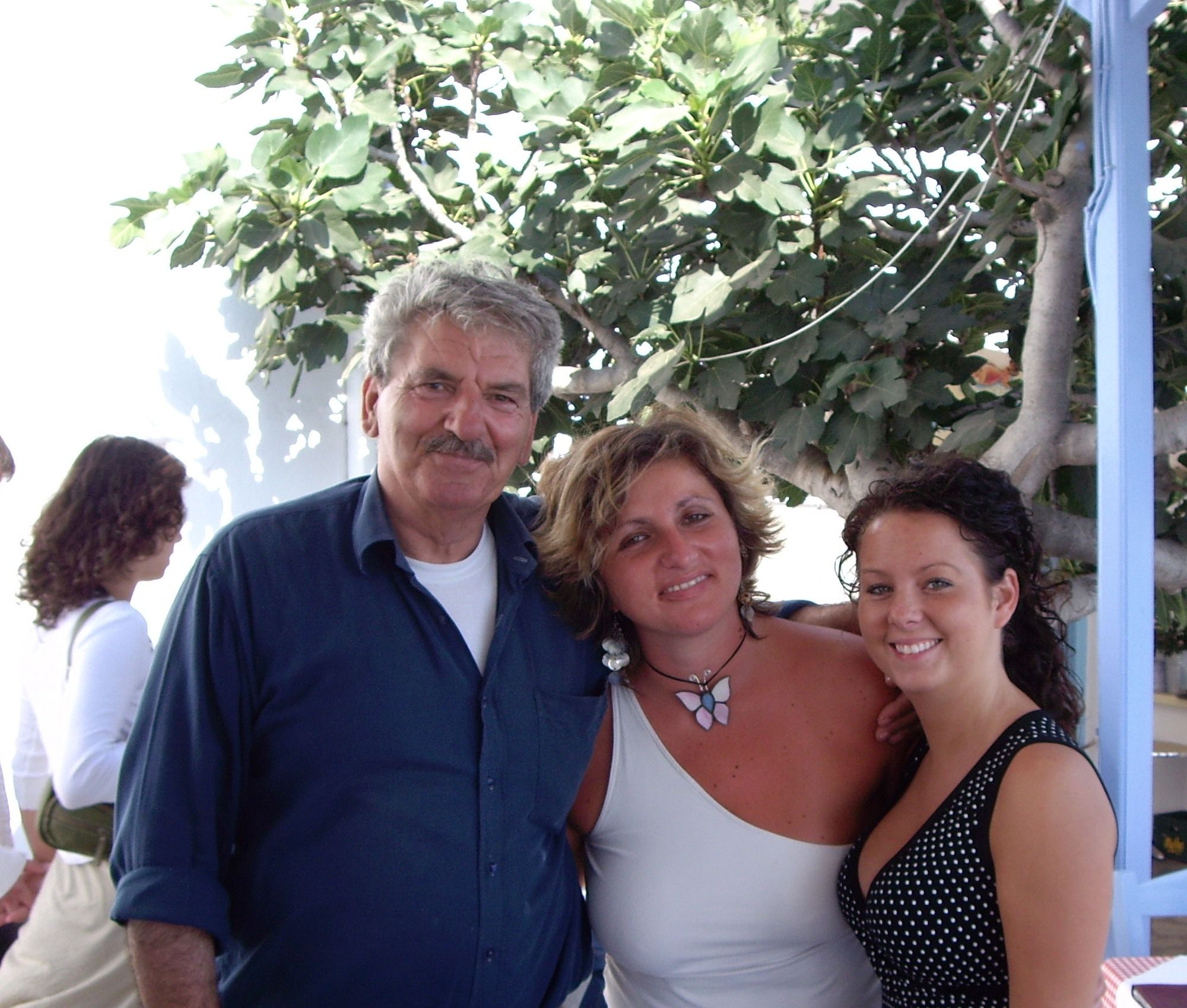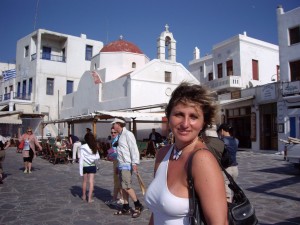 I will never forget Tasos' hospitality and his delicious Greek salad that would taste so much better under Mykonos' night lights, washed down with a glass of Resina wine, in the company of friends.