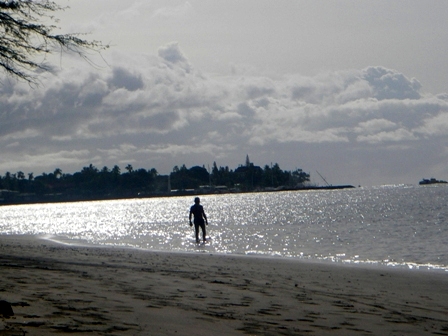 The first time I was in Maui, I wrote a poem (see below). I wrote it in my head as I walked from Lahaina to Ka´anapali, while I eavesdropped on a curious religious service, by the beach that lined the road from the capital to the resort area.
I had just bought a book of Hawaiian mythology, and I was under the spell of Iz, the late Hawaiian musician. The beauty of the islands, the Polynesian features of its inhabitants, their bewitching traditional music and relaxed lifestyle; there was nothing about Hawaii that didn´t fascinate me.
In a way, the poem aims at understanding why people with such rich traditions quickly embraced the Christian faith, and to pay tribute to their own adaptation of Western religious rites, which included drumming by the beach.
I feel in love with Hawaii the first moment I saw her. I don´t know if it is because Hawaii is so identified with volcanoes, and the divinity controlling volcanoes in the mythology is a goddess (Pelle); but I like to think Hawaii as a she.
Before I continue, you need to listen to IZ sing in the beautiful Hawaiian language: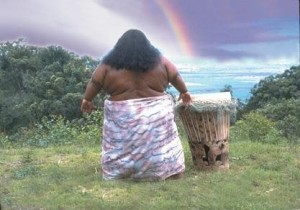 You have to listen to that music and picture a green land of friendly people, a place where harmony permeates all things, where all creatures live in peace.
Maui sort of grew in me. The first times I was there, it was just Lahaina and the resorts. I had the MOST DELICIOUS sushi at the WESTIN MAUI on the beach, surrounded by beautiful waterfalls and an intoxicating sunset; I swam in the blue waters and snorkeled in a deserted beach with my BC friend Shannon and her wonderful Jamaican husband Anthony, I had my first Ginger Rush for breakfast at that lovely coffee shop near the dock, and I had pineapples I am not capable of describing, as I listened to IZ pouring his soul out on my headphones.
Later on, I would discover the famous (or infamous; depending who you hear it from) Banana Bungalow crowd; but that is really another story, one that includes a night spent on the beach under the Maui starts, and it deserves a blog of its own…
There was so much to MAUI, so many sides to this well-known and yet mysterious island. Even the luaus I never attended have captured my imagination. There are some places that have such a strong culture, that they just grip you by the heart and don´t let go.
It is impossible to see MAUI, to meet its people,
to have someone carve Polynesian marks upon your skin (like I did; you guessed, another story…), to listen to its musicians, and leave without feeling inside your gut that it is not the last time; without of promise of return.
For MAUI is one place you will always want to go back to, no matter how much time has passed, if things have changed, no matter how many active volcanoes may threaten you from the island´s core; MAUI will be forever yours.
CAVALRY CHAPEL OF THE SEA
Preaching obedience
to the laws of God
with the conga drums
on the waterfront
JESUS IS COMING
from the neon sign
on the highway
Better to die than to burn
he said then he played his drum
Assemble on Sunday by the beach
to listen to him preach
of Jesus coming
and of Kingdom come
they should be praying to a demi god
and living by the polynesian ways
and caring less about the laws of sin
and of its punishment
A land inviting to all the things
the bible deems impious
Maui
Let go the microphone
and embrace the drum
drink to the marrow of the coconut
and find the secrets
of the underground
temptation lay
behind the priest
that solitary beach
that so called doom
of all humanly pleasures
jesus is coming
from the neon sign
over the highway
as we drive away