Kona is located on the sunny side of the Big Island of Hawaii. Strange though it might seem, everytime I have been in Kona, it has been sunny, and everytime I have been in Hilo, on the other side of the island, it has been rainy. Although there is no explanation to this, you should accept it like a true Hawaiian.
Luckily, the beaches in Kona are far more attractive than the ones around Hilo. The shopping area around the tender port is small, but nice and agreeable. It is a nice place to shop for your musical hula dolls, sarongs, and Macadamia nuts. You will be welcomed into the stores by friendly Hawaiian sales people who won´t fail to greet you with an "Aloha" and a smile.
One of the most popular local beaches is Magic Sands beach. It is called Magic Sands because when rough surf hits, all of the sand is emptied off the beach and temporarily moved out to sea.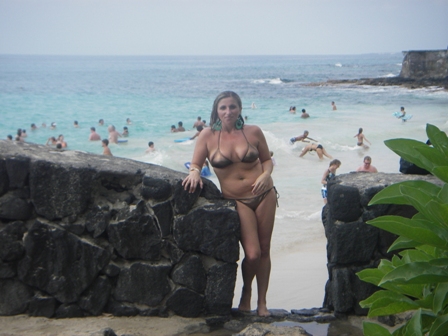 Magic Sands beach is a nice, manageable beach, suited for the whole family. I recommend that you bring some water with you if you venture into its shores, as there are no stores or restaurants around. This becomes much more dramatic if you chance to be there on Christmas day, like I did last year. Hadn´t it been for Mark, a friendly tatooed Hawaiian man with a wrecked old truck, who drove us to the store; my friends and me would have been dehydrated. Like many Hawaiians, Mark was of Philipino origin, but, oddly enough, he had been born in Texas.
Mark was a large man with long black hair, and there was something of a Hawaiian warrior about him. While we did our shopping for food and drink, I noticed Mark, standing on a bench, his tatooed back turned to us, his massive arms folded, staring at the horizon. It was as if he were looking out for hordes of enemies to arrive; and he looked like he could take them all. Later on, he would come back down to the level of ordinary mortals, in order to drive us to a diner for some delicious Hawaiian shrimp.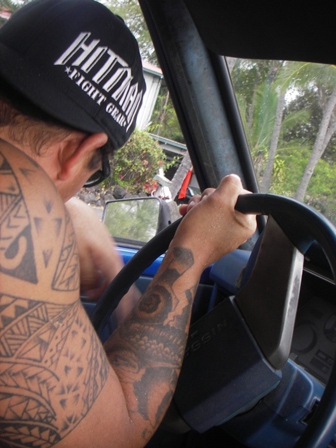 If you are not lucky enough to find Mark in Kailua-Kona, you needn´t worry; Magic Sands beach is about 15 minutes away from the port, and you should add about 10 more minutes if you want to check out Turtle beach.
Turtle beach is a narrow pebble beach not very comfortable for tanning. Notwithstanding, I have never seen so many sea turtles in my life, as when I went snorkelling there. Somebody once told me that it was illegal to touch the turtles. If this is so, I am sure the turtles aren´t aware of it, as they are sure to touch you, if you swim in their territory; there are just too many of them.
On the left end of the beach, there is a restaurant overlooking the rocks, which serves the most delicious blended drinks. If you are in Hawaii, you must try the world´s most famous pineapples, and nothing beats a fresh pineapple daiquiri or smoothie on a hot Hawaiian afternoon. The beach is complete with showers and bathroom facilities. Snorkelling equipment is available for rental at very affordable prices.
Hawaii just does something to you; you have to put a flower in your hair as soon as you start walking on one of the islands. The beautiful flowers are all over, tempting you with their sweet scent and their bright colors. If you are a girl, you have to have one. To take home that beautiful feeling of having a Hawaiian flower on your hair, you will find the most natural-looking flower clips at the local shops. These amazing flowers are one of the most unique and original Hawaiian souvenirs. Hula girl costumes for little girls are also adorable, and they are also available in adult sizes, complete with coconut shell tops.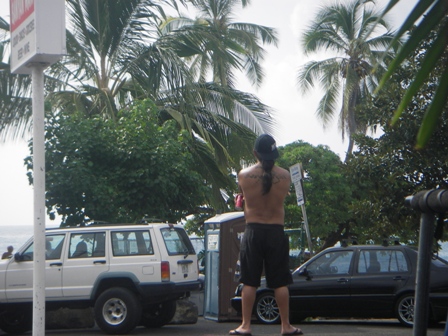 As islands go, nameless beaches usually outnumber the ones on the map. My favorite place in Kona is one of these. It is a small beach, shared by a couple of luxury beach-front houses. It is only a ten minute walk away from the pier, but it is not accessible by any road. To be honest, I don´t even remember how we got their the first time. We just saw it from our ship as we sailed into Kona, and we thought about giving it a try.
The walk across random backyards was worth it; the beach was quiet with crystal clear waters and scattered rocks. There were lots of beautiful fish and sea creatures around, and the neighbours were as friendly as to invite us in for a drink, at a 20.000 dollar per day rental palace, on an unbearably hot Kailua-Kona noon. It was a bliss to swim in their fresh water pool, complete with waterfalls, after enduring the sun and the salt water. Hawaiian hospitality was in good health; nevermind that our newfound friends were from California…
Kona has a lot of secrets for you to unveil. Whether you rent a car or take an adventure hike, you too can find your favorite nameless place on the Big Island. Only then will you know the utter bliss of a different Hawaii; a Hawaii without watches or newspapers, without traffic or loud tourists; the real Hawaii.