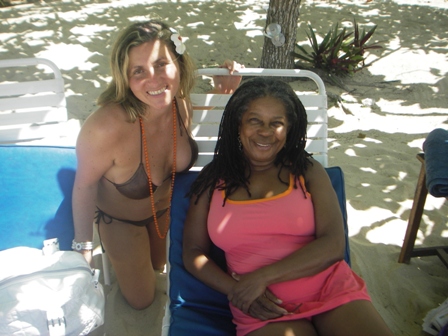 When people think of Jamaica, the first thing that comes to mind is Reggae and the chilled out lifestyle of the islanders.
When I think of Jamaica, I think of Maxine.
Before we spent a beautiful day at Jamaica Inn near Ocho Rios on this paradise island, the last time I had seen Maxine she was lying on a hospital bed at an infectious disease center with extreme security measures in Cuba.
Maxine had come to teach International Film production at the Cuban Film School EICTV, and she had had the bad luck of being bit by a mosquito contaminated with dengue fever.
The truth is that, with the dengue and all, I didn' t get to spend a lot of time with Maxine then; her week of teaching film scheduling and budgeting had been cut short by the illness. In fact, while we were having our Jamaican party, complete with the many  jerk chickens and delicious Jamaican sauces she had carried in her suitcase from her home (so much for sanitary controls…), she was still bedridden at the oddly maximum security facility. Cubans, if you must know, take  their contagious diseases very seriously.
But it has been a year since that happened. Maxine´s lovely assistant, who is also called Maxine, picks me up at the Ocho Rios harbour and drives me down in an SUV into what I would like to call MAXINE COUNTRY.
Maxine lives in a beautiful white and blue house surrounded by a dream of a veranda that crowns the second floor, from where the nearby Caribbean blue and all the greenness of the land can be seen.
There is a smaller wooden construction by the side, which houses what I like to call Maxine´s TROPICAL PRODUCTION OFFICE. Maxine does a lot of film and photo shoot services for magazines like Vogue and big film production companies, mainly from Britain and America.
After taking a tour of the house, which is full of beautiful Art, the kind of furniture that seems lived in, all wood, nice colors and prints, cozy chairs and sofas, and an overall relaxing atmosphere; Maxine takes me to meet her good friend, the owner of Jamaica Inn.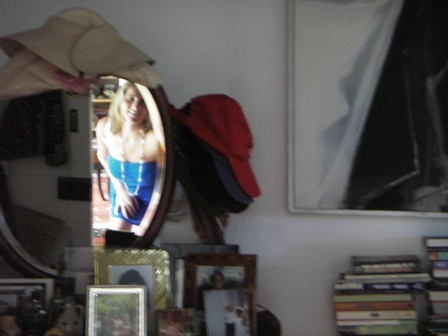 I always had a feeling that Maxine was something special. She made as dance Reggae in the morning before class and she brought chicken from Jamaica to throw a party for a group of students she had never met before. She had a contagious laughter, and one of those smiles that make you think that everything is gonna be OK. She was just open and sweet, and her powerful intellect was a jewel she was happy to share with anybody,  without a hint of pretentiousness or pride. Maxine was to me Jamaica.
I didn´t pay attention to those narrow-minded cruise ship passengers and employees who complained that they "hated Jamaica," on account of the pushy street vendors. I, on the other hand, had had the fortune of seeing the real Jamaica, and not the one on display for casual one-day tourists.
When we got to Jamaica Inn, I couldn´t believe my eyes. The beach-front estate was a low palm tree-garnered lavender-wall dream of a spot. I remember seeing the ocean through the open doors of each beautiful apartment. The sands were the whitest in the world, and the staff was cool and friendly.
This was like having your own private beach. There were only a few rooms, and we were actually the only people lying on the beach at the moment. I have to confess I don´t like my paradises crowded and this was perfection.
Maxine´s friend, the hostess, was an extraordinary woman, and I could sense the family-like atmosphere she instilled in her
inn and all her guests. As I said before, I always knew Maxine was special, but it was here at the Jamaica Inn that I learnt more about this incredible woman.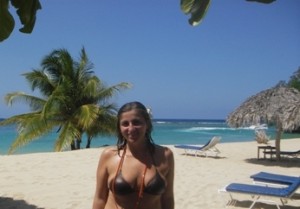 There were some French journalists on the spot; a reporter and a cute camera guy. I remember wishing he would notice me, but no luck… Anyways, that is not the story here. Somehow, the guys ended up interviewing Maxine. In fact, I think they did ask me where I was from or something, so some French people might have seen some footage of me at some local station… But that is not the point, The point was that Maxine started talking about her vision of JAMAICA to the reporters.
She talked with passion of Jamaica´s ballroom culture, she mentioned some of the art collections she had managed to exhibit, and, what I remember more than anything was her talking about how the culture of the island is to welcome all races, all skin colors, all ethnicities; allowing them to what they are without prejudice. She said that was the spirit that had made Jamaica, that all peoples become one as soon as they set foot on the island.
I then understood what an important person Maxine was in Jamaican culture,  and I also realized where Jamaica´s cultural strength lies; in encompassing everyone that is part of its beautiful soul, allowing each culture to make it grow towards a true communion.
I wish I had Maxine´s words down. She could tell it much better than me.
I visited Maxine twice, briefly, in 2009. Eversince, I have been longing to go back to Jamaica to see her again and soakin some more of that little person´s ancestral wisdom (eating some of that delicious Jamaican food she cooks  wouldn´t hurt either…).