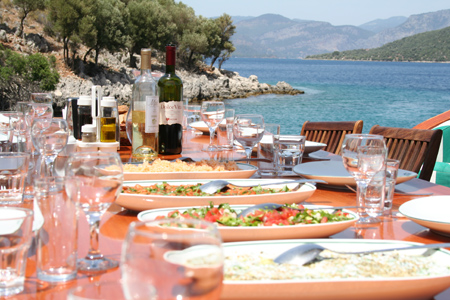 If you ask me, the best places to eat in Istanbul are any of those small eateries where the locals stop to grab some berek (cheese-filled fillo pastry that tastes like Heaven) or sarma (grape leave rolls filled with rice and sometimes minced meat).
Whenever I used to eat out there, the best food was always the lunch at some nondescript place on one of those little pedestrian streets of Taksim. Dinners at fancier restaurants were always less exciting food-wise, as these restaurants tend to serve less local delicacies and more European dishes. Honestly, I feel like going to Istanbul and having roasted veal with a common salad is just a waste of the most delicious local food you may ever encounter.
I was brought up on Turkish food, because my dad´s family comes from Armenians who lived in Turkey, in Marash, a province that once was Armenian territory. Therefore, I am maybe a bit biased. However, I have shared meals in Istanbul with people from all over the world; Americans, Portuguese, Greeks, Canadians, Australians, etc, and all of them agreed with me in that this was the best food in the Mediterranean.
What to eat
The best way to enjoy Turkish food is by ordering a bit of everything and trying it all. You will find that here, the appetizers are the best part of the meal.
I recommend trying a bit of tabouli (my favorite salad in the whole world, made of bulgur wheat, parsil, tomato, onion, lemon juice and mint), dolma (peppers, zuchini, eggplant stuffed with rice and minced meat), sarma, Adana kebab (minced meat mixed with pepper and spices on pita bread) lahmajoun (thin dough covered with a mix of minced meat, vegetables and spices; also called Turkish pizza in some places like Germany), chee kufta (superquality minced meat-raw- mixed with bulgur and spices; I am a half vegetarian, and this raw meat dish is just so good that I cannot resist it), kufta is the cooked version of chee kufta, which also involved abundant butter, if you follow my granny´s recipe. Then there is the hommus dip to be had with the delicious pita bread and the yoghurt dip with cucumber and garlic that is delicious when accompanying sarma. For dessert, the most traditional is the baklava (fillo pastry with nuts and syrup). Kadaif which means wire in Turkey is made of shredded dough that looks like sort of like a nest and usually includes syrup plus walnuts or pistachios. I personally love Lokum, also called Turkish delight, which I class more with candy than with desserts.
Frankly, I am leaving out lots of wonderful dishes, soups, stews, the pasta-style manti, which would take my granny forever to make, because it involves filling tiny squares of dough with minced meat, and many other delights. For a comprehensive list of Turkish/Armenian foods, check out Ottoman cuisine
Now, a little Istanbulness & music to get in the mood, from Fatih Akin´s excellent music documentary Crossing the bridge.

Where to eat
Piece of advice No.1: Get a local to recommend you one of those tiny eateries and you will be just fine.
Now, for more formal dining, Develi is very scenic and traditional restaurant. Tugra, another formal restaurant with great views of the Bosphorus, located in a majestic ancient palace, is one fancy Istanbul eatery where you can actually have great Ottoman dishes. On the other hand, Galata tower, an ancient tower with breathtaking views of the city has a restaurant at the top, where the bellydancing and knife throwing shows are more interesting than the food, which is mainly European.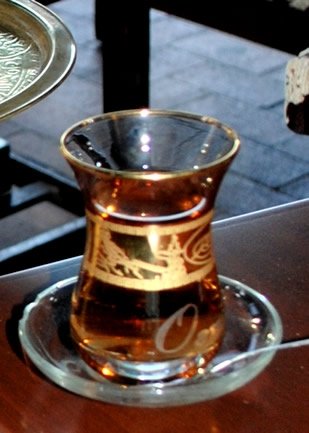 Lacivert restaurant also offers seaviews and a fabulous setting. Menus were once designed by a Turkish chef who owns a Michelin star restaurant in Germany, and the dining experience promises to be fabulous. However, typical Turkish dishes are not the restaurant´s specialty.
The Taksim area offers many great small eateries and bars that serve food. Sutis is a great place to have brunch, lunch or dinner. With a cool menu, which includes a variety of kebabs and some great sweets, and affordable prices, Sutis is a place often chosen by the locals. Following the Muslim tradition, they do not serve alcoholic drinks, but, if that is what you want, there are plenty of bars in Taksim to have pre or after dinner drink. There is another Sutis with great views of the Bosphorus in Emirgam.
The nargile alley on the side of the Nusretiye mosque in the old neighborhood of Tophane is one place where you can have a light meal, Turkish tea or coffee, and play some tavli (backgammon) like the locals do, while smoking some nargile (water pipe). Don´t try to order alcoholic drinks here, as they will tell you they do not sell them because the bars are by the side of a mosque. I found it rather funny that it would be OK to have alcohol a few blocks away, but the prescriptions of religion have always been a mystery to me.
To me, this is the city where I have had the best food on the planet (leaving out my granny´s, of course). So, just enjoy it, whatever you choose, and always go local, that is the way to never go wrong.
Maybe you will get inspired enough and try a few of the dishes at home. Just don´t overdo it, if you are watching your weight; one thing I can say about Turkish food is that it is not precisely light…