HONOLULU
The soul of Hawaii
Honolulu is located on the island of Oahu. It is home to one of the world´s most famous surfing beaches, namely, Waikiki, and it is also the capital of one of the most beautiful American states.
The cruise ship terminal is located about ten minutes away from Waikiki. This is the most popular spot for swimming, surfing, shopping, and dining on the whole island. There are both buses and cabs at hand, with a cab fare costing about 15 dollars.
There is also a medium-sized mall, the Aloha Towers, right outside the terminal. The big mall, Ala Moana, is located on the waterfront, halfway between the terminal and Waikiki. Running parallel to the seaside on Waikiki, Kalakaua Avenue is a shopaholic´s dream come true; a mixture of Rodeo Drive with a Hawaiian market. Here you will find every designer store from Max Mara to Armani, and from Chanel to Dior. Whether you are looking for souvenirs to bring the taste of the islands to the mainland, or if you want to gear up with the most fashionable looks of the season, you can do it all here.
The most luxurious beach hotels are also adjacent to Kalakaua Avenue, such as the Sheraton or the Hilton. Most hotels have relaxing beach bars that usually offer live Hawaiian music at sunset.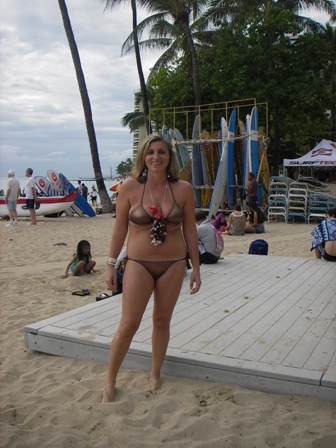 I love Hawaii. I love their music, their culture, their legends, and the scenery. When it comes to music, IZ (Israel Kamakawiwo Ole) is right at the top. You can´t go to Hawaii without some IZ on your ipod; it is a whole different experience. IZ was this massively overweight, beautiful Hawaiian man, with a heavenly singing voice, who created some of the most beautiful and authentic Hawaiian music of all times. I strongly recommend getting a copy of the DVD "IZ, THE MAN AND HIS MUSIC" to get started on the magical world of all things Iz.
Honolulu is the place with most vibrant cultural life in the whole of Hawaii. Here, you can not only get surfing lessons from pros at Waikiki beach; you can experience Hawaiian culture like nowhere else in the world. This is a rich, powerful culture with a great emphasis on enjoying the pleasures of life. For example, LUAUS are a central part of the culture, and, needless to say, they are all about pleasure and joy.
Reputedly, the best Luau can be experienced at the magnificent Polynesian Cultural Center. Although the Center is on the other side of the island, a visit is greatly worth the ride. Luaus are several hours long. They consist of a feast of Hawaiian food and cocktails, with a barbecued pork as the star, complete with Hula dancers, live Hawaiian music and a fire-knives show. Although there are a myriad of Luaus on offer around Honolulu, the Polynesian Center´s is the real thing, and you shouldn´t miss it.
A tour of Pearl Harbour is surely an excursion that history lovers will find most interesting. Nevertheless, if you are in Honolulu for only one day, a visit to Pearl Harbour will take up all your time, and you will miss out on Waikiki. Moreover, it is not an excursion recommended for young children.
Curiously enough, on my second time in Honolulu, I ended up visiting a US military base, instead of Pearl Harbour. I rented a beautiful convertible with my friend Kelly from Florida, and we went out on this Thelma & Louise type excursion, to visit the place where she had grown up. Kelly´s father had been a marine stationed in Hawaii in the late seventies, and she was really excited to visit her old house and her old school. It was a great trip, specially because of what it meant to her. The base was on a realtor´s dream of a piece of land, on the shore, bathed by one of the most beautiful beaches I have ever seen.
On that same day, I tried to go to my favorite restaurant: "Michael´s". Unfortunately, it was closed, since it didn´t open on Mondays. Michael´s is a French-style restaurant on the beach, about a mile away from Waikiki. Everything there is perfect, from the enchanting owner to the beautiful live music, and from the amazing menu to their well-furnished wine cellar. If you are lucky, you might catch a concert by one of Hawaii´s slack guitar masters, like I did.
There is just not enough time to enjoy everything that Honolulu, and the whole of Oahu, have to offer, and I haven´t even begun to cover Hawaiian heritage sites, such as the Iolani Palace, home of the archipelago´s last monarchs.
I believe that Honolulu is as relaxed as Hawaiians themselves; it won´t force anything upon you. If you want culture, it will give you culture; if you want sports and exciting nightclubs, it will give you just that, and, if you don´t know what you want yet, it is sure to give you some pretty fine ideas.