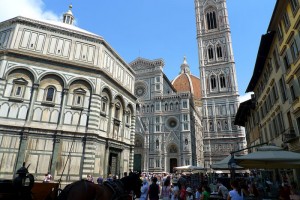 One of the greatest pleasures of traveling is being able to see friends from different parts of the world. Nothing compares to meeting a friend from Spain you haven´t seen in years at the top of the Eiffel tower or running into an old German friend you met in Uruguay while strolling the streets of Athens. I was fortunate enough to live through many such experiences, but one of the greatest of them all didn´t necessarily include an encounter in the flesh.
This happened in 2008, the second time I was in Tuscany. My dear friend Sandy was vacationing with his family in Sienna. It was a long shot to try to reach Sienna from Livorno and be back in time for the sailing of my cruise ship, but I was willing to risk it, just to see Sandy´s dear old face again and just have coffee with him near the train station.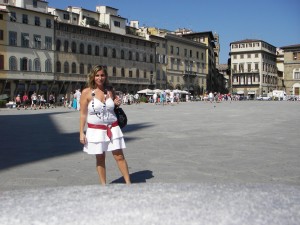 As things were, that encounter never happened, but one of the times I phoned Sandy from Florence, when I had the whole day to myself in that wonderful city, he said, "you have to go to the top of the Duomo."
So, this is Florence, there is great shopping, summer sales actually (which I eventually profited from extensively, buying great art and fabulous Italian shoes at very good prices), the Uffizi gallery, almost impossible to get into during the summer without pre-booking; and lining up in the sun while there is so much to see is really not my thing (that´s why I have never been inside the Sixtine Chapel, by the way); in short, there are a million things to see, but I know that if Sandy says the Duomo is the best, then IT MUST BE. You just know with certain people, because of how much you love them, how much they know you or how much you know them; you just know that whatever they recommend is going to be great for you.
The lineup didn´t look deterring, and neither did the ticket price, so, that´s how I ended up lining up at the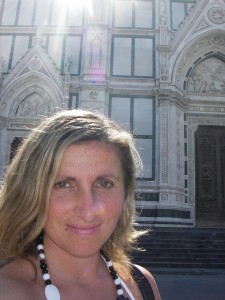 crowded Piazza del Duomo and climbing up an interesting number of stairs to see the beautiful FIRENZE from above.
The climb was long, but so worth it! From above, the historical Florence with its churches, bridges and gardens, the light-colored buildings with their orange roof-tops, it just looks so much like a fairy-tale. Coming from Montevideo, where architectural styles, though they can be beautiful, are just tremendously unplanned and mixed, the perfectly designed harmony of Firenze was a bliss, and it seemed a tad unreal, but in a very good way.
After this breathtaking experience, I went picnic-shopping, and enjoyed some chianti, berries, olives, traditional bread and cheese at the beautiful Boboli gardens, also for a small entrance fee.
These two excursions combined with some strolls around Firenze´s lovely Piazzas to complete a perfect day in Florence, which had in fact started with a walk among sunflower fields by the side of the road, on the way to this magical city, which became, thanks to Sandy´s great advice, one of my favorite spots in the whole wide world.