Capresse salad is one of my favorite dishes. I´ve had it in Naples, I´ve had it in Venice, Rome, Firenze, Sicily, but I never had it in CAPRI, the gorgeous island across the bay from Naples, to which the basil-tomato-mozarella salad owes its name (That is still on my list for my next visit).
The first time I saw Capri it was in a delicious movie by Roberto Rosellini starring Ingrid Bergman: VIAGGIO IN ITALIA. In the movie, Capri represented glamour and the liberal ways of life of the well-to-do.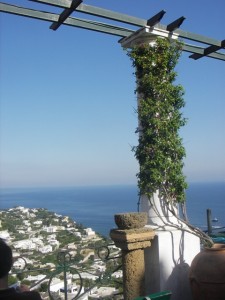 My Capri was a tall island of flowers, blue waters and impressive vistas. When you get to the harbor from Naples on a little ferry, you have to take a funicular to go up to the town. The meandering pebble stone streets and beautiful gardens make for a glorious walk, with breathtaking views everywhere you look.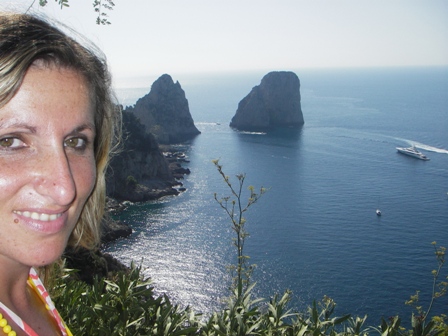 But you may be asking yourselves, how can I have found my home in Capri? Well, the story goes like this. Two years ago, I coincided with a large group of Armenian tourists doing a Mediterranean cruise. Capri was one of our stops. When I was having lunch at a beautiful restaurant, as part of a day tour of Capri and the Amalfi Coast, I sat at a table with Vart, Silvia, and their respective husbands. They were all of Armenian origin, just like me.
They were from Australia, but we exchanged some words in Armenian, as we all spoke it. Silvia was very impressed that I could speak Armenian, even when I was only third-generation Armenian and my mum was of Spanish descent.
I don´t really know how it happened, but Silvia just looked at me and she said, "Tell your father that it was wonderful of him to send you and your siblings to an Armenian school, even when he didn´t speak the language himself."
Even typing the words now, tears come to my eyes again. It was so very extraordinary to be a Uruguayan woman in Capri, an island in Italy, and to just find my family there, my blood; these people who loved me and cared for me, just because our late ancestors had once shared the same land and powerful culture.
It has been almost two years now. Silvia and Vart (which means rose in Armenian) keep asking me to go visit them in Australia, but I haven´t been able to yet.
Our chance meeting changed our lives forever. In a way, it showed me that the power of home has nothing to do with places and frontiers, and it gave me the gift of four new wonderful friends.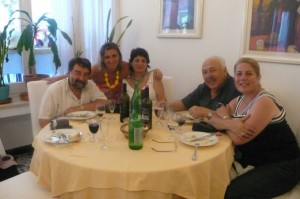 At the time, I wrote a poem, which I would now like to share with you:
CAPRI
'Hay em'                            (I am Armenian)
It's in my veins,
it's in my blood
I am the seed
that turkers didn't kill
I found the love
in the Island of Capri
I found my blood, my kin
The place where I belong
The moment when I heard
the Armenian word
The beautiful dark eyes
of the young girls
and the familiar nose
Hay em yev hay es toun             (I am Armenian, and so are you)
and so I have to love you
without my stir
this love, it comes
from ancient villages
from soldiers zoravor                      (brave)
and fighting for our land
so that we'd be alive today
in Italy
the island of Capri
and could say
Hay em,
hay em
yev hay es tun              (I am Armenian, and so are you)
Capri August 2008