The only thing that this little Caribbean island, not to be confused with the Dominican Republic, is known for is because the famous writer Jean Rhys once lived there.
My ship anchored in Dominica a few times, literally, and I had the chance to see some things you seldom experience while cruising those Central American waters. Namely, Dominica is not all dolled up to receive the tourists. The downtown area is dirty and alive, the houses are poor and colorful, the people are friendly and spontaneous, and the carcasses of old cars lie on green hill slopes on the way to the beach.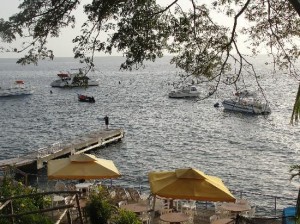 I did know Jean Rhys. I had known about her for decades, but I had never gotten a chance to read her. I always feel that reading local authors, great ones, is one of the best ways to enhance a travel experience. So, the dreamworlds that seeing the windows of Jean Rhys' apartment on the streets of Dominica mixed in with the vivid imaginary-scapes of her beautiful prose, imbuing Dominica with a magical aura in my mind.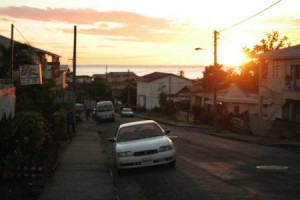 I spent a couple of afternoons there at a beach resort that was nothing to write home about. Not the whitest sand or the bluest water, though a much welcome absence of other people in general, then probably the tropical juices and local food from the restaurant up on an elevation, overlooking the shore below, something happened, between walking those dirty streets, seeing the corpses of cars against the green, reading Rhys, seeing the schoolgirl uniforms on the streets, and I just fell in love with Dominica forever.
As it happens sometimes, when I fall in love, I wrote a poem.
I called it
THROUGH THE WINDOWS OF JEAN RHYS (Dominica, February 2006)
I swam in the blue
of the soul Caribbean
I saw the black girls
in the plaid skirt
school uniforms
their dark strong curls
emprisoned into braids
and they call this
the British influence
I saw the fish markets
and the mountain slums
and the dark black skin
shining in the sun
The white breasts of Europe
in Caribbean arms
on castaway beach
her white northern hair
and his strong black muscles
she knew who was king
The drums and the rhum
in the nights of Maho
the city
that never sleeps
They can train the dolphins
and put them in an
Aquarium
in Miami beach
or San Francisco
They can never tame
the soul Caribbean
Though they divide
an island
between French and Dutch
the soul wil be
patois
the skin will remain black
the land
will know its king