Since Montevideo is my hometown, I have actually stayed at a hotel here only once, when I was working on a cruise ship and happened to dock here for the night, because some ship had collided with another, and the harbor was temporarily closed.
However, for different reasons, I have had a chance to see the facilities and the rooms of many local hotels, I have had breakfast, lunch, dinner at them with friends, I have used their pools and been to their conference rooms, so, I do have a bit of knowledge that I can share with would-be travelers to my beautiful city.
Here is a list of some of my favorite hotels in town.
1. Sheraton Punta Carretas
This is my second home, as I go to the spa to work out every day there. A Sheraton is a Sheraton, and we all know to expect from the prestigious chain, but I find the Sheraton Montevideo to be the coolest I have ever stayed at; and I have stayed at Sheratons all over the world.
There are two things in particular that account for this superiority. One: LOCATION; the Sheraton is located next to a gorgeous building that was recycled from a prison into a stylish mall, which is connected to the Sheraton through a passage, so that you don´t really have to get out of the hotel to go there. As much as I dislike malls in general, the architecture of this one makes it quite different, But that is not the most important point about the hotel´s location. In fact, the Sheraton faces the sea and its higher floors have a panoramic view of the city in ALL directions. My favorite view would have to be the 360 degrees of sea and Montevideo skyline that can be seen from the spa, located on the top floor and enveloped by glass windows all around.
Number two would have to be PERSONNEL. Everyone who works at the Sheraton is simply FANTASTIC. As someone who goes there every single day, I should know. I have come across cleaners, bell boys, recepcionists, marketing people, managers, trainers, bar servers, you name it; they are all just the smartest, friendliest people you will ever meet. Whatever method they are using for hiring people, the Sheraton is doing it right, no doubt.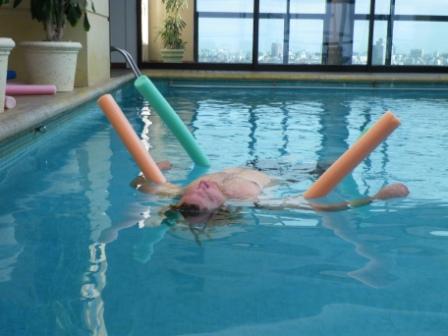 2. RADISSON VICTORIA PLAZA
This is the most traditional hotel in town, and it existed long before Radisson acquired it. It is located in front of the town´s main square and a few steps away from the charming Old Town. It has its own Casino, which is also one of the main casinos in town, a gorgeous pool and spa built as a beautiful glass structure, and a fabulous gourmet restaurant with splendid views.
The Radisson is an old hotel, and some things about it do not look as modern as newly built structures. However, its charm remains unique, its halls are grand and spectacular, and the rooms are as comfortable as any other international five star hotel´s.
All that said, my favorite thing about the Radisson is something I discovered only recently, when I went to pick up a musician (in town for a gig) for breakfast and happened to stop by one of the rooms. I had been in the rooms before, but only for like five minutes during the night, on a technical stop between a concert and a dinner (also with musicians).
This time, it was in full daylight. After over thirty years of living in Montevideo (with a couple of years spent abroad, nonetheless), I had NEVER seen such a wonderful view of the city as the one from this 20th floor of the Radisson. It was just a different angle, and it made the city look more majestic than it had ever been in my eyes, with the beautiful Palacio Salvo (an ancient fantasy of towers and domes) in the foreground and the rest of the city just seeming spread before my eyes towards infinity, including a view of the water and the hill we call Cerro. As I arrived in the room, while my friend was in the toilet getting ready, I just literally sat on the ledge (not dangerous, as it was one of those windows you can´t really open) and I glued my face to the glass to absorb the beauty. When he came out, I was so mesmerized that I only noticed his presence when he said, "someone should take a picture of you," but, alas, none of us had a camera, and I had to keep the vision in my mind´s eye, where I still guard it as a treasure. I was sad to leave a place that had such a window for an unglamorous little cafe right on the main street of 18 de Julio, but such is life.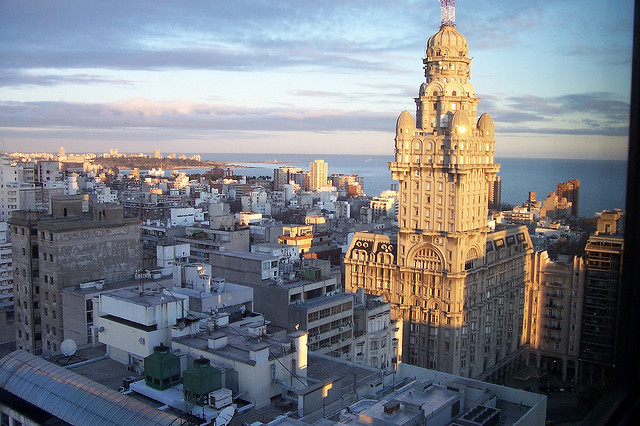 3. PLAZA FUERTE HOTEL
If you have ever been on a Celebrity cruise, you have probably seen a lot of this hotel, as there was this travel show about Montevideo that the ship TV aired for years on end, where the reporter stayed at Plaza Fuerte.
On the other hand, if you haven´t seen the show, this is a hotel definitely worth checking out. Housed by a recycled old building in the heart of Montevideo´s beautiful Old Town, the Plaza Fuerte presents a perfect mixture of modern comfort, avant-garde art and tradition. The halls are decorated with works by the greatest Uruguayan artists and the rooms are decorated with taste and class.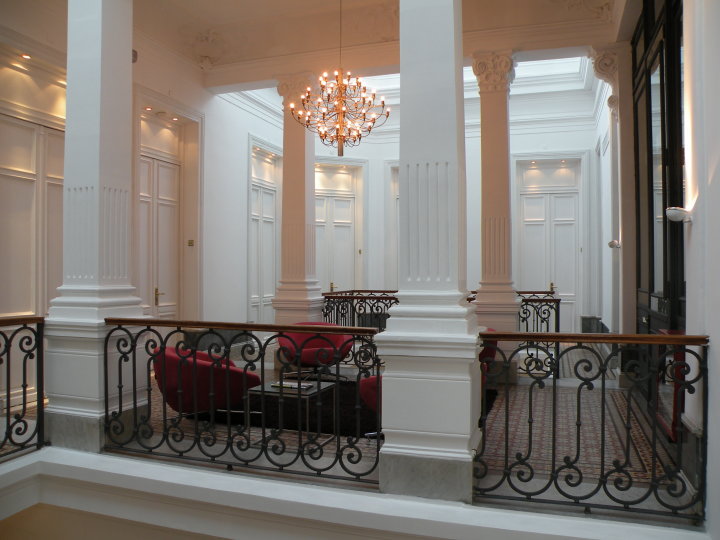 The terrace bar offers a spectacular view of the city, and, for everything it offers, the hotel has very competitive rates by international standards.
4. Splendido hotel
A rather recent endeavor, the Splendido hotel is also located in the old city, with windows out to the majestic National Theater called Teatro Solís. A building from the early 1900s, the Splendido is decorated with antique furniture to preserve its original style.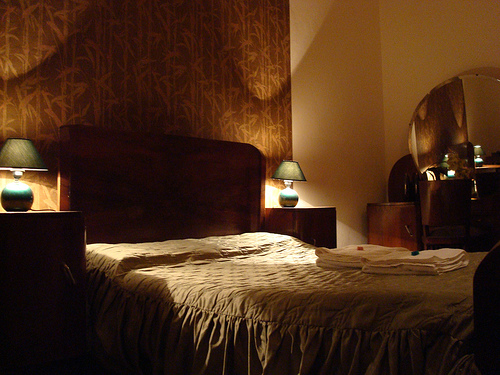 In a way, staying at the Splendido will feel like traveling in time, to a glamorous old Montevideo that no longer is.
Rooms are quite affordable and the personnel is extremely friendly and professional. The hotel, which has many of the features of a hostel, such as a kitchen where you can cook your own meals and a relaxing music room complete with a lovely piano, is advertised as gay friendly, which is quite refreshing for the local scene, where the niche hasn´t really been exploited.