The first time I was in Europe, I was young, I had very little money, and I wanted to see EVERYTHING.
From my base in Ibiza, I headed towards Paris. In Paris, I was tempted by a Greek boy to take the train to
Amsterdam, but I had been reading Henry Miller´s The Colossus of Maroussi, and, even in the German translation,
the book made me have to see Greece right away. So, I took the train down to the tip of Italy in Bari.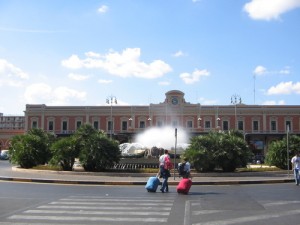 Luckily, I was able to secure a spot in a sleeping car, because this was on lengthy train ride.
So, I traveled all along Italy, to discover it only on reaching the sunny and friendly BARI.
This was my first time in Italy, although my only purpose was to take the ferry to the Greek island of Corfu, as I hadn´t been able to find any cheap flights Corfu from Paris.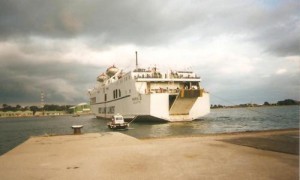 In Bari, I don´t know how I ended up talking to these families in their gardens, over their beautiful summer houses on a quiet street. It was funny because I learnt right then and there that I could actually speak Italian, although I hadn´t taken half an Italian lesson in my life. The families took a liking to me, and, on learning I had no place to stay, some of the men invited me to stay at their homes, at which the mammas frowned and there was nothing more to be said.
These very nice people directed me to Bari camping which was free for foreigners. One very loud bus ride later (crowded to the brim with very loud Italian mammas and sweaty blue-eyed hunks), I was there.
Unfortunately, I was the worst backpacker ever, first of all because I didn´t even have a backpack, let alone a sleeping bag. So,
I ended up sleeping on the hard floor of a free tent at the tip of Italy.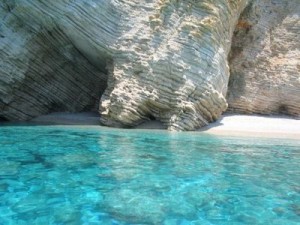 I met some wild American backpackers there, who were all psyched about the toga parties and crazy stuff that was supposed to take place on Corfu.
Although neither these Americans nor the drunken toga people seemed very appealing, I had to see Miller´s Olive trees, I HAD to see Greece, and so, I boarded the ferry to Corfu.
I remember being aided by a Mexican boy, me in a red dress, hauling my huge suitcase over the gang plank. That must have been quite a sight. I did leave half of my clothes on that ferry, cause I knew this trip would be no place for large suitcases, heels and red dresses…
Corfu would not disappoint me. I stayed at a family-owned hotel on top of a hill, eat traditional food, listened to the guitars of some nice Sevillan girls on the beach, developed a crush on a cute boy whose name I couldn´t remember for the life of me, and was fortunately spared any kind of contact with people wearing togas and pretending they were at an American college sorority bash.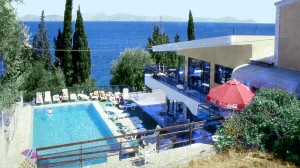 We had a pool where we would swim in the afternoons, after returning from the beach below. Our sunset pool at the top of the  mountain, and then the motorcycle rides across the island, the Greek music and Greek dancing at dinner time. It was not what I had imagined, but, in my own way, I had found my Miller-ness, I had found my Greece.