Travel shows are all the rage these days, a product of reality TV gone on vacation. From national treks to international journeys, the world is literally at one's fingertips on more channels than there are fingers to count them on. There are in-depth looks at particular monuments or destinations, informative and scenic, shot to entice the viewer and intended to leave no stone unturned. From National Parks to cultural cornerstone cities, the sights, sounds and personalities of the globe are portrayed to the virtual wanderer in their home. What sets apart a good travel show from a mediocre one, though, is not the destination or the high definition of the images: it is the host.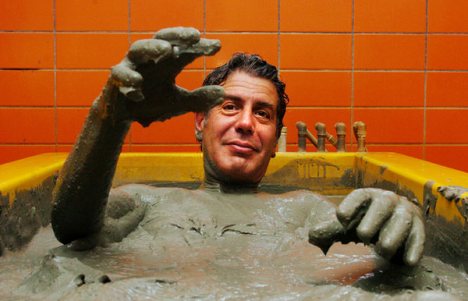 No Reservations with Anthony Bourdain offers the viewer a lot of bang for the buck. Not only does Mr. Bourdain's history of reckless abandon as a chef, author and general miscreant lend to his camera charisma, but his awareness of the exciting in the ordinary brings to life a different perspective that leaves Rick Steeves in the dust. Winning Emmys for both informational programming and outstanding cinematography, his tendency to walk the road less traveled takes us places we might have surely missed. Far beyond the point-and-shoot style of a major landmark, No Reservations brings an edgy experience to your living room by showcasing the things around and behind the landmark itself, leaving the viewer with a more gritty sense of what it might be like to actually be there.
The real magic, however, comes from the culinary journey in conjunction with the physical one. After all, to travel to a new place, especially an exotic one, only to eat the standard fare would be selling a vacation short and Mr. Bourdain would not dream of such a thing. Whether or not one chooses to be as adventurous in menu items as he would be is a slippery slope, as he has eaten things many would not dream of putting in their mouths. It is not for shock value, as is Bizarre Foods with Andrew Zimmerman, but for the exploratory nature of a person tingling with the desire to seek out new things and experiences, and that is something that even the most reserved person can relate to.
For a premium experience, Episodes of No Reservations are available in HD from many satellite TV providers in the UK and the world. No Reservations is a groundbreaking production that can bring the world into your home in a unique way. Therefore, anyone interested in traveling and culture should make a point of checking if the show is available through their TV provider. The only thing better than watching No Reservations in full HD is actually being there, wherever Bourdain has decided to go this time and, by the looks of it, he will never run out of ideas about marvelous things to do, people to meet, and places to go.
This post was written by Christian Fattoruso ,
a writer and musician based in Seattle.